Apunipima and Indigenous All Stars reach out to remote communities
Health workers say shooting hoops is helping encourage kids in remote communities to lead better lifestyles.
---
The Australian Indigenous All Stars basketball team is helping deliver healthy lifestyles to young people in Cape York communities.
All Stars head coach Joel Khalu ran basketball clinics for Aurukun youths last week along with Apunipima health officers.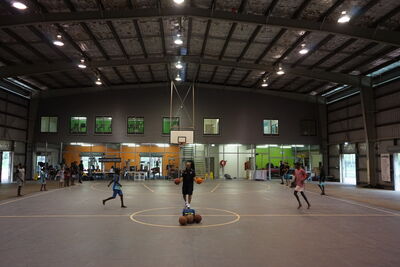 Khalu, who led the Indigenous All Stars to victory over the Maoris in last year's best of three Trans–Tasman Tournament, says the clinics were an opportunity to pass on a serious message in a fun environment.
"I talked to the participants about my own story – playing basketball, leading teams – and how that has been possible through making healthy choices, such as being active, eating well, and not smoking," he says.
"It was great to talk to them about why it matters to make good choices and the good results that come from resisting what looks easy at the time.
"Having goals, working towards them, not getting distracted – these are the things that change lives."
Apunipima health worker Josh Mene says helping spread healthy lifestyle messages through sport has proven effective.
"Combining healthy lifestyle messages with healthy activities is a great way of not only telling these stories, but actually showing young people what it means to be healthy," he says.
"We hope that with the assistance from Joel that it reinforces our key messages and shows these young people that if you live a healthy lifestyle.
"It can not only benefit you, but be a positive influence on your family and community."