Hanlon humbled by national honour
AFL Cape York's Rick Hanlon is an Order of Australia recipient for his 'service to Australian rules football' but that's not the half of it.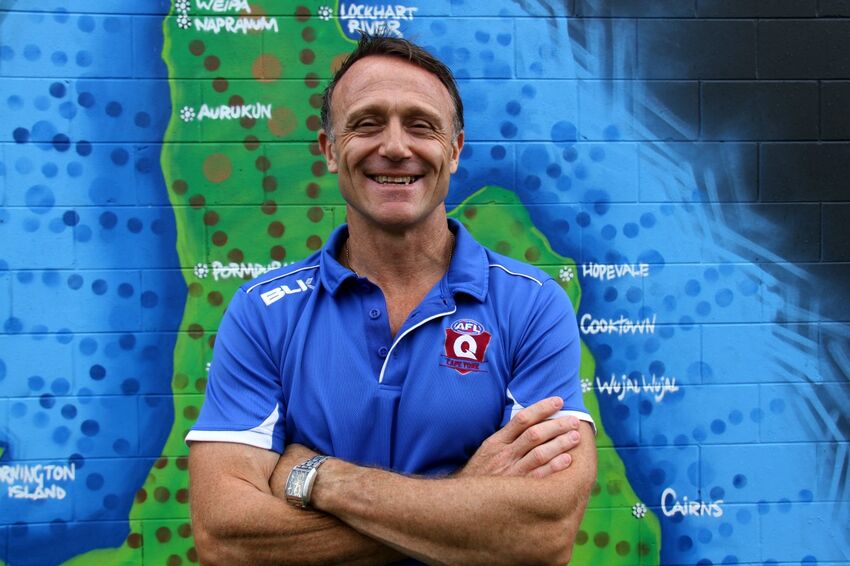 ---
On an overcast October afternoon in 2010, AFL Cape York's Rick Hanlon invited me down to Portsmith in Cairns' industrial sector to take a peek at one of his latest projects.
I pulled in at the gate of an abandoned field and instantly wondered if I'd been given the wrong directions.

In the distance I could see a dilapidated old clubhouse in desperate need of demolishing and industrial waste scattered across what was once a junior rugby union ground.
My car's pathetic air conditioning had done little to dull the unusually humid air and I dreaded the thought of trudging around town trying to find the place.
But amidst the tall grass Rick called out and greeted me with his customary grin, firm handshake and pat on the shoulder.
There was some typical ribbing about my lateness and how busy he was and we both laughed as we looked over the property.
Rick and I had become friends after a rocky start when I tried to interview him three years prior about his work in remote communities throughout Cape York and Torres Strait.
To be fair, I didn't realise how little what he does is about football.
No-one can deny Rick loves the game but his passions are health and education.
Since joining AFL Cape York in 2006 he's committed himself to using AFL as a way to help close the gap in remote Indigenous communities across far north Queensland.
Our unruly surroundings opposite a noisy metal works factory on Buchan Street were the next step in fulfilling that dream.
"This is a really special project," Rick told me at the time.
"It's going to give a lot of young children a chance to engage in school in a way they never have before."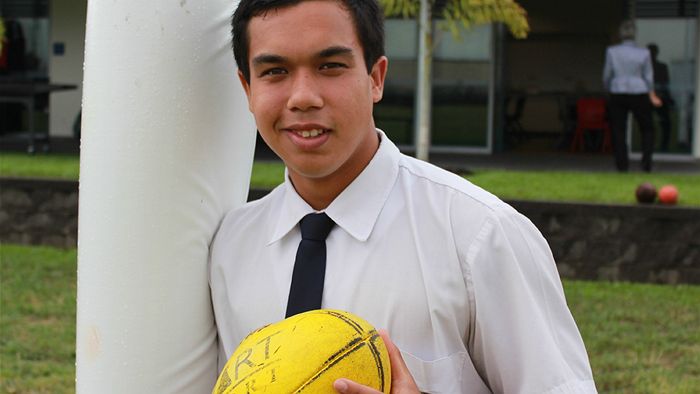 The site was to later become the home of AFL Cape York House, a 48-bed multi-million dollar facility for students from the Cape, Torres Strait and Gulf of Carpentaria.
It took another three years before the House opened its doors and on more than one occasion I know Rick felt exasperated by how slow the process was.
But the House is now in its fifth year running, working in collaboration with seven partner schools in the region.
Every student to have boarded at the House during Year 12 has graduated and 10 boys have gone on to attend university.
Anthony Nicholls, one of the House's inaugural graduates, is poised to finish a sport and exercise science degree at James Cook University this year.
A proud Torres Strait Islander, Anthony says he wants to complete postgraduate studies next year.
"Apart from being a mentor, Rick's been more like a father to me in some ways," he says.
"It's pretty deep. He always pushed me to be my best version of myself.
"That's probably had the biggest impact on me. It's made me a better person, more responsible and a better man.
"A lot of it was indirect. He follows what he preaches and I wanted to become a hard working person like that. Plenty of people would say the same thing about him."
Several other boys have joined the army or taken on apprenticeships in Cairns and Cape York.
I don't want to take away from the hundreds of contributors who have made it what it is today but I believe AFL Cape York House is Rick's crowning glory.
You can hang his medallions on walls and store the premiership trophies he won as a player and coach in glass cases but the House changes lives.
When I approached Rick to write a story about his latest recognition he quickly shot me down. He was humbled but didn't want any fuss.
True to his mantra when he was my boss, Rick preached to house parents that the focus should always be on the students living at the House.
But sometimes people deserve recognition. There are dozens of young men and women whose lives are better because of Rick.
That's worth more than the beer-soaked flags that hang in the hallowed rooms of clubs across Tasmania or the best-and-fairests resting in his sock drawer.
In closing I thought I'd rattle off a few funny things about Rick in no particular order.
I've never been in his office without seeing him swear at his computer, he has the skinniest 'duck legs' in the world, he is, at times, a difficult taskmaster, his sense of humour is worse than mine and he's Tasmanian which raises some obvious questions.
But putting all that aside, he is a more than worthy recipient of the Order of Australia Medal and it's why I had to write this piece.

Sam Davis is a freelance reporter based in Cairns. He worked as a House Parent at AFL Cape York House in 2014 and 2015.