Steady state of play for Cairns real estate market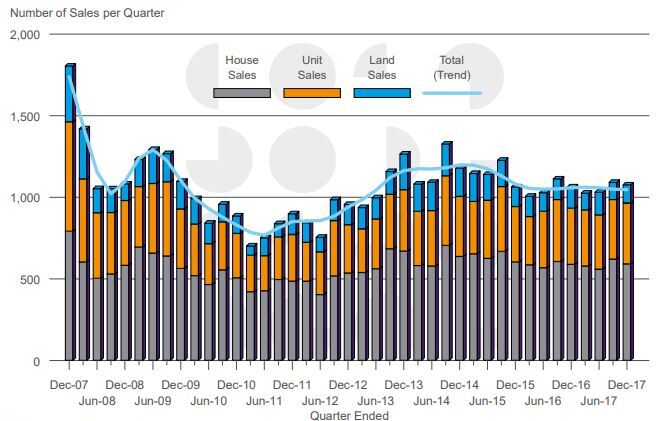 ---
The ramping up of large construction projects such as Crystalbrook Collection's hotels and Nova City is yet to translate to a rebound in local house prices.
The latest Cairns Watch report by Herron Todd White described the city's property market as being in a "steady state" with minimal change in recent months.
Report author Rick Carr was blunt when describing current house prices: "Median property price trends remain dead flat".
In February, the median house price was $411,000, a slight decline of -0.2% over the past 12 months.
Unit prices rose 4% to a median of $221,000, while vacant land also increased with a 1.4% rise to $210,000.
---
­
---
Mr Carr also found the trend in real estate sale numbers was also flat.
"The trend number of sales taking place in the December quarter of 2017 totalled 1,048, around 10% below the levels observed in 2014-15," he wrote.
"The trend number of sales taking place in the December quarter of 2017 reduced by 1% compared to the December quarter of 2016, the result of a 0.7% increase in house sales, a 1.2% reduction in unit sales and a 9.5% reduction in vacant land sales.
RENTAL MARKETS EXTREMELY TIGHT
The latest Cairns Watch report also revealed the rental market remains at "stressed" levels.
"Rental vacancy trends are continuing to wallow in stressed market territory, with our latest survey results showing that rental vacancy rates remain extremely tight," Mr Carr wrote.
"The latest trend rental vacancy rates for February 2018 stood at 1.8% for houses, 1.3% for units and 1.5% overall. Coupled with the low level of new rental supply being created due to relatively low levels of
new housing construction and reduced levels of investor housing activity, rental market conditions are expected to stay tight and/or stressed for some time."
---