Residents urged to stay vigilant against mosquitoes after first case of dengue confirmed in TNQ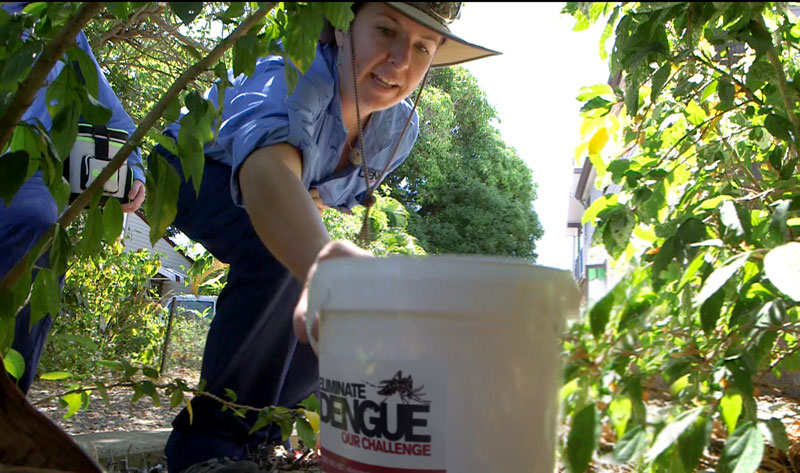 ---
The first local case of dengue has been confirmed, with a Mareeba woman becoming the first instance of the mosquito-borne disease in the Tropical North since February 2017.
Acting Director of Tropical Public Health Services (Cairns) Dr Roscoe Taylor said the Dengue Action Response Team carried out mosquito control measures in the area where the case was confirmed.
The dengue-transmitting Aedes aegypti mosquito was discovered in the area. Dr Taylor noted that Mareeba falls outside the "Eliminate Dengue" program that has proven so successful in places like Cairns, with researchers releasing the Wolbachia bacteria into mosquito populations to effectively prevent the transmission of dengue.
"While we are now in the dry season, the heavy, prolonged wet season has resulted in higher numbers of mosquitoes being around," Dr Taylor said.
"Everyone needs to do their part and take action to eliminate mosquito breeding sites on their properties such as plant pot bases holding water, and to protect themselves from mosquito bites, especially young children and babies.
"People should protect themselves by using a long-acting surface spray (cockroach surface spray) in dark areas underneath furniture inside their homes."
Other tips include:
Install insect screens that are in good working order in your home and office. If not, sleep under a mosquito net day and night
Tip out water from containers weekly, or dry store containers under cover and discard rubbish properly. Mosquitoes breed in containers that hold water
Wear light-coloured, long-sleeved shirts and long pants, and use personal insect repellent containing DEET (di-ethyl toluamide) or Picaridin. DEET and Picaridin are safe for use by pregnant women. Always follow the manufacturer's directions. Repellents usually only protect against mosquito bites for up to four hours
Other mosquito protection devices such as electric zappers and mosquito coils may also be used, but they are less effective than long acting surface spray
Dengue symptoms are fever with severe headaches, muscle and joint pains, and could also include a rash, vomiting and diarrhoea.
Anyone with dengue-like symptoms should see a doctor immediately to be tested for dengue.
---
­