New phase of growth for local college with global reach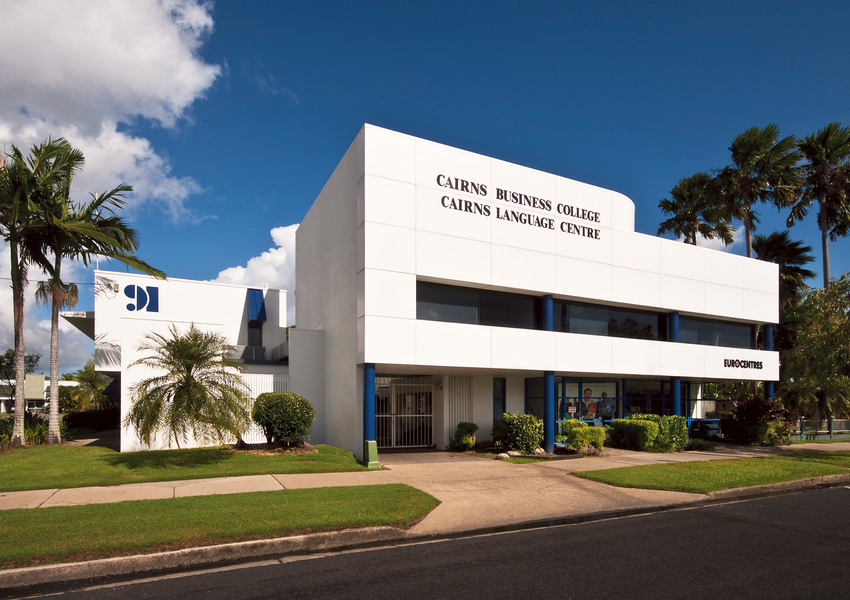 ---
You may not realise it as you drive along Mulgrave Rd, but there's a surprising hive of activity underway behind the façade of a distinctive white-panelled building on the fringe of the Cairns CBD.
Glimpses of backpack-wearing students clutching folders in their arms as they come and go from the building is the only hint of the buzz going on within.
Beyond the garden hedges at the Cairns Business College and Cairns Language Centre, you'll find a vibrant melting pot of students listening, learning, chatting and studying at any given time of the day, including weekends.
This hub of education is undergoing a steady revitalisation after being acquired by Charles Darwin University in June last year. The university's timing was impeccable. According to state government estimates, the international student market is worth about $70 million in export revenue in Cairns and supports nearly 300 local jobs.
While the majority of international visitors choose to study in capital cities, Cairns is increasingly becoming an attractive destination for students.
Tropic spoke with Cairns Business College and Cairns Language Centre's Digital Marketing Manager Shuaib Chaudhry to get an insight into the college's operations and future plans for growth in this exciting, evolving sector.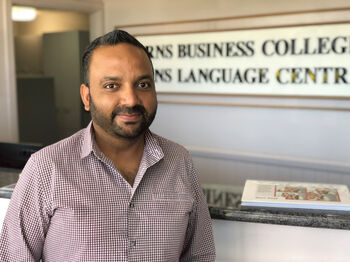 Tell us about some of the new initiatives at Cairns Business College and Cairns Language Centre in recent times.
Our approach is to continuously improve our programs and how we deliver them to ensure we meet the changing needs of our students and the industries where they will pursue their careers. However, there are some things we will never change such as our culture and core values that place the student's success and well-being at the centre of our activities: students first.
We are currently refreshing our website, our resources and the look and feel of the campus. The changes are evolutionary, not revolutionary. For our Business College, we have recruited a teaching team who bring industry expertise into the classroom with each teacher being an industry specialist. More importantly, they have a strong commitment to sharing their knowledge with their students. Their intimate knowledge of their industry and emerging trends is brought into the learning process. We know the approach is working when our graduates are sought by our industry partners.

What is the college doing to capitalise on the growth in the international education sector?

When we set our plans to grow enrolments, the most important asset we have in our favour is Cairns itself. Somewhere between the rainforest and the Reef are the campuses and businesses which allow us to attract international students. Some come to Cairns for the tropical climate, while others come for the adventure and exotic location. Our goal is that each student leaves us after having had "the learning experience of a lifetime". As locals, we tend to take our uniqueness as a fact of life. It's who we are and where we live. This is so different for a student in Stockholm, Buenos Aires or Shinjuku. We promote our academic quality, but we never lose sight of what the city of Cairns adds to our value proposition. We rock!
As a community, we must be vigilant that we maintain our competitive edge in the education space and ensure our policy makers understand the sector so we can achieve a stable regulatory and policy environment. We're not there yet. If we can achieve the desired stability, then international education will continue to grow and to enhance the Australian economy.
We partner with the other education providers to support Study Cairns and Trade Investment Queensland and are grateful to Cairns Regional Council and the Queensland Government for their support of education in Cairns. They understand the value of international education to our local economy and our community life. The collective effort allows us to "punch above our weight" in comparison to larger, very sophisticated competitors.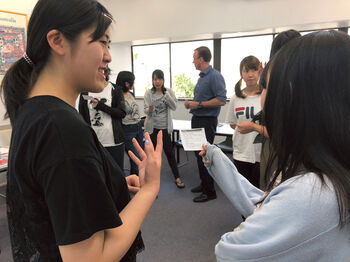 What is the mix of students at the college?
We aim to achieve an equal mix of international and domestic students. Our Language Centre is all overseas students; our Business College has a good mix of local and overseas students. I believe that the cultures and experiences of students from overseas and from the Cairns region help the learning for all involved. We learn more from exploring what is different than we learn from revising what is already familiar to us. We are able to offer something unique - an international perspective which prepares our local and international students for a global experience.
Tell us about your plans for growth over the next 12 months and beyond...
For our Business College in the next 12 months we intend to add new programs which will assist our business partners to grow. We want to create new markets among individuals, schools and businesses in the region. This region has substantial potential for growth, mainly by creating new opportunities and engaging candidates who might not otherwise have considered vocational training or the Cairns Business College as partners in growing their businesses and careers. The model of being a partner in the plans of others is not common in vocational education and training. Too frequently the approach has been to craft a solution, offer it to the market then deliver the solution, regardless of its relevance in each client's unique circumstances. A partnership model requires more flexibility in the crafting of courses and education styles which respond to unique and changing requirements. We have been careful to build a team of trainers and enrolment advisors who understand this partnership approach. They can craft solutions which meet the unique and different needs of our stakeholders.
For more info on the Cairns Business College click here, and for the Cairns Language Centre click here.
---