Jodie's Journey: The importance of the self-check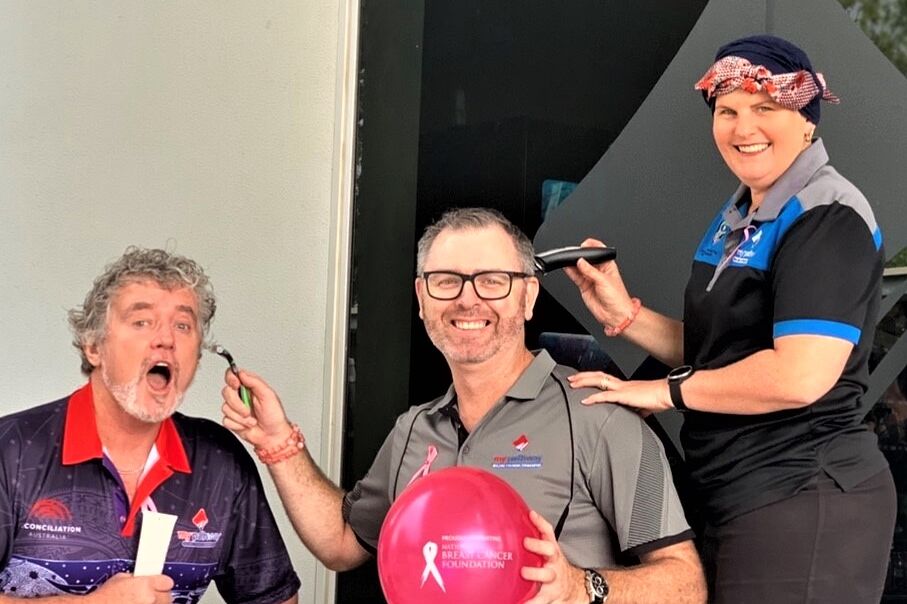 ---
CAIRNS businesses and wellness organisations will come together on 3 July to raise awareness of cancer symptoms and positive outcomes for early detection and care.
Leading the promotion is Jodie Auld – recently diagnosed with breast cancer – who, with her work team at My Pathway will shave her boss's hair and dye locks at her office to raise awareness of the importance of early detection. This is Jodie's story.
---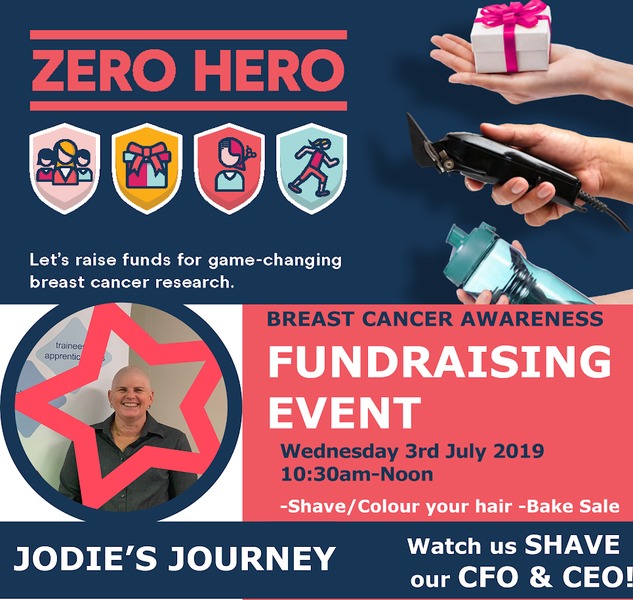 ---
"So where to start...
This will be a shock for some (sorry). I have deliberated about sharing 'My Journey' however by doing so, hopefully it will help us all become more aware.
I guess the best place to start is at the beginning.
In early February, I found a lump in my left breast. I kept it to myself for a week (hoped it would go away).
I was booked in for a pap smear the day before my twins 21st birthday, so I discussed my breast lump with my doctor.
The following Friday I went to have it investigated (ultrasound, mammogram, literally the works). As it turns out, another lump was found.
Biopsies were done - luckily, the one they found turned out to be nothing. Ahhhh. But the one I found wasn't, so the journey begins....
I was booked in for surgery, a lumpectomy. During this procedure another cancer was found sitting alongside my first one. Lymph nodes were removed.
Now the wait. Then the results.
Cancer was found in my lymph nodes. Well that wasn't in the plan. Chemo is now involved. This is now where I am at. I met the oncologist yesterday, and the treatment plan is now set:
One chemo treatment every 3 weeks (4 cycles) and then one every week (12 cycles).
Still to be discussed is radiation and hormone treatment, after the chemotherapy.
---
Am I ready for this? You bet.
Am I positive? You bet.
Am I lucky? You bet.
Why? Because of early detection. I didn't ignore it!
---
NOTE. I had a mammogram in October last year (regular scheduled one, every two years). Nothing was picked up, so I am forever grateful that I self-checked and then did something about it.

My family are doing okay but each of us have had our moments (tears, anger, scared).
I want to say a huge thank you to all the medical professionals I have met so far - amazing and wonderful people.
Stay tuned."
---
Jodie's Journey – Fundraiser: Shave & Colour for a Cure & Bake Sale – Cairns

All are welcome to join!
When: Wednesday 3rd July - 10:30am -12noon
Where: My Pathway office 84-88 Cook St, Portsmith Tel: 40333400
What: Bake sale and shave or dye your hair. It's named 'Jodie's Journey' to support her through her journey beating cancer.
Theme: Raising awareness around the importance of the 'self check' and to clarify the screening processes and costs associated with a cancer diagnosis.

Registered fundraiser event link:
https://fundraise.nbcf.org.au/fundraisers/fleurmacmunn/my-pathway--jodie--s-journey

There will also be:
• Raffles (Including Matrix/Redkin baskets valued at $450 each, a $200 BBQ/Smoker from Sunny Oven Takeaway and Catering, a body beauty pack worth $90 from Blush Body and a Jodie's Journey Bear- custom made for the event)
• Guest Speakers Karen Gray from COUCH Wellness Centre and Sandra Peut from Breast Screen
QLD Cairns
• Bake Sale by My Pathway
• Shave and Colour for a Cure sponsored by Hair House Warehouse Smithfield
• White Whale contributing $1 from every coffee sold on the day
---