Cairns students to hold second strike as part of nationwide pre-election climate change protest
---
Cairns students will walk out of their classrooms next week, as part of a second nationwide campaign demanding more government action on climate change.
The students will strike on Friday, 15th March.
They'll meet at the Cairns Esplanade lagoon at 9-AM, before marching to the court house and back.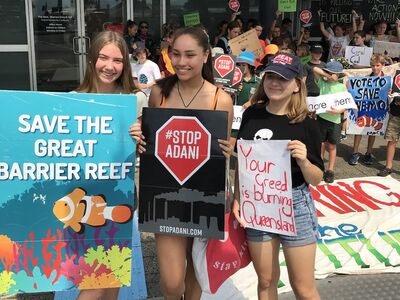 Co-organiser of the Cairns march, 16 year-old Piper Lily O'Connell, said as well as calling for action on climate change, the students will voice their opposition to the Adani coal mine.
"I can't believe Australian politicians aren't taking this issue seriously.
"We could become a leader in renewable energy but instead they support Adani's coal mine," she said.
"I can't vote in the upcoming election but I can be part of this awesome global movement of young people standing up for our safe climate future."
She said adults have been invited to join the group in a show of solidarity, ahead of the election.
"I'm striking from school because climate change is a huge threat to our reef and our future.
"We're inviting adults to join the strike because we can't do this alone," she said.
---
About the campaign


The Australian school strike movement was kicked off in 2018 by students in central Victoria.
They were inspired by a 15 year-old Swedish student, Greta Thunberg, who started striking in August last year and now strikes every Friday.
Last November, 15,000 students nationwide were involved in the first Australian-based strike, with Cairns students petitioning outside the office of Federal Member for Leichhardt, Warren Entsch.