Tropic's 17 reasons to be positive about the Cairns economy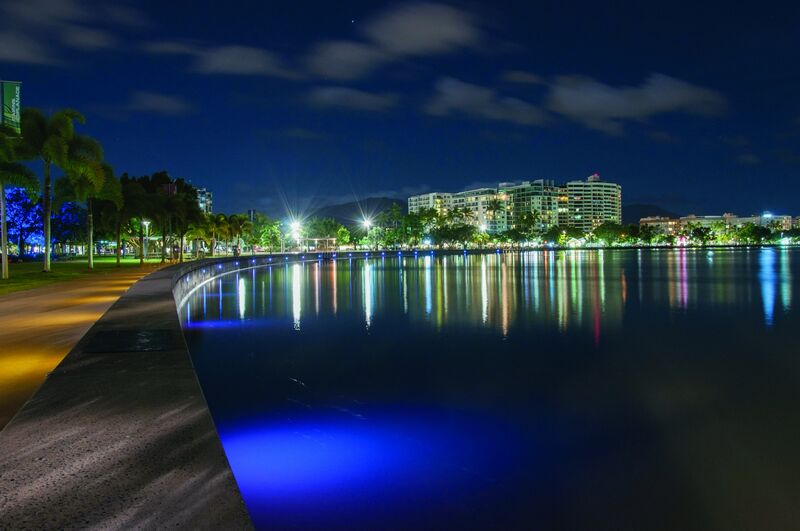 ---
Yes, there's a lot to deal with right now.
The coronavirus pandemic has up-ended our lives, hit our businesses and dominated the news cycle for the past six months. The uncertainty challenges our resolve to remain upbeat, to see the light at the end of the long tunnel.
As a counterpoint to all that, however, we know good things are happening all around us in the Cairns region.
To remind us that it's not all doom and gloom right now, the Tropic team has unearthed 17 things to look forward to in the local economy and give our confidence levels a much-needed kick in the process.
Our advice? Read the list, reflect and carry on.
---
---
1.
Botanica sales are powering ahead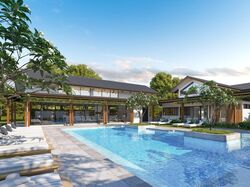 This $90 million over-50s residential development continues to record strong sales and construction activity is buzzing at the Caravonica site. The first residents will move in by the end of year. Botanica demonstrates the huge potential for Cairns to attract baby boomers and empty nesters with high-quality, beautifully designed developments.
---
2.
Council's Gallery Precinct
There's $1.5 million in this year's Cairns Regional Council budget to finish refurbishment work at the Courthouse building on Abbott St, work that is due for completion in November. That's a precursor to Mayor Bob Manning's grand plan to create an integrated Gallery Precinct in that pocket of the CBD, incorporating the art gallery and old Mulgrave Shire building. While council hopes the State and Federal Governments will chip in about $13 million each to create the $40 million project, Cr Manning announced during the local government election campaign in March that council would go it alone if the other tiers of government refuse to stump up the cash. The clock is ticking – let's see what unfolds over the next few months.
---
3.
State election promises
The state electorates of Cairns and Barron River will be a hot contest in the state election on October 31, so we can expect some decent promises and project commitments from both sides of the political ledger over the next few months. State finances have of course taken a battering due to COVID-19 – not to mention the fact that the Budget bottom line wasn't awesome before that - so it will be intriguing to see what dollars are promised for our region.
---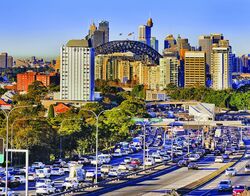 4.
JobKeeper extended
This is a big one for our city. Data released in June showed a staggering 3,600 businesses in Cairns are claiming JobKeeper, the highest rate of any Queensland postcode and the fifth highest in the country. To check the changes being introduced for JobKeeper 2.0, click here.
---
5.
Potential for population growth
Now we know that we can all work from home, coupled with widespread concern about living in congested capital cities, there's a unique opportunity to supercharge our population. A bigger residential base would benefit us all and set our city on a course towards a self-sufficient economy. Cairns needs to present its case to people living in Sydney and Melbourne and entice them north to our tropical paradise. We've got it all here – we just need to get people down south to realise it too.
---
6.
Vision to double FNQ's high value food exports by 2030
It's been talked about ad infinitum. Yes, there's a renewed push to ramp up our agricultural exports out of Cairns Airport. At least now there's a comprehensive strategy document with a view to making it happen. In a recent report titled Export 2030 – delivering fresh food fast authored by KPMG, with the input of FNQ business leaders, key enables have been identified to help double high-value FNQ food exports from Cairns Airport to $120 million by 2030. The strategy calls for some obvious, long touted enablers: secure new flights and new airlines, utilise existing and future airport facilities and improve regional infrastructure such as water and roads. Now, to manifest the words in a report into tangible results.
---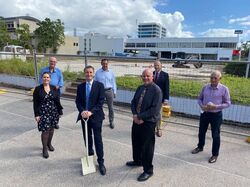 7.
$50 million CQU Cairns campus
This is a no-brainer. Despite the barrage of COVID-related hits to the university sector in recent months, the growth of CQUniversity over the past eight years has been bold and impressive. The just-released plan for a purpose-built campus at the old Post Office site on Grafton St will cater to more than 4000 students by 2030 and support more than 300 jobs. CQUniversity Vice-Chancellor Professor Nick Klomp said the "major infrastructure project would inject over $500 million into the Cairns regional economy over the next 10 years, in the form of jobs, local procurement and student expenditure". Now, we just need the Federal Government to stump up the $50 million in cash.
---
8.
Progress on the Wangetti Trail
Tasmania has shown how lucrative the mountain biking scene can be, but now it's our turn. The Wangetti Trail, a vision of local legend Glen Jacobs, will be a 94km boon for the region, attracting visitors to a dual use walking and mountain biking track from Port Douglas to Palm Cove. Winding through World Heritage-listed coastal and hinterland scenery, the Wangetti Trail will be a significant asset to the region. Tenders went out in June for $9 million worth of works to build a 31km stretch of the track from Palm Cove to Wangetti. Forecasts suggest the trail will create up to 150 jobs and inject up to $300 million into the regional economy in future years. Pedal power, indeed. The project is on track for a late-2022 opening.
---
9.
Re-opening of Cairns Convention Centre
Putting aside the justified controversy and criticism over repeated delays, local procurement, and the kerfuffle over the scheduling of Cairns Taipans games, the $176 million upgrade to the Cairns Convention Centre looks splendid. Delivering an extra 10,000 sq/m of meeting, banquet and exhibition space, the redevelopment will be delivered in two stages. First stage: a refurbishment of the existing Centre, including the Auditorium, Arena and existing meeting rooms. Second stage: This is the expansion phase, with new spaces available to event planners in early 2022. They say it'll bring 20,000 extra visitors to the region and inject up to $50 million into the local economy annually.
---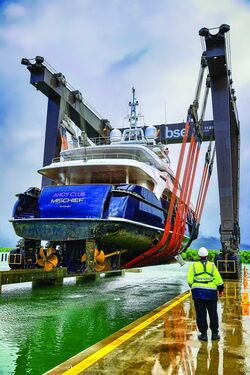 10.
Cairns Maritime Precinct upgrades
Cairns is at war with Darwin, if only in a political context, to be crowned the key strategic naval hub for the Pacific region. With escalating territorial tensions in the South China Sea and Australia's current relationship dramas with China, a naval base hub in the nation's North is a pressing item on the Defence Department's agenda. For Cairns to get the edge over Darwin in this high-stakes contest, some serious upgrade work is required in our port infrastructure and naval base facilities. Nearly a year ago, the Federal Government unveiled a development masterplan for the HMAS Cairns precinct at Portsmith with a $300 million price tag attached, on top of previous long-term funding commitments. The first stage of works is expected to be completed next year to accommodate the home basing of four new Offshore Patrol Vessels. All up, the Federal Government says the total committed spend for HMAS CAIRNS is $635 million over the next decade. We'd like to see more pressure applied to the Feds to ensure the funding promises turn into action on the waterfront.
---
11.
Biggest capital works expenditure in Cairns Regional Council history
Despite the COVID-19 related hits to its bottom line, Cairns Regional Council's 2020-21 Budget contained a record $181 million capital works program, the biggest in its history. The spending includes $60 million for water and waste infrastructure, $43.5 million for improvements to the city's transport and drainage network and $28 million for the Esplanade Dining Precinct project, among other projects. Council says approximately 90% of its capital works expenditure is spent locally on employment, materials and services, so it's a significant economic boost over the next 12 months.
---
12.
City Deal for Cairns
Who knows where this Federal Government policy is at in the fog of COVID-19? Designed to get all three levels of government on the same page, the City Deal program is the mechanism Townsville utilised to fund its rectangular stadium, among other projects. Cairns wants to be next in line, so the push for our own City Deal is still on the agenda. A little-known council report on the City Deal subject, published in October last year, wanted the agreement signed in the second quarter of this year. Coronavirus rendered that hopeful timeline redundant. Reigniting the push for a Cairns City Deal will be important to our economic recovery going forward.
---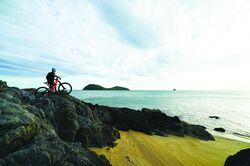 13.
Local home building boost
By all accounts, the home building industry has ticked along at a reasonable rate during the coronavirus pandemic, a period when most other sectors were hammered. Significant stimulus spending by governments to encourage new home builds has of course been a massive help in this regard. Eligible first home buyers can access up to $45,000 in grants, but only until the end of the year. Even when that stimulus spending runs out, vacancy rates remain tight in Cairns and interest rates will stay at record lows, so there should be a pipeline of people needing new homes over coming years.
---
14.
Yes, tourists will come back
Our desire to travel, explore and take a break will outlast and overcome the impact of coronavirus. We know international visitation is some way off – no-one can predict how long it will take to resume and recover – so in the meantime we've got to grab our fair share of domestic tourists instead, as well as explore our own backyard with holidays at home. Our tourism infrastructure and army of operators are strong enough to bounce back. Early signs since the re-opening of the Queensland border on July 10 are positive for the industry, with more to come as aviation activity ramps up.
---
15.
Cairns Hospital upgrades
There's a push to upgrade Cairns Hospital to level 6 tertiary status, enabling it to become Cairns University Hospital. This would mean a range of additional services and surgical capacity, more training spots for medical students and more employment opportunities for health professionals. There's just one sticking point to realising the vision, however: more funding from the State Government is required. In a fortuitous fluke of timing, there's a state election happening this October. Let's hope it's high on the priority list of both major parties.
---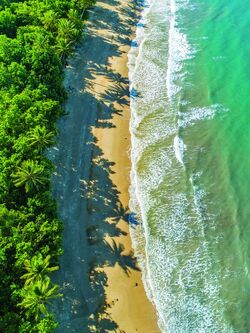 16.
Cairns Manufacturing Hub
This State Government-led initiative has flown under the radar, but there's a good story to tell. The Cairns Hub is located at the TAFE campus in Cairns, with a focus on boosting and supporting sectors such as marine, aviation and food manufacturing. Local manufacturers in the greater Cairns region can tap into $4.5 million in funding for technology adoption, skills and training, and business development. Manufacturing is a surprisingly vibrant contributor to our regional economy, with the sector pumping almost $790 million into the Queensland economy in 2017-18 and employing around 6400 people. News of the Hub's success is hard to come by, however. If the Hub is achieving good results, the Government shouldn't be afraid to spruik it.
---
17.
We live in paradise
We've said it before, and we'll keep saying it here at Tropic: We really are blessed to live in paradise. More vibrant than other regional centres (have you been to Townsville recently?) and less congested than capital cities, we've also got good schools, affordable housing, an international airport, diverse food and bar scene and a hospital that continues to improve and upgrade its services. Add in our beautiful natural environment, from the Reef and beaches to rainforests, and you'd agree that our liveability here is second to none. Despite the many challenges posed by COVID-19, sometimes we need to kick back and remind ourselves how great this place called home truly is.