More monsoon rain storms likely for Cairns region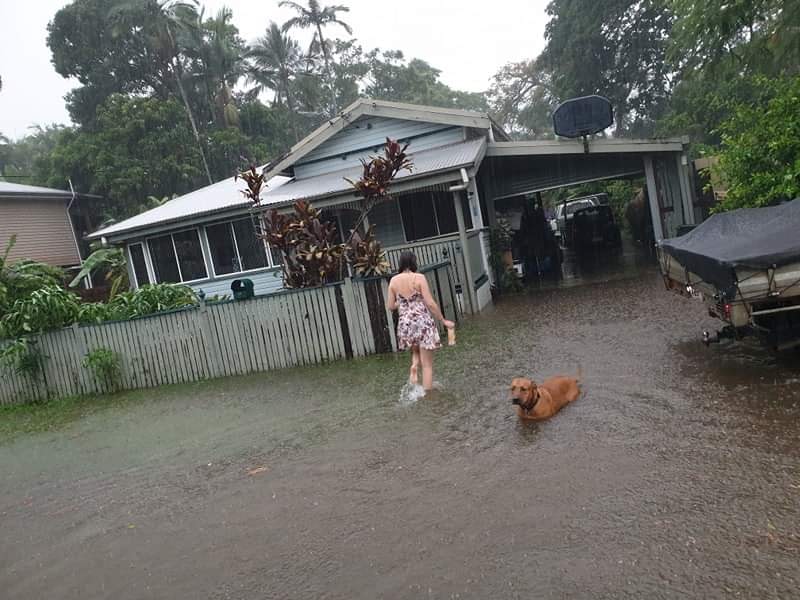 ---
The Bureau of Meteorology has warned of more storms like the one which drenched the Cairns region this morning.
Widespread flash flooding occurred when around 200 millimetres of rain fell in 24 hours due to a monsoon trough over north Queensland combining with a tropical low on the NT border.
VIEW THE VIDEOS BELOW
---
---
Meteorologist Shane Kennedy told Tropic Now while the tropical low is drifting south-west, the monsoon trough is going to keep drenching the region for the next couple of days.
---
"We are expecting that risk of heavy falls for the next day at least, maybe two," he said.
"There's definitely the possibility of another thunderstorm warning today and likely a risk for the rest of the week.
"Today and tomorrow will be the bigger days, potentially easing on Friday but still a chance then of 20 to 40 millimetres," he said.
Mr Kennedy said up to 60 millimetres is predicted tomorrow, which is the same as what was forecast for today.
The monsoon trough is expected to move slowly north to Cape York from the weekend, however the rain will stick around, with totals between 10 and 30 millimetres between Saturday and Tuesday.
SES far northern region director Wayne Coutts is urging people to be prepared.
"People should use what happened this morning as a warning and make sure they're prepared for next time and it's a good idea to have sandbags waiting and ready to roll."
"Also, we're fairly lucky we haven't seen hardly any trees come down yet but that was because there wasn't much wind.
"Now the ground is loose we could see more trees down."
Sandbags can be purchased from local landscape suppliers and hardware stores.
The SES only gives them out in emergencies.
Meantime, the chair of the Cairns Local Disaster Management Group is also urging people to be vigilant, including keeping children out of stormwater drains.
"Fast flowing water can be dangerous and the quality of water can deteriorate during heavy rainfall," Cr Terry James said.
"Motorists can also assist by driving carefully and slowly.
"This is not only for the safety of road users and pedestrians, but it also lessens the impact of bow waves, which can push water into adjacent properties.
"We urge residents to advise Council, via the My Cairns app or the customer service centre, of any issues with roads or drains."
A number of rubbish bins left out overnight for collection were this morning washed away, with Council crews deployed to clean up the mess.
For the rest of the week, residents are being asked not to place their bins in areas where it might flood, such as gutters.
The Council is still assessing whether to lift level 2 water restrictions.
The most recent reading from Copperlode Dam, taken yesterday, shows it was sitting at just over 70% capacity, with the water level 3.5m below the spillover.