Rain eases up but wet conditions continue for Cairns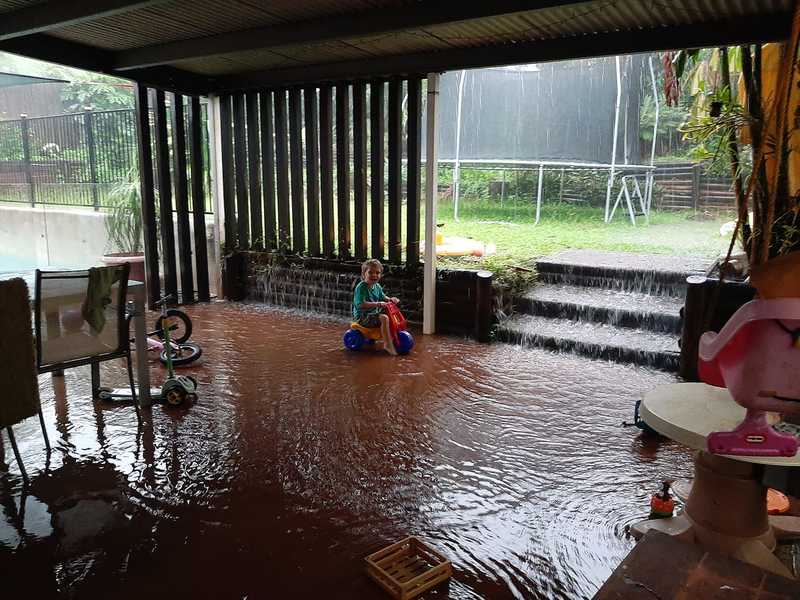 ---
Council is urging Cairns residents to prepare for a wet week ahead despite the rain easing up this weekend.

King tides will hit Cairns beaches next Thursday February 6th, and those in low-lying coastal areas might need to prepare for flooding. Sandbag filling stations will be open at various spots throughout the region this weekend.
Rainfall, however, will be less of an issue.
Bureau of Meteorology meteorologist Alex Majchrowski told Tropic Now that upcoming showers will be significantly lighter than what they were this past week, when heavy downpours brought some areas 200mm of rain and caused serious flash flooding.
"Cairns is in a bit of a dry spot this weekend," says Mr Majchrowski. "There is a high chance of showers in the region, but Cairns itself probably won't see more than 5mm on any day. Areas to the north and south will potentially see up to 10mm."
"The monsoon trough is weakening and moving out to the Coral Sea."
Despite the recent downpours, Council says that level 2 water restrictions will remain in place, with the Copperlode Dam currently sitting at 77% capacity.
---
---
For those in need of sandbags, filling stations will be open this weekend at the following waste transfer stations:
Portsmith Transfer Station: Saturday and Sunday 8.30am to 5.15pm
Smithfield Transfer Station: Saturday 7am to 5.15pm; Sunday 9am to 5.15pm
Gordonvale Transfer Station: Saturday and Sunday 8.30am to 5.15pm
Babinda Transfer Station: Sunday only 8.30am to 4.45pm (not open Saturday)
King tides are forecasted in Cairns as follows:
2.89m at 7.38am on Thursday 6 Feb
3.10m at 8.16am on Friday 7 Feb
3.26m at 8.55am on Saturday 8 Feb
3.35m at 9.33am on Sunday 9 Feb
3.35m at 10.12am on Monday 10 Feb
3.25m at 10.51am on Tuesday 11 Feb
3.06m at 11.32am on Wednesday 12 Feb
2.79m at 12.20pm on Thursday 13 Feb
---