Tropic's 11 things to do this wet season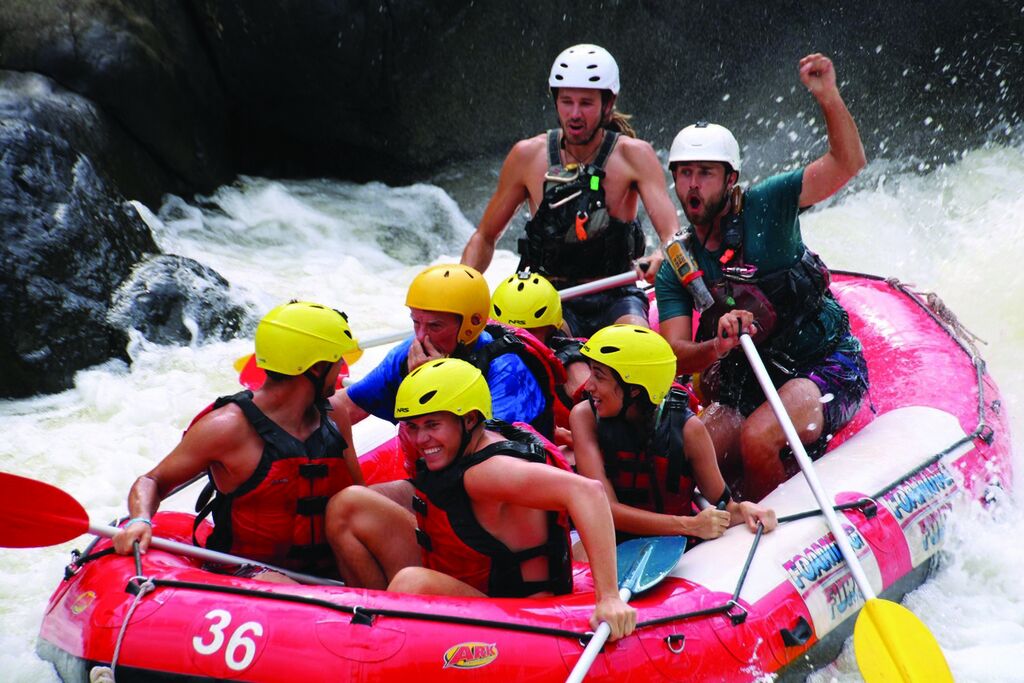 Our wet season has an unmerited reputation of being suffocatingly hot and inescapable.
But we here at Tropic tend to disagree.
Summer is the best time to experience all the drama and delight of our incredible environment, is it not?
Here are eleven things you'll want to do in Cairns this wet season.
##BA##
1. Rediscover the Great Barrier Reef
There's always something new to discover on the Reef, and never more so in summer.
With 'glass out' days of great water visibility, coral spawning season, and fewer travellers around (making it easier to avoid an unwelcome flipper in face scenario), a reef trip is at the top of our wish list this wet season.
We recommend the Sunlover Reef Cruises trip out to Moore Reef, where their double-storied pontoon has plenty of sheltered seating space.
But if you're heading out to snorkel or dive, chances are you're planning on getting wet, no matter the weather.
2. Cruise out to Kuranda
It's a tourist mecca for most of the year, but when summer comes around, Kuranda is reclaimed by locals.
The Skyrail and Scenic Railway are pretty spectacular modes of transport to the town, but a half-hour drive through the Range is just as relaxing.
This sleepy rainforest community is home to sheltered, winding markets, as well as the best ice cream around.
Cliff's coffee and walnut is our scoop of choice.
3. Chase those waterfalls
Visitors rave about the hundreds of waterfalls in our region, but rarely stick around to see them at their best.
Barron Falls still takes our breath away each season, as do the calmer settings of Crystal Cascades and countless others nearby.
The Tablelands waterfall circuit is another one to tackle, though it'll take more than one trip to truly soak in all its steamy, summer glory.
4. Gallery getaway
It would take a few days to gaze over all of the Tropical North's incredible art galleries, only for it to be a completely different experience a month later.
Cairns Art Gallery, UMI Arts, Tanks Art Centre and NorthSite Contemporary Arts all host an ever-changing calendar of exhibitions.
Even if you've been to one before, consider this your prompt to go again.
5. Load up on local produce
When life gets busy we tend to forget about the little joys, like a slow morning at Rusty's Markets and a bag brimming with local produce.
The wet season brings an abundance of tropical fruit like mangoes, papaya, lychees, mangosteen and jackfruit, to name just a few.
Being completely undercover – and with cool caffeinated refreshments to accompany your shop – there's no reason to skip Rusty's in summer.
6. Bar-hopping
Obviously, bar-hopping isn't an activity exclusive to the wet season, but we've put it here for obvious reasons.
Catch the Tropic team at NOA for cocktails, The Conservatory Bar for a wine-down, and The Chambers for a bit of everything in between.
Laneway, Boatshed, and Flamingos Tiki Bar are a few more places we like to frequent.
7. Play in the rain
When it rains, it pours in the Tropical North. And when it pours, the region's rivers are pumping and the rainforest is thriving.
White water rafting is one of the best ways to immerse in our spectacular summer, and trust us, it won't matter if it rains.
Wakeboarding and bungee jumping – both a stone's throw from Cairns – are another two activities that are far more epic during a downpour.
8. Lawn bowls
If you're after one or two lazy weekends this wet season, give lawn bowls a go.
West Cairns Bowls Club and Marlin Coast Bowls Club are both roofed and ready for the rain.
A game on the green lawn makes for a cheerful afternoon, with cheap beverages to boot.
9. Go wildlife spotting
Whether you're looking around the Botanic Gardens, a nearby national park, or even in your backyard, it won't take long to spot a native critter of some kind.
Summer is the season frogs and butterflies really come out to play, as well migratory birds like the Channel Billed Cuckoo and the Metallic Starling visiting from Indonesia and PNG.
10. Cairns Museum
Truth be told, locals enjoy the Cairns Museum more than tourists do.
There's no better place to celebrate the trials and triumphs of living in the Tropical North.
Trace the history of our city and you'll see why we're known as the toughest, most adaptable Australians in the country.
11. Spa sessions
Our summer 'break' can easily become a busy, sticky blur.
Some scheduled downtime with Eléme Day Spa is our remedy. Facials, bubbles, and a massage – mm-hmm.
There's also a 15% discount for locals, in case you needed some more convincing.
Still stuck for ideas?
Keep updated on all the best events in and around Cairns with our regular Tropic Weekender guide.
This story originally appeared in Tropic Magazine Issue 27. Read the issue here.