Locally crafted brews, new outdoor bar and good times: Barrier Reef Brewing Co. enters exciting new phase
---
A brand new outdoor beer garden, more online ordering options and a selection of new brews.
It's been a big couple of months for the crew at Barrier Reef Brewing Co. And you're invited to experience it all now that COVID-19 restrictions are easing.
You can now visit the brewery at 17 Johnson St in beautiful Stratford to see it for yourself - and taste their array of fresh, tasty, locally crafted beer.
Tropic sat down with founder and brewer Cameron McPherson to find out all the latest from this buzzing Northern Beaches brewery.
---
---
What has Barrier Reef Brewing Co. been up to during the coronavirus lockdown?
Cameron: Early on during lockdown we reconfigured our online shop so that we could concentrate on our local region, with reviewed wholesale prices for all our Cairns customers and free local deliveries. The main intent was to allow people to order our beer without having to leave home, and the response from local people was fantastic!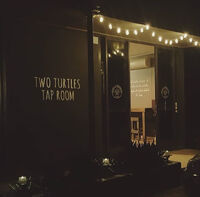 During this time we also made some changes to our outside area, converting the driveway at the side of the building into a beer garden bar, with a view of the brew house and tanks. It's only been open for a few weeks, but so far it's proven to be very popular.
Special Edition brews from our new 'Back Shed Series' have been very popular too! EACHAM, a Cascadian Dark ale, and for the lighter beer drinkers we have recently released SUNBIRD, a light and refreshing Golden Ale. These accompany our core beer range: Two Turtles Pale Ale, Hopturtle IPA, Hazy Days Unfiltered Lager, Arlington Amber and Double Shot Coffee Amber. All beers are handcrafted, clean tasting, preservative-free brews, created here in our Stratford based microbrewery and served fresh over our bar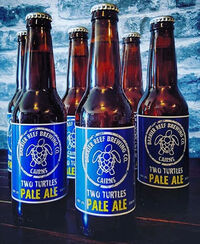 Tell us about the reopening of the bar - what can people expect from the new space?
Obviously we are following social distancing rules, but we're excited to share our new outside area. The space has its own bar, allowing us to have 6-8 different beer varieties on tap at once. It's a rustic aesthetic, much like our tap room, with repurposed pallet wood furniture, kegs, barrels, plants, fairy lights and more. The area is intended to be a welcoming and relaxing area to enjoy a cold beer on a gorgeous North Queensland evening!
Easy access from the highway (look for the turtle) and walking distance for our regular Stratford locals.
What are your opening hours, food vendors, and any events you've got happening at the brewery...
Current opening hours are 4pm-7pm on Thursdays for the main bar only (the Two Turtles Tap Room). It's a comfortable, fully air-conditioned indoor space, with ambient lighting, upcycled pallet wood furniture (from Power of Pallets), background music, and turtle and brewery themed wall art and posters.
On Friday's, both the main bar and the new beer garden area will be open 4pm - 8pm. Towards the end of July/early August we will open both areas on Saturdays also from 2pm-6pm (with an occasional guest DJ/live music set), and we will eventually be open on Sundays as well.
Currently we have Nonna Mena (the Italian Kitchen Mobile) setting up on the driveway every Friday, cooking up an awesome menu to enjoy with some of our handcrafted beers, fresh from the brew house - its locals supporting locals, which has always been a very important part of our business. We have always endeavoured to invest in and support our local community, and in return the local community supports us, its a win, win!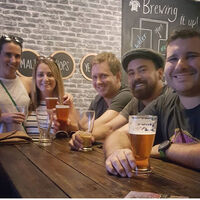 How is the online store going? Have takeaways been popular during recent months?
The online store has been a huge success. As mentioned, the support from Cairns locals has been great and we have received many requests for beer deliveries interstate too! We remained open for takeaways throughout the lockdown period, with good customer numbers turning up for each session. Everyone was very understanding of the COVID rules we had in place and continue to observe the social distancing requirements now that the bars are open.
Visit Barrier Reef Brewing Co. at 2/17 Johnston Street at Stratford, find out more on their website here and follow their Facebook page here.