Retail Therapy: 4 Cairns hot spots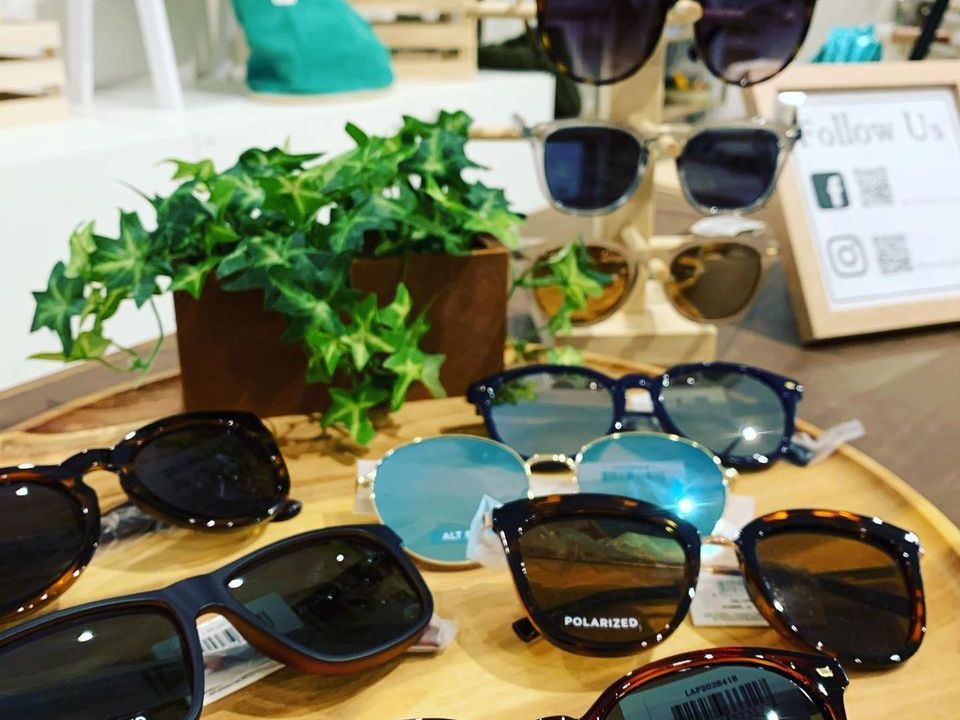 ---
Things have been a little stressful for all lately, so we'd like to recommend some unique local businesses where you can shop, unwind, or just appreciate some awesome art. These are Tropic's 4 local hot spots to relax and get some retail therapy.
---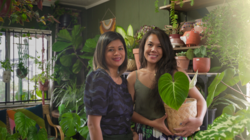 Awesome coffee, gorgeous plants and good vibes. What's not to love about Succuliving? Now located in a bigger space on Severin St, sisters Smilyn and Marichu share a passion for design and plants.
With this passion they started Succuliving and after two years trading as an online nursery creating custom succulent arrangements and hosting numerous workshops, the sisters decided to open their own nursery/coffee shop in a permanent location.
"Aiming to target customers with a busy lifestyle, we focused on easy to maintain plants like succulents and cacti as well as plant styling using a variety of indoor plants," Marichu said.
"Recently we have branched out into styling events and weddings with our arrangements. These days we are literally spoilt for choice when it comes to purchasing plants. By teaming plants with their pot or vessel, we make choosing your new 'plant possè' a whole lot easier."
Check out Succuliving here.
---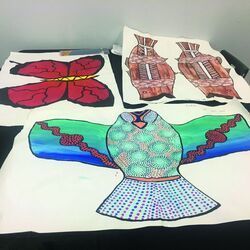 2. UMI Arts
After a period of closure due to the COVID-19 pandemic, UMI Arts' Jensen Street Gallery has reopened to the public.
To celebrate, UMI Arts recently hosted the annual Freshwater Saltwater exhibition, a collection of more than 30 works showcasing spiritual and physical connection to country. The 2020 Freshwater Saltwater exhibition marks UMI Arts' 15th anniversary.
Responding to this year's theme "Boundless", the work of 13 artists spans from lino cut, digital and fabric screen prints to acrylic on canvas, watercolours, ceramics, softwood rainforest timber shields and firemakers. Check it out until September 8 at UMI Arts' Jensen Plaza Gallery.
COVID-19 has given UMI Arts time to reset and re-evaluate their operations and re-invest in artists by giving them opportunities to showcase their artworks in a variety of exhibitions.
The pandemic has also cemented UMI Arts position as an essential service to the local Indigenous community as an art incubator for budding and emerging artist as well as providing support to local and regional artists.
Check out the Umi Arts website to learn more.
---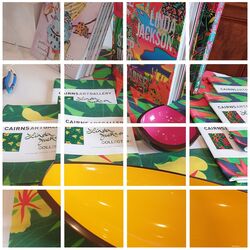 3. Cairns Art Gallery Shop
Speaking of art, we'd be remiss if we didn't mention the Cairns Art Gallery itself. The Gallery's shop boasts a wealth of jewelery, art, books, homewares and more, all showcasing the best that our region has to offer.
Check out their Instagram for updates on what is available, and you can directly inquire with the team online about anything you want to purchase.
The gallery is supporting local artists to include original paintings, prints and drawings as part of their Works On Paper Initiative, and buying local art offers great support for regional artists.
Even if you aren't looking to buy anything, go for a stroll through the gallery itself and wonder at the talent of Cairns' homegrown creativity.
Check out the Cairns Art Gallery Shop here.
---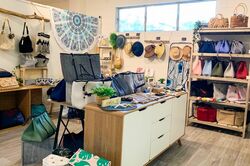 4. Coco Shop
We really love this cute, eclectic retail offering at Freshwater. Coco Shop is home to an array of funky products, proving you can find great things in local shops without the need to buy online.
Coco Shop is the only retailer in Cairns of the stylish neoprene bags by Australian brands Willow Bay and CHUCHKA. You'll also find an amazing range of shoes, hats, homewares, accessories, natural skin care and more.
When you need stylish new clothes or a bit of self care, Coco is a must visit.
As Tomoko from Coco Shop says: "we're like a compact shopping mall".
Visit the Coco Shop website to check out what they have on offer.