Premier Palaszczuk delivers a decision on borders
---
TROPIC NOW BREAKING NEWS
3:30PM UPDATE: Western Australia will also open its borders to Queensland from November 14, pending ongoing health advice.
Travellers from QLD, as well as SA, Tasmania, the NT and the ACT will be able to enter WA without needing to self-quarantine.
EARLIER: Queensland's border will remain closed to Victoria and the Greater Sydney area, dashing the hopes of the Far North's tourism industry waiting for the region's two biggest visitation markets to reopen.
After meeting health officials this morning, the Premier said the state's borders will remain closed to 32 local government areas in NSW.
A local tourism leader has slammed today's announcement as "absolutely ludicrous".
The big decision comes just a day before the state election.
---
---
NSW's restricted local government areas: Bayside, Blacktown, Burwood, Camden, Campbelltown, Canada Bay, Canterbury-Bankstown, Cumberland, Fairfield, Georges River, Hornsby, Hunters Hill, Inner West, Ku-Ring-Gai, Lane Cove, Liverpool, Mosman, Nth Sydney, Northern Beaches, Parramatta, Penrith, Randwick, Ryde, Strathfield, Sutherland Shire, Sydney, The Hills Shire, Waverley, Willoughby, Wollondilly, Woolhara, Sydney Harbour.
The decision follows Queensland's Chief Health Officer Dr Jeannette Young's initial plan to keep borders closed until there were 28 days of no coronavirus transmission from an unknown source in NSW.
NSW recorded four new local cases yesterday and one overnight, as well as issued a public health alert for an F45 gym in southwest Sydney after a positive case visited the venue 13 times since October 15.
Two of the confirmed new cases yesterday were school students, while the fourth was a mystery infection – the state's first in over two weeks.
MORE TO COME...
---
QLD BORDER TIMELINE
March 23: Closed to all states
July 10: Reopened to all states except Victoria
August 8: Closed again to NSW and the ACT, remained closed to Victoria
September 25: Reopened to ACT
October 1: Reopened to some northern NSW shires
---
TOURISM INDUSTRY RESPONDS
Pinnacle Tourism Marketing's Michael Nelson told Tropic Now it's hard to understand how the State's making these decisions.
"Our Chief Health Officer must be seeing something in the data that no one else is seeing, and it would be wonderful to know what that is," he said.
"SA has been opened to NSW for the better part of the month and it's had no issues. ACT and the NT too.
"The Queensland was going to for a suppressing strategy, it was never going to go for eradication.
"It seems to be deviating massively from that now.
"The only number our state will accept is zero, and no one knows when that will be.
"In the meantime our tourism industry is put under enormous stress.
"There's a looming cliff coming up at the end of March when JobKeeper support winds up too.
"It feels like our businesses have been kicked into the gutter once again."
Tourism Tropical North Queensland's Chief Executive Officer Mark Olsen said today's decision keeps 4.8 million Australians from visiting the region.
"This is devastating news for the tourism industry," Mr Olsen told Tropic Now.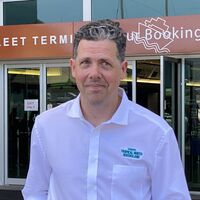 "NSW visitors inject more than $2 million a day, and unfortunately, regional NSW represents less than 30% of the total visitor market.
"The industry (is) now reaching a ticking time bomb of the removal and withdrawal of the government support programs that have been so vital to keeping our industry afloat – an industry that supports one in five jobs in our community."
When asked whether he agrees with the State Government's decision, Mr Olsen said "we have to follow the Chief Health Officer's advice."
"We have to be consistent in our approach. It is disappointing that one unknown case in New South Wales is triggering this decision," he said.
"We'd love to see that 28 day period reduced to 14 days ... (to) give this community at least the chance to start its recovery knowing we won't see international visitors until the middle of next year, if not later."
Another local tourism operator told reporters the past few months have been "a rollercoaster ride" for the industry.
Owner and operator of Bad Fishy Jet Boating and Cairns Boat Hire Nikki Giumelli said it's hard to remain positive amid the uncertainty.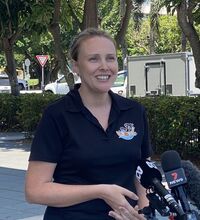 "There's lots of really smart, intelligent business owners that are adaptable and they'll do their best ... but it is tricky to stay optimistic all the time," she said.
"There's still a bit of little bit of time, still a window of opportunity.
"We're all waiting to see what the December-January period really looks like for our businesses."
---