Policeman stabbed in the stomach at Cairns shopping centre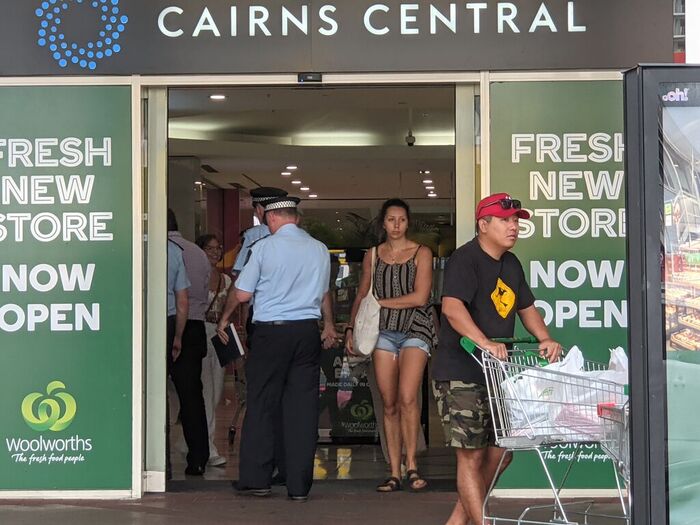 ---
An alleged stabbing attack on a police officer at a busy Cairns mall has been described as "abhorrent".
The 50-year-old officer, who was on duty and in uniform, suffered two stab wounds to his stomach in the incident at Cairns Central at around 2pm this afternoon.
---
---
Acting Chief Superintendent Chris Hodgman said he is "very lucky" to be in a stable condition at Cairns Hospital.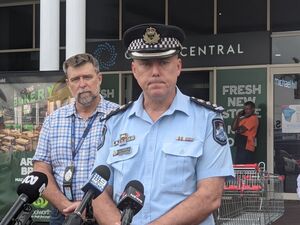 "The police officer was apprehended in a stairwell at the back of Cairns Central," Act Chief Supt Hodgman said.
"He has been stabbed on two occasions that we know of.
"He was then straight onto the radio to seek some medical assistance."
The alleged 22 year-old male suspect, who was known to the officer, was located at a Bungalow address about half an hour after the incident.
He is now also in Cairns Hospital under police guard but the nature of his illness or injuries hasn't been revealed.
Police are still looking for the knife allegedly used in the attack and expect to lay charges tonight.
Act Chief Supt Hodgman said it was a targeted attack.
"This is an abhorrent crime against one of our police officers in blue," he said.
"There's no other incidents comparable in Cairns ... I haven't seen it in my time."
"I would be terrified if it happened again."
Police are adamant members of the public were not in danger.
"I want to stress that this was a random incident," Act Chief Supt Hodgman said.
"This was an attack on a police officer and again it is one of the dangers that police officers face.
"Cairns is a safe place.
"The public should not be concerned by this."
As well as receiving hospital treatment, the police officer involved has also been offered trauma support through the Queensland Police Service.
Act Chief Supt Hodgman said his partner is also being "wrapped in welfare".