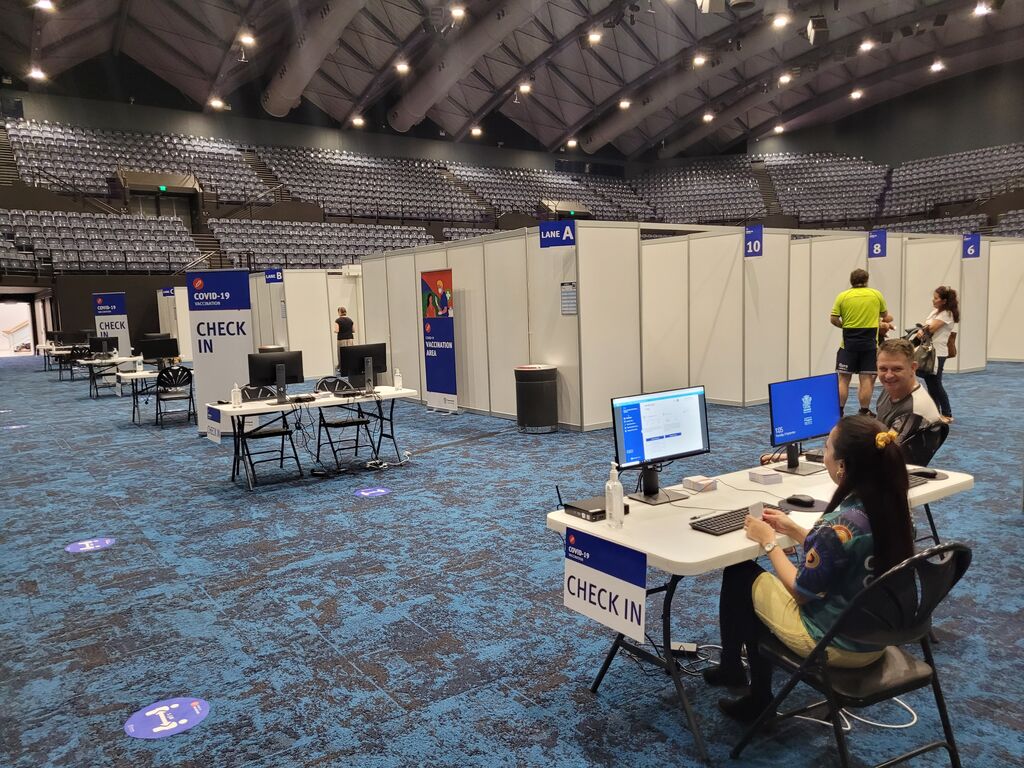 ##MP##
The Cairns Convention Centre COVID-19 vaccination hub is ready to administer 140 jabs per hour when it opens to the public tomorrow.
30 booths will be in operation, vaccinating people aged between 12 and 59 with the Pfizer brand.
The aim is to jab 1500 people per day.
Kelly Pollack, the Cairns and Hinterland Hospital and Health Service's (CHHHS) program director for COVID-19 vaccinations, told Tropic Now she's allowing for half of them to be walk-ins, but bookings have been strong.
##BA##
"We're about to hit the 50 per cent of bookings," she said.
"The walk-ins, we will find out tomorrow.
"The booths are large enough that we can have Mum, Dad and two kids inside all at once."
People are being told to set aside about 45 minutes for their jabs, which includes 15 minutes in the observation area post-vaccine.
Those deemed to have a risk of a reaction need to stay for 30 minutes.
So far, just over 55 per cent of people in the CHHHS area have received at least one dose of a COVID-19 vaccine, with 200,000 vials used.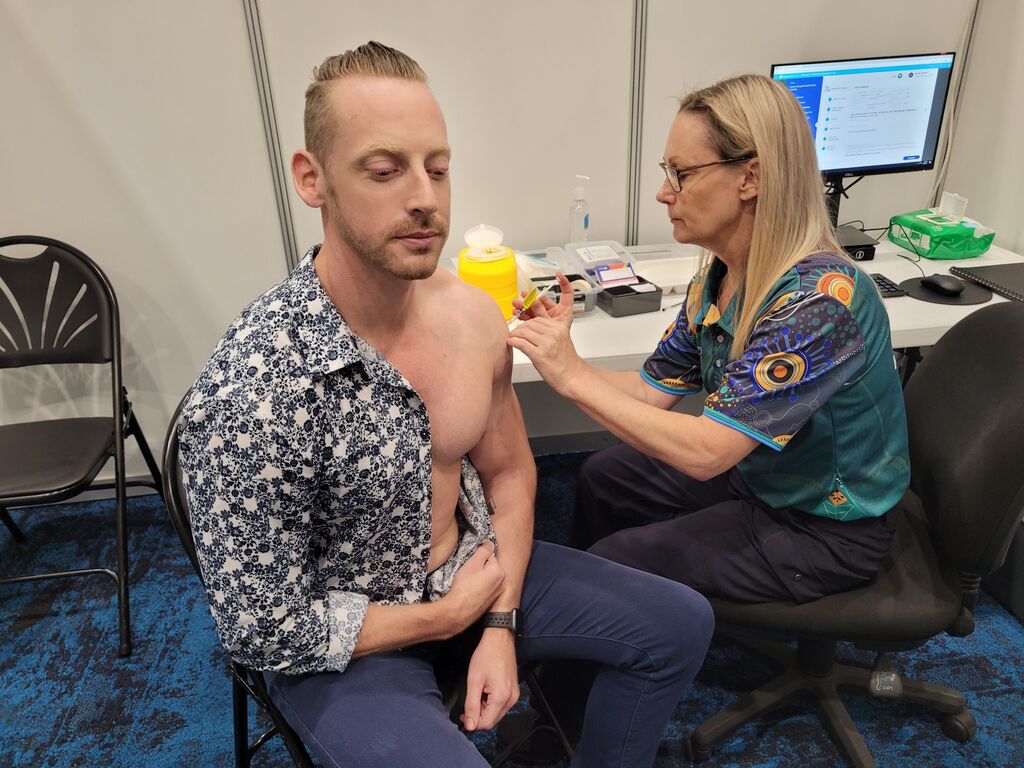 General Manager and Area Manager with Crystalbrook Collection, Joel Gordon, was among the few being vaccinated at the hub today ahead of the official opening.
The hotel group is providing an extra incentive for people to roll up their sleeves, by donating two vouchers for a one-night stay in a Flynn Sea King room.
The prizes will go to the recipients of two vaccine vials that have been marked with gold stars.
Mr Gordon told Tropic Now thank you messages from the tourism industry will also be broadcast on the Convention Centre's screens.
##PQ##
"It means something that the general public can get double vaccinated," he said.
"This is a pathway out of the pandemic.
"We're looking forward to seeing ourselves reaching our full potential."
The hub will administer first doses on September 10 to 12 and 17 to 19, with October 1 to 3 and 8 to 10 set aside for second doses.
Parking in the centre's underground car park is free, while Hartley Street between Sheridan and Grafton Streets will be closed to all but one-way traffic to allow for extra spaces and easy access into the clinic.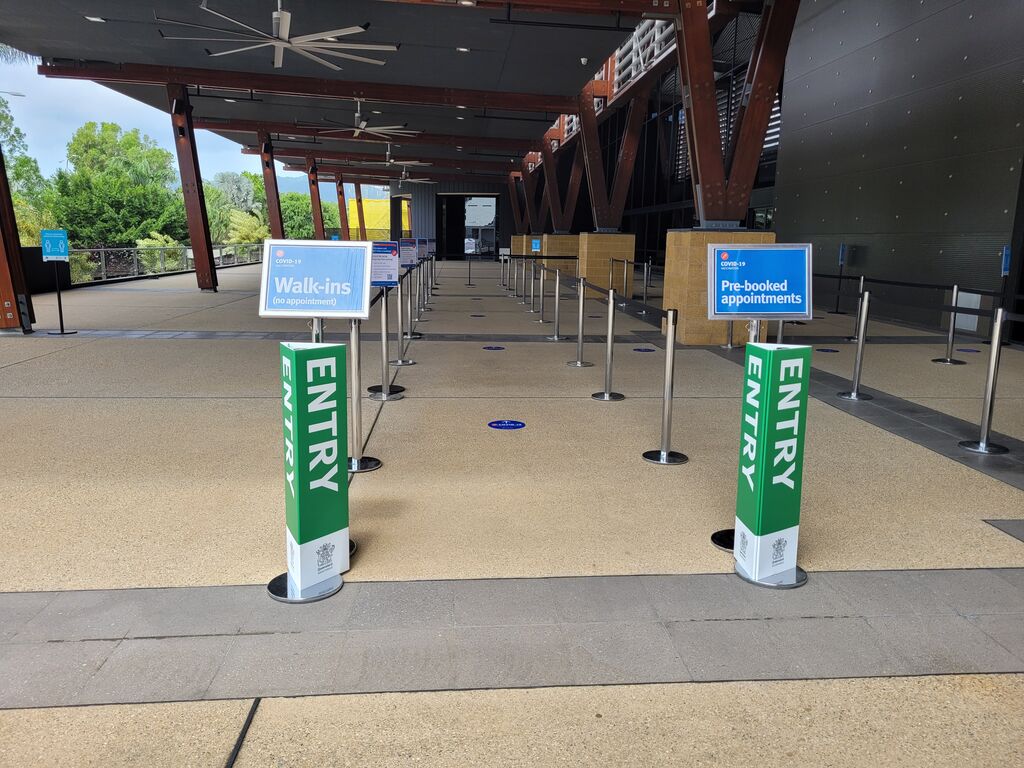 All parking spots in Hartley Street will be reserved for people receiving vaccinations.
CHHHS said it is also organising a tailored First Nations plan to increase the rate of vaccinations among the region's Indigenous population, which is well below that of the general population.
It will be rolled out in the coming weeks.
Bookings for the vaccination hub can be made here.
People can also receive an appointment at local GP clinics and pharmacies, many of which are offering a walk-in service.
Main points
A mass vaccination hub will open in the Cairns Convention Centre tomorrow
It has the ability to vaccinate 140 people per hour, both through bookings and walk-ins
The tourism industry is urging people to get the jab as a pathway out of the pandemic
It's really important that we say thank you to the people who are on the fight with us and making sure that Cairns ends up on its feet again.