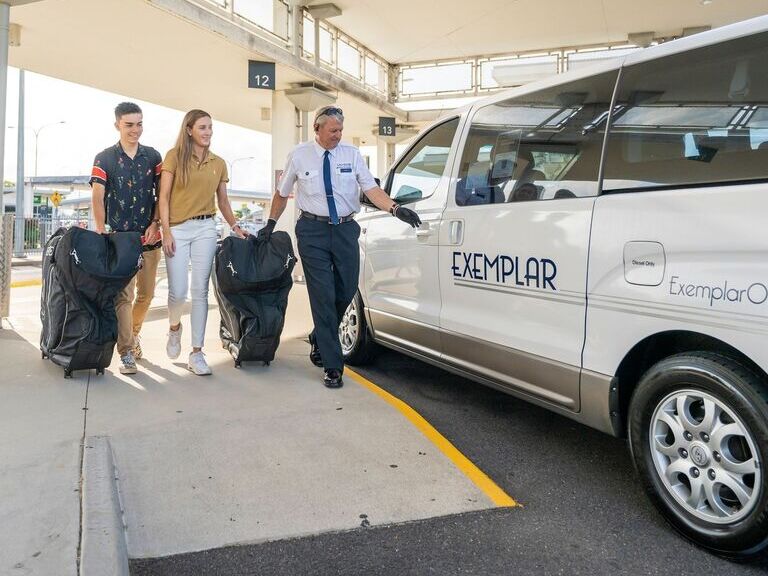 ##MP##
Regular shuttles from first flight to last flight will soon be available to transport visitors to and from Cairns Airport.
The airport has awarded Exemplar Coaches & Limousines the tender to operate the transfer desks at both the International and Domestic terminals.
Cairns Airport CEO Richard Barker said the deal cements more frequent services.
##BA##
"One of the key features of our new agreement is the scheduled city transfer service, which will offer regular coach options between the airport and CBD from morning to night," he said.
"Previously, we have helped to arrange shuttle buses on an ad-hoc basis during peak times.
##PQ##
"They will give visitors added confidence and peace of mind when they arrive here."
Travellers will also benefit from more scheduled transfer services to Port Douglas and Palm Cove, with shorter waiting times between aircraft arrival and coach departures.
Exemplar is also increasing its fleet to manage more limousine transfers.
Gordon Wellham, Director of Exemplar Coaches & Limousines, said the transfer desks will be manned from first to last flight with plans to increase that to a 24-hour service before the end of this year.
"We are very excited to be expanding our business and look forward to offering even better service to our existing and new travellers," he said.
"We recognise that Tropical North Queensland is operating at record levels with airport arrivals also very strong.
"We want to meet that demand and with our fleet and product expansion we absolutely believe that visitors to Tropical North Queensland will have a world-class welcome and departure from Exemplar."
During the June/July school holidays, Cairns Airport reported high demand for parking as well as a shortage of taxi drivers and rideshare services, leading to longer than usual wait times.
The new scheduling comes into effect on 5 September.
Main points
Exemplar Coaches & Limousines has won the contract for management of transfer desks at Cairns Airport
Part of the deal includes more regular shuttles to and from Cairns
There will also be more services on the Palm Cove and Port Douglas routes
These new scheduled and pre-arranged services will enable faster and more frequent trips into Cairns.