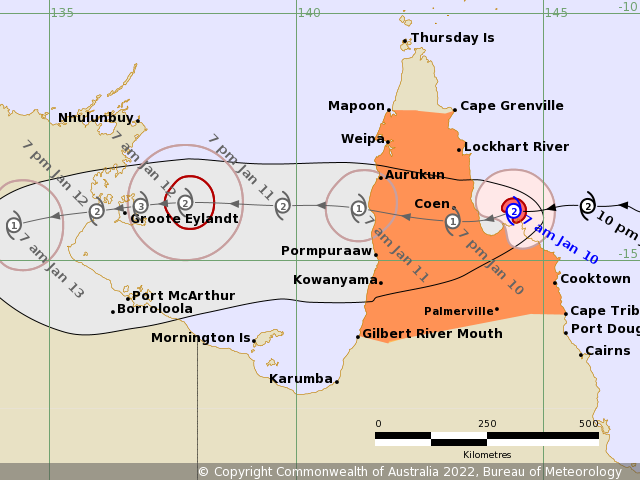 ##MP##
The northern beaches of Cairns, as well as Port Douglas and Mossman, could experience severe thunderstorms today as Tropical Cyclone Tiffany nears the Cape York coast.
The westward cyclone is expected to cross land early this afternoon near Cape Melville, between Cooktown and Lockhart River, as a Category 2 system.
Winds near the centre of the system are 95 km/h, with gusts up to 130 km/h.
Impacts of the cyclone are already being felt further south, with rain falling across the Cairns region and more on the way.
##BA##
In the past 24 hours, Cairns has had 37mm of rain, while Port Douglas recorded almost 34mm.
A severe thunderstorm warning has also been issued for suburbs north of Cairns, including Palm Cove and Trinity Beach, as well as Port Douglas, Mossman and Julatten.
"A cluster of possible severe thunderstorms are developing around the southern periphery of Tropical Cyclone Tiffany," a Bureau of Meteorology (BOM) spokesperson said.
"Severe thunderstorms are likely to produce damaging winds and heavy rainfall that may lead to flash flooding in the warning area over the next several hours."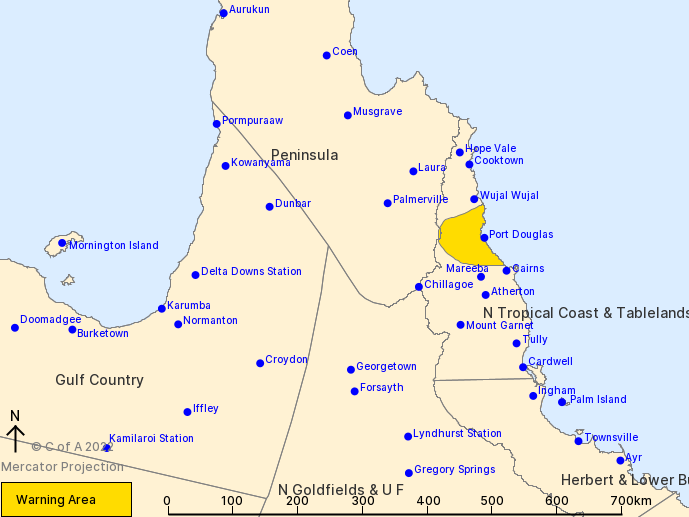 BOM meteorologist Helen Reid said the Cairns region can expect to see the bulk of the wet weather today and tomorrow.
"Fortunately Cairns is on the fringes of Tropical Cyclone Tiffany," she told Tropic Now.
"Given that there is a tropical cyclone, there is a lot of rainfall activity.
##PQ##
"The lower limit of what we could expect is between the 20mm to 30mm per day mark.
"If things get a little more interesting, there could be up to 80mm.
"The forecast looks much the same tomorrow before it eases on Wednesday."
People in the impacted area should move cars undercover, away from trees, as well as secure loose outdoor items.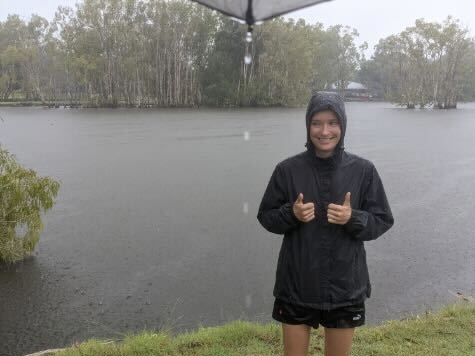 The Queensland Fire and Emergency Services also advises that people should seek shelter indoors, avoid using a telephone during a storm, and be wary of fallen trees and powerlines.
Ms Reid said the showers are likely to hit coastal areas rather than inland, as well as hover around Cairns without travelling too further south.
"Tropical Cyclone Tiffany is quite a small system, so the reach of that intensity is not as far as other systems," she said.
##PQ2##
Destructive winds of 130km/h are expected to impact the area around Cape Melville as the cyclone makes landfall later today.
Widespread 24 hour totals of 100 to 150mm are also forecast, with isolated 24 hour totals of 200 to 250mm possible.
Tropical Cyclone Tiffany is anticipated to weaken slightly over land but maintain tropical cyclone strength as it moves westward across the Cape.
The system is then expected to move into the Gulf of Carpentaria on Tuesday and re-intensify quickly as it moves towards the Northern Territory coast.
WEATHER
TROPICAL CYCLONE TIFFANY
Main points
Tropical Cyclone Tiffany is forecast to make landfall early this afternoon north of Cooktown
Cairns can expect daily rainfall totals of up to 80mm today and tomorrow
A severe thunderstorm warning has also been issued for the Northern Beaches and Port Douglas
How much of that drifts further south is a very big question.
Even as the system keeps going over Cape York, Cairns will still have onshore moisture flowing through this week.