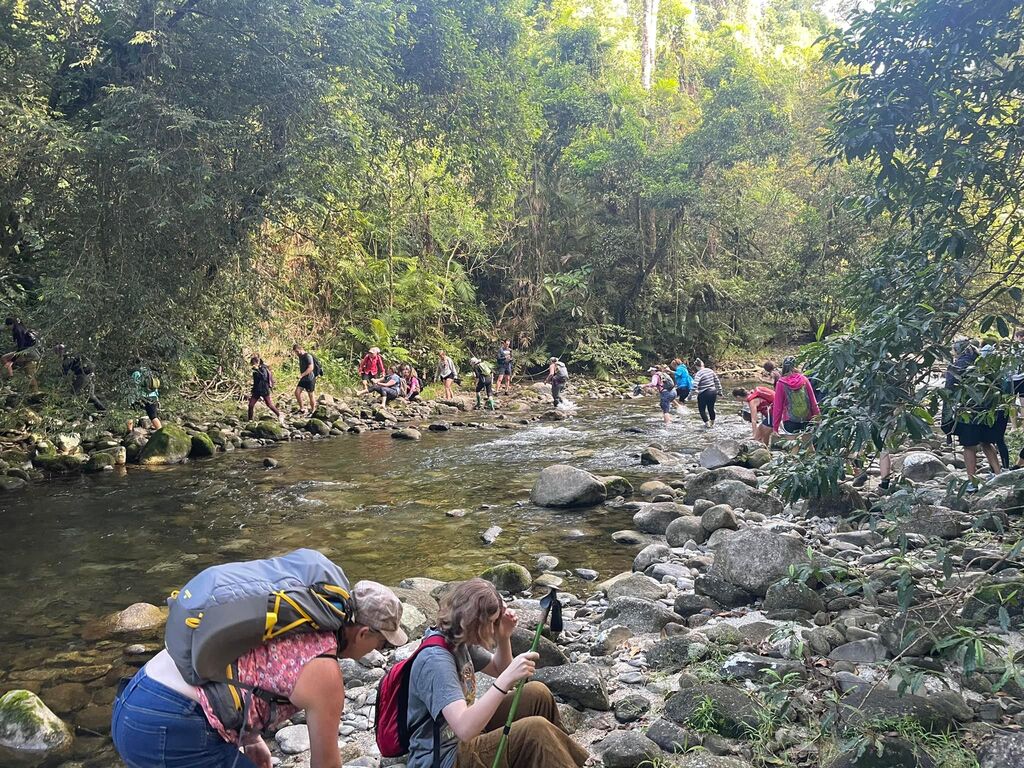 ##MP##
A team of trekking guides providing free tours of some of the region's most popular hiking trails is attracting an ever-increasing number of participants.
52 people turned up to a group trek along the Babinda Falls in the Wooroonooran National Park on Sunday.
To adhere to National Park guidelines, they were split into separate groups according to ability, with each group setting off at different times.
The groups were led by organiser Andy Gallagher from Andy's Hiking Adventures, Sean Dromey and Dax Ta from Far North Queensland - Adventure Hiking Group, Marc Forster from Hiking Buddy and Stuart Morey from Happy feet - hiking adventures.
Between them, the guides have thousands of hours experience hiking in the region.
WATCH THE VIDEO BELOW
##BA##
Andy told Tropic Now the aim is to build community and provide safety for people who don't have confidence taking on tracks on their own.
"It's designed to bring hikers together of all levels, to get out in the wilderness and explore this beautiful part of the world," he said.
##PQ##
"I'm happy to take beginners as long as they have some sort of fitness level.
"Hiking as a group is a lot safer than hiking own your own, especially around rivers and rock formations where you have no communications in case something goes wrong.
"As the host, my responsibility is knowing the guidelines and the route and track conditions from reconnaissance a few days prior to the event.
"I will pass this information onto potential participants and they make up their own mind whether to do the hike or not."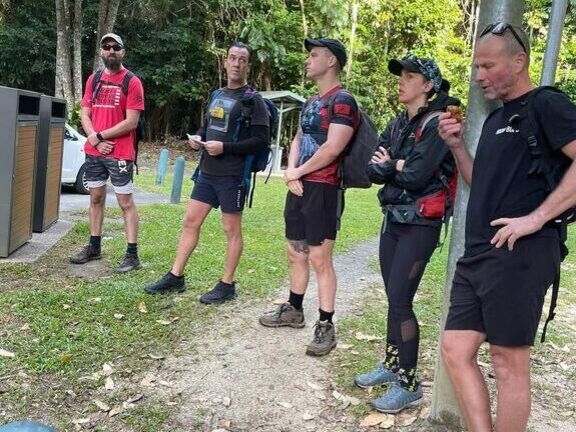 The Babinda hike was classed as moderate to hard, taking up to five hours.
Many of the participants organised car-pooling to travel to the start of the track, before they were given a quick briefing by the guides.
An eight-year-old child was among the trekkers.
##IAA2##
"It's just social hiking as smart and as safely as we can," Andy said.
"We choose the nicest places, and some hikes are long but not super hard.
"If there are some little river crossings with a bit of current, you need someone to stand there and physically help some people across.
"Climbing up boulders it also helps to have someone up there, lifting people up."
National Park guidelines stipulate that social groups of up to 40 hikers are welcome as long as they are organised and it's a non-competitive and not-for-profit event.
Andy said the hikers have always been respectful of National Parks and are very unlikely to break any rules with so many people around.
12 different hikes have been organised for the next three or so months, some more difficult than others and advertised through hiking groups on social media.
The next is at Canabullen Falls on Sunday, which Andy stresses is not for first timers, being a 17 kilometre round trip.
Main points
52 people turned up for a free guided hike at Babinda Falls on Sunday
They were split into groups, each led by a guide from a local hiking organisation
Another 12 social hikes are planned over the next 12 weeks
It's getting people who normally wouldn't do it out there.