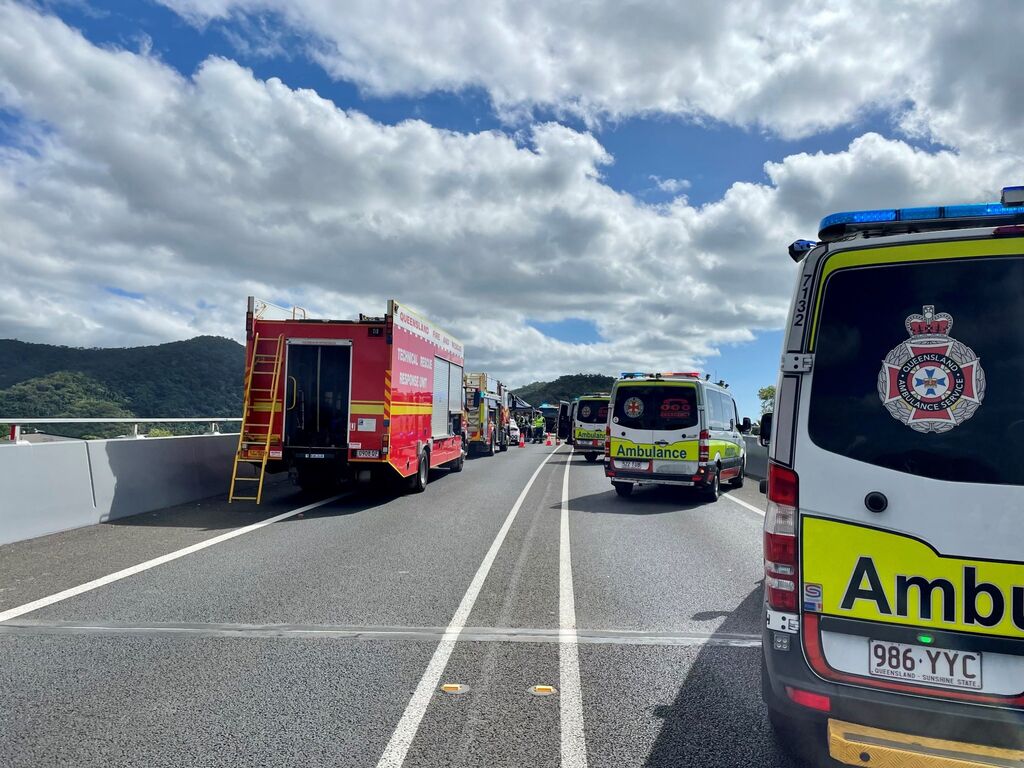 ##MP##
Patient conditions following a head-on collision between a ute and a mini-bus in Smithfield have been revealed this morning.
Of the 11 people injured, six remain in Cairns Hospital in stable conditions, while five have been discharged.
A 62-year-old man who was in a critical condition yesterday is now in a serious but stable condition.
The other patients' ages range from 39 to 70.
##BA##
Michael Low, Smithfield Officer-In-Charge, said it was a complex scene for emergency services personnel who were called to the Smithfield Bypass's northern on-ramp at around 10.45am yesterday.
##PQ##
"The incident was quite resource heavy – we had 11 ambulances respond to this incident," he said.
"It was a very confronting scene for paramedics and it was quite a complex scene with patients strewn across the road.
"One patient was entrapped."
##IAA2##
The Cairns Forensic Crash Unit is investigating the cause of the collision, which closed the road for several hours.
"Police are appealing for anyone that witnessed the crash or captured footage on dashcam to contact police," a spokesperson said.
"Several members of the public spoke with officers at the scene.
"Police would like those people contact again if possible."
The Smithfield Bypass fully reopened at 3.30pm yesterday.
The crash came just days after a car collided with the Kuranda Scenic Railway train while driving through a railway crossing in Cairns North.
No-one was seriously injured in that incident, despite the vehicle being tipped on its side.
Main points
Six people remain in hospital following yesterday's crash on the Smithfield Bypass
One man who was in a critical condition is now listed as serious but stable
Police are appealing for dashcam footage of the incident
Those injuries ranged from fractures of arms and legs to more severe injuries, partial amputation of a leg.
Several members of the public spoke with officers at the scene at the time.