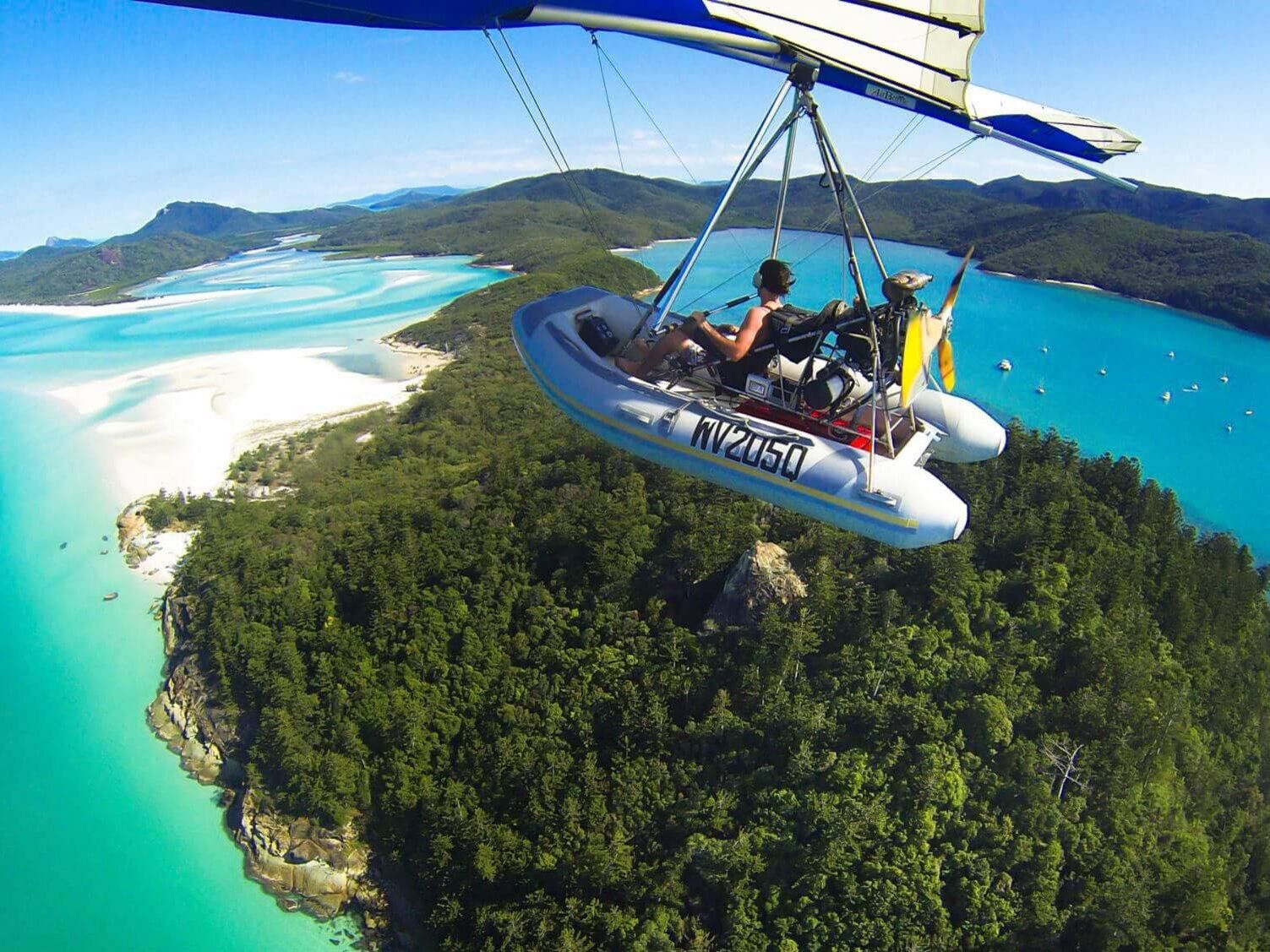 ##MP##
A remarkable contraption which is a hybrid of a hang glider, airboat and rubber dinghy is being used by Cairns photographer Ben Neale to 'open up the sky' and capture incredible aerial images in stunning and remote locations.
A video of the 37-year-old soaring over the western Solomon Islands recently has made global headlines, with a GoPro attached to one of the wings capturing a bird's eye view of the flying boat in action.
WATCH THE VIDEO BELOW
##BA##
The former Cairns State High School student has told Tropic Now he's been using the aerial dinghy for the best part of six years.
Before then, he combined his love of paragliding and photography by using a paramotor – which is essentially a propelled paraglider.
"Many of my images have been done with either the paraglider or the flying boat," he said.
"I started this in the pre-drone era, or when the drones weren't big enough to take the cameras – because we're talking about large equipment for big, high-resolution imagery.
"Plus there's the distances – in large areas, unless you know there's for instance elephants within a kilometre of you, it's very hard to get that shot.
##PQ##
"With the paramotors I can fly for hours and hours.
"It's great, it just opens up the sky."
Ben is the first to admit his maiden flight in the dinghy was a nerve-wracking experience.
It took place on Newell Beach near Port Douglas in 2017.
"I found the flying boat on a trading post in America and it was in a bunch of pieces and I bought it over and put it together," he said.
##PQ2##
"I kind of went up for a bit then came back down for a bit, up and down until I built my confidence.
"It was a pretty rough bit of gear when I got it but I've worked on it since then."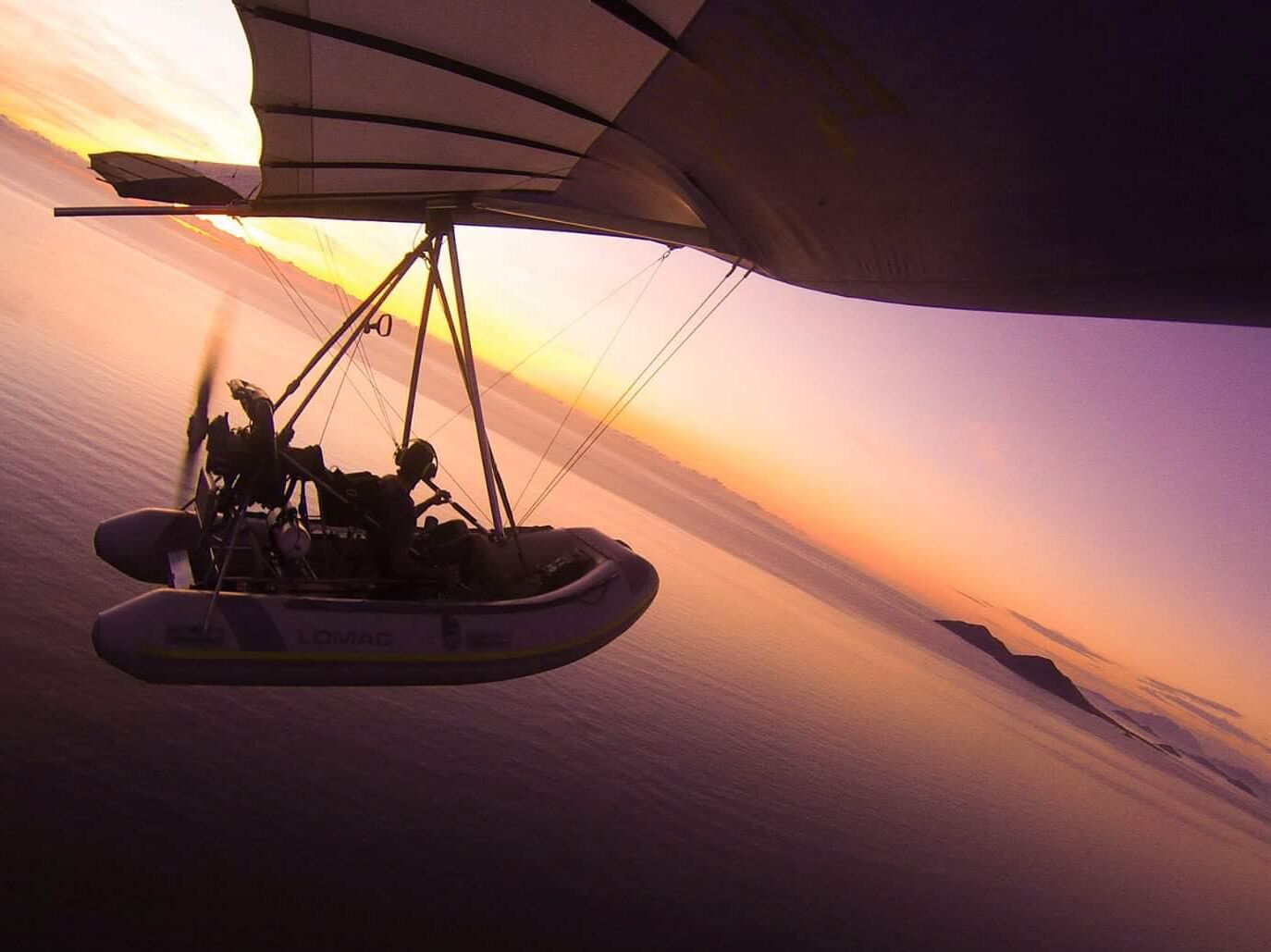 The Solomon Islands trip wasn't without its challenges, with unsettled weather almost sinking the project – literally – before it even began.
"Kadari, my mum's partner sailed the boat over – he solo sailed plus he had the flying boat on the deck and he had the wildest weather for five days nonstop day and night," Ben said.
"We got there and put the flying boat together and we had it tethered to the back of the sailboat and a storm blew up and it sank to the bottom of the ocean.
"We recovered it from the bottom, flushed it out with fresh water, we lost all the electrics and the instruments but were able to get it up.
"In the air, it was a bit rough to witness because there's a lot of logging going on there, so there's pristine beauty juxtaposed by enormous plumes of red mud."
Ben's adventures and business model are centred on funding non-government organisations (NGOs), particularly for environmental causes.
He's established visual collective Gallery Earth, where people can buy his extraordinary prints – up to around four metres in size – and the profits go to either one of the organisation's partners, or an NGO of the purchaser's choice.
A partnership with a print studio in Port Douglas ensures he can deliver locally cheaply.
"I've done a lot of travelling and seen a lot of disturbing things, which I guess was the basis for this business model," he said.
"I also got a bit disheartened about the endless charge for economic growth – where does it end?
"There's something very nourishing about doing something for someone else.
"It's a hack for happiness that I can do because I'm privileged to have a day job."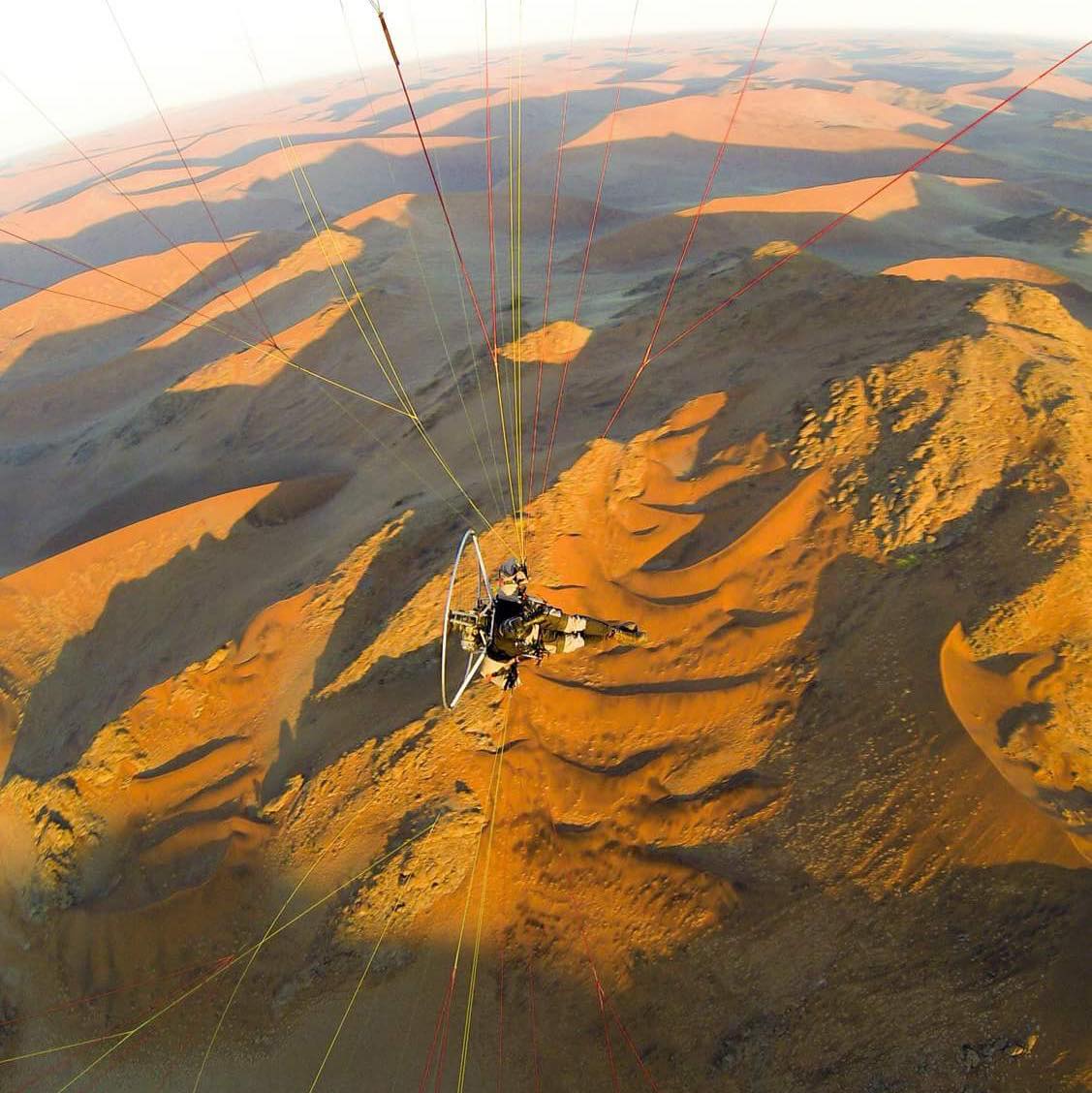 Ben's actually got a couple of day jobs, working in environmental rehabilitation with local action group ClimateForce and using drones to revegetate a mine site on Groote Eylandt in the Gulf of Carpentaria.
Gallery Earth's partners are all locally-based and include the Cairns and Far North Environment Centre (CAFNEC), along with Rainforest Rescue and Great Barrier Reef Legacy.
For more information, head to the website.
AVIATION
PHOTOGRAPHY
ADVENTURE
environment
Main points
Photographer Ben Neale uses a flying boat and a paramotor to capture incredible images
He said drones can't compete with the distances he covers, nor carry the equipment he requires
Ben sells his prints through Gallery Earth, with profits going to environmental NGOs
There was no way around it, I had to get up in the air.
It was terrifying because I didn't know if it was going to fly or not.