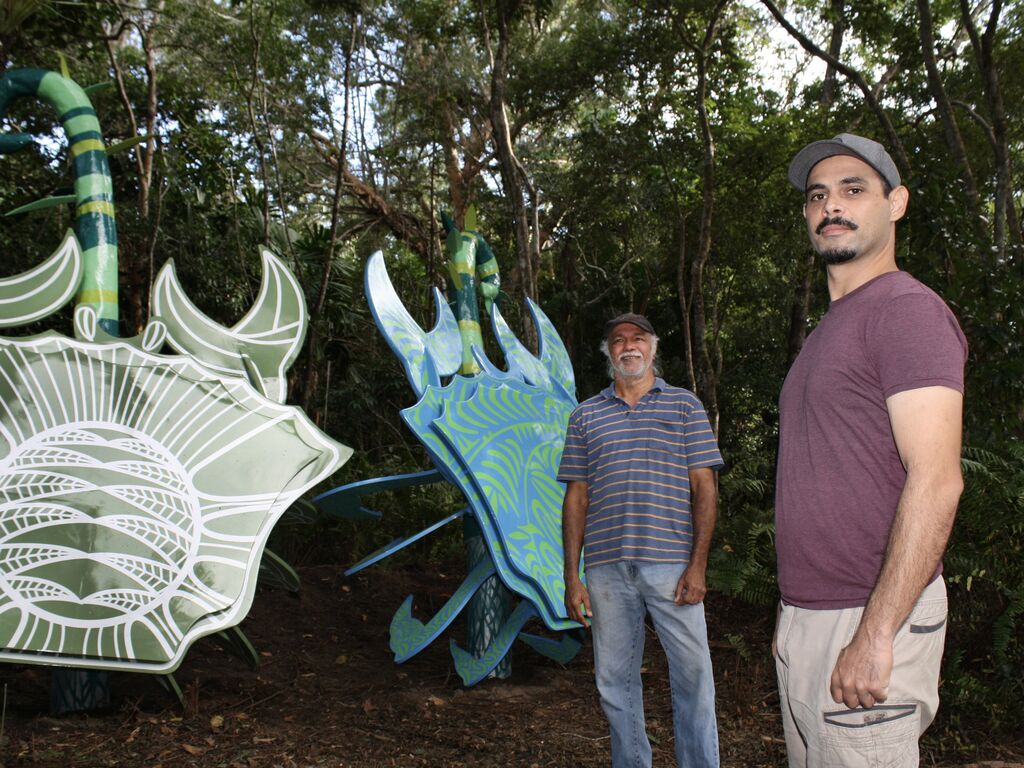 The artist behind the Lagoon's iconic woven fish and nearby Citizens Gateway sculptures now has another set of works placed in one of Cairns' most visited public spaces.
Brian Robinson's trio of mud crab sculptures, titled Malu Githalayl, has a new permanent home in Edge Hill's Centenary Lakes.
The sculptures were first displayed in Monaco in 2016, where they were positioned scuttling up the facade of the historic Oceanographic Museum as part of an Aboriginal and Torres Strait art exhibition.
##BA##
They then returned to the Far North to be temporarily homed among the vines in Cairns' Munro Martin Parklands.
Mr Robinson, a renowned Torres Strait artist hailing from Waiben (Thursday Island), has now gifted the sculptures to the city.
The mud crabs were originally decorated with traditional Torres Strait Island designs, but to mark their new home, the artist has worked with Traditional Owners of the area to repaint the figures.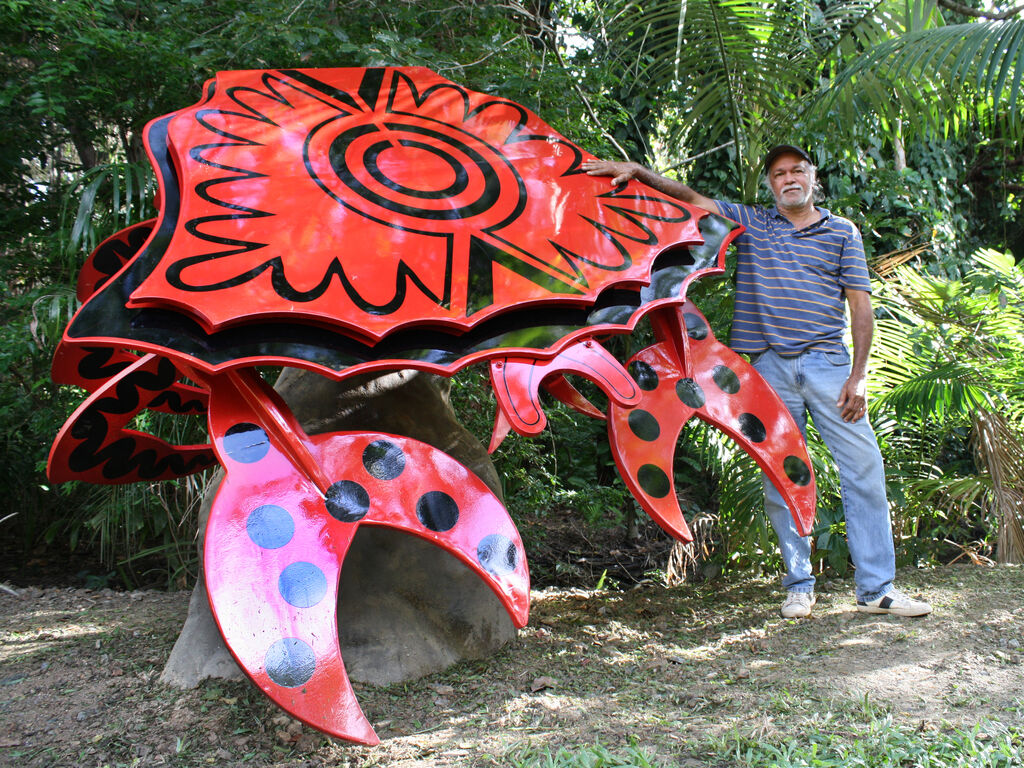 One of the new shells has been refitted in a red design by Yidinji artist, Hendrick Fourmile, while another is adorned in white and green artwork by Yirrganydji artist, Tarquin Singleton.
Mr Robinson's Torres Strait Islander patterned blue and green design can be seen on the third mud crab.
Mr Singleton described his design style as a combination of realism and traditional patterns, which reflected the ancestral lines of his mother and father.
##PQ##
The red design of Mr Fourmile's provides an insight into where his ancestors would go looking for mud crabs, while also capturing design elements from nearby mangroves.
Cairns Mayor Bob Manning said the generous gifts were sure to attract attention in Cairns, as they did in Europe.
"Art should inspire us and these pieces certainly do that," Cr Manning said.
##IAA3##
"I am sure Malu Githalayl will attract a similar level of attention, wonderment and selfies as Mr Robinson's iconic pieces in the city.
"Mr Robinson's sculptures interact so beautifully with the natural environment around them.
"The crabs look as if they are emerging from the surrounding vegetation, which I know will delight children, tourists and locals alike who come across the sculptures as they wander the paths of Centenary Lakes."
I chose a green ochre colour with a design that represents the anatomy of the crab – with the gills and chambers – and also reflects the landscape where it is sitting.