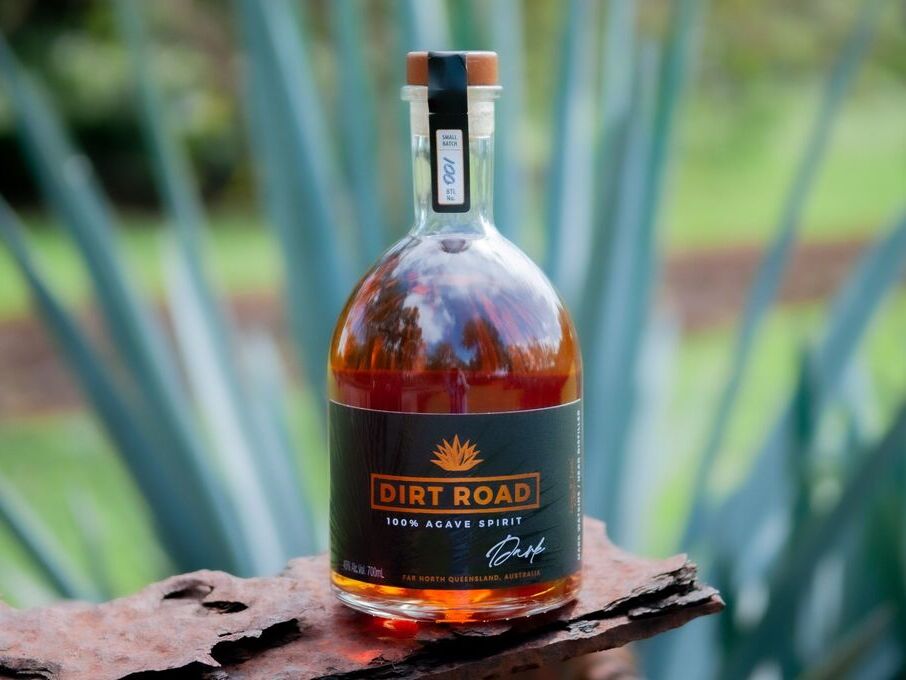 ##MP##
Globally renowned for its Australian take on rum and gin, Mt. Uncle Distillery now has a blue agave spirit among its suite of award-winning spirits.
Distiller Mark Watkins is celebrating a win in the International Wine & Spirit Competition (IWSC) for the new product, which comes just as the first bottles travel to liquor stores across Australia.
Dirt Road is produced at the Walkamin distillery, about 78 kilometres south-west of Cairns, from Mr Watkins' own agave plantation – one of few in the country.
The product comes in both a white style and dark, which is aged for two years in lightly charred American Oak red wine barrels.
##BA##
It's the latter that's drawn the attention of critics in the London-based IWSC, scoring a silver award – 90 out of a possible 100 points.
Mr Watkins told Tropic Now the product is one of the first of its kind in Australia.
##PQ##
"But it's really good in a dirty margarita, whisky sour style drink, or just bloody nice on the rocks," he said.
"The Dirt Road Dark has caramel and vanilla notes, resulting in an aromatic, warm and sweet product wit a smoky whisper from the charred wine barrels.
"The White product isn't aged, so it's a lot fresher, herbaceous and spicy with a strong refined finish.
"Both are 45% ABV."
Both products are the result of a long-held vision of Mr Watkins, who brought the Agave tequilana seeds home to his Tablelands property from Mexico nine years ago.
"We have about 20 acres down now, all in different areas," he said.
"Some are planted in cooler parts of the region, some on our Walkamin property.
"We also have a coastal plantation on a cane farm – we're still trialling different environments at the moment.
"We're also trying different cultivation methods that don't involve running tractors over the crops, particularly trying to minimise disturbance and compaction of the soil.
"It's a new industry to Australia, so there's a lot to learn."
There are few better poised to take on a new distilling venture than Mr Watkins, whose collection of spirits continues to dominate competitions across the globe.
The Dirt Road Dark was just one of seven wins in the 2022 IWSC, with two going to Mt. Uncle Distillery's rums and four to their gins.
Mr Watkins told Tropic Now he was particularly excited about the Botanic Australis Navy Strength Gin's score of 99 points.
##PQ2##
"It's a pretty good win for the Navy … we're quite happy with that one.
You can try Dirt Road, as well as Mt Uncle's other award-winning products at local bars including Ellis Beach Bar & Grill, House of Commons in Cairns, or N17 in Port Douglas.
Bottles are also available to buy in Cairns' OutSauce liquor store, and will soon be stocked in Dan Murphy's across Australia.
craft spirits
local business
Main points
Mt. Uncle Distillery's Dirt Road dark agave spirit has won silver in a London-based global spirits competition
The product, along with its light style counterpart, were only released last month
It's made with the Walkamin distillery's own agave plantation – one of few in the country
Obviously we can't call it a tequila, that's like a swear word for us.
The International Wine & Spirit Competition is like the Olympics of gin.