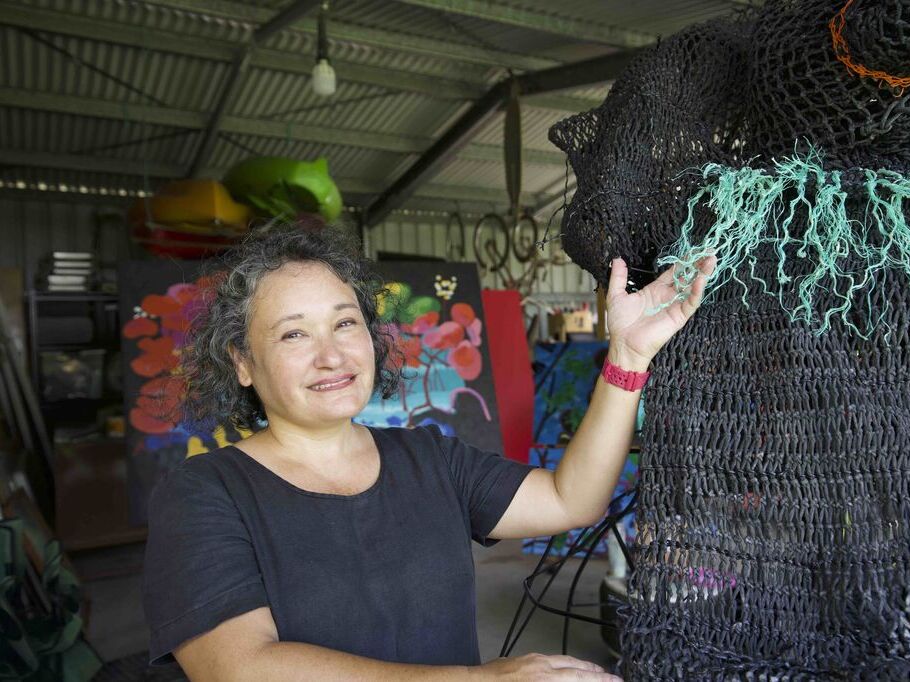 ##MP##
Celebrating its return to a physical format, Cairns Indigenous Art Fair (CIAF) is preparing to present a series of show-stopping sculptural works – a first for the region's annual arts event.
The inaugural Big Sculpture Showcase will feature 18 commissioned works from artists across Queensland, each created to CIAF's 2022 theme, Masters of Country.
Between 6 and 10 July, the collection will be housed in the newly-refitted Cairns Convention Centre as part of the art fair's packed five-day program.
##BA##
One work in progress is a sculpture by Gordonvale artist Francoise Lane, inspired by a memory of her sister-in-law casting a net off the jetty of her home Country, Kerriri (Hammond Island).
"I've accentuated her form, trying to capture that movement of casting a net," she told Tropic Now.
##PQ##
"That narrative will be of women crabbing, and further around there'll be women in a dinghy fishing.
"This speaks to the skills and expertise that women in my family have fishing, crabbing and gathering seafood."
Ms Lane's son Alex, who's an apprentice welder, also helped construct the two-metre high aluminium frame of the sculpture.
"This wouldn't have happened without the help of my son," she said.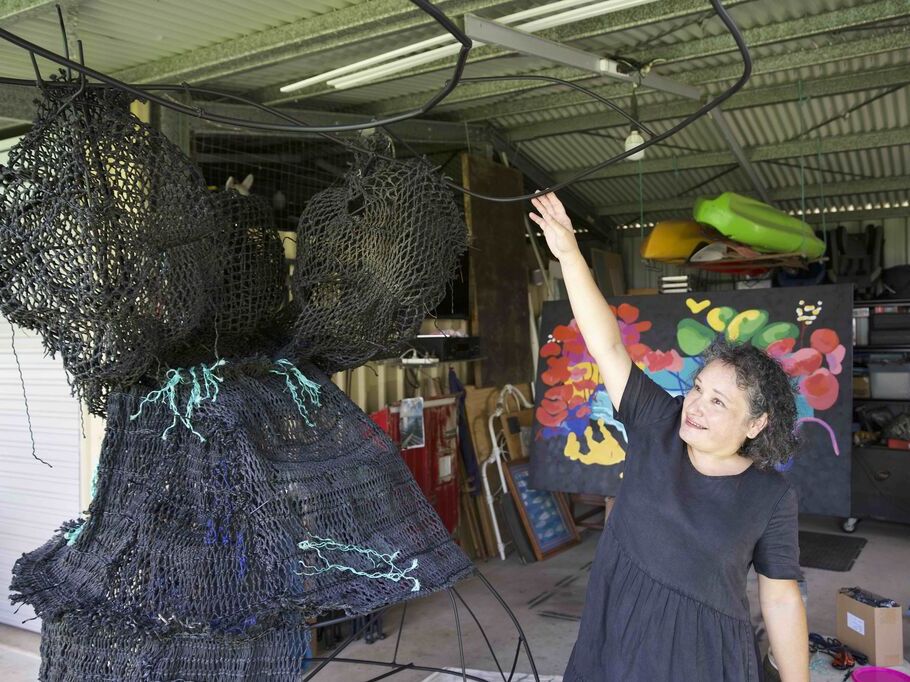 "The materials are of reclaimed fish netting that I got from the tip years ago, that have all been cleaned up and unpicked with the help of friends and family too.
"A lot of consideration has gone into this piece.
"The theme, Masters of Country, means that connection that Indigenous people have to our Country – emotionally, physically, mentally, spiritually.
##PQ2##
"It's a small word that's used to describe that continuing, living connection."
The work, titled Koskir Mekik Atami – Woman Fishing Gathering, is the first professional sculpture of Ms Lane's.
The Meriam and Kuarareg artist's practice has traditionally involved painting, ceramics, jewellery and textiles, as well as furniture and architecture as part of Ms Lane's and her husband Andrew's business, Indij Design.
She will also present five acrylic on canvas paintings in the Art Fair.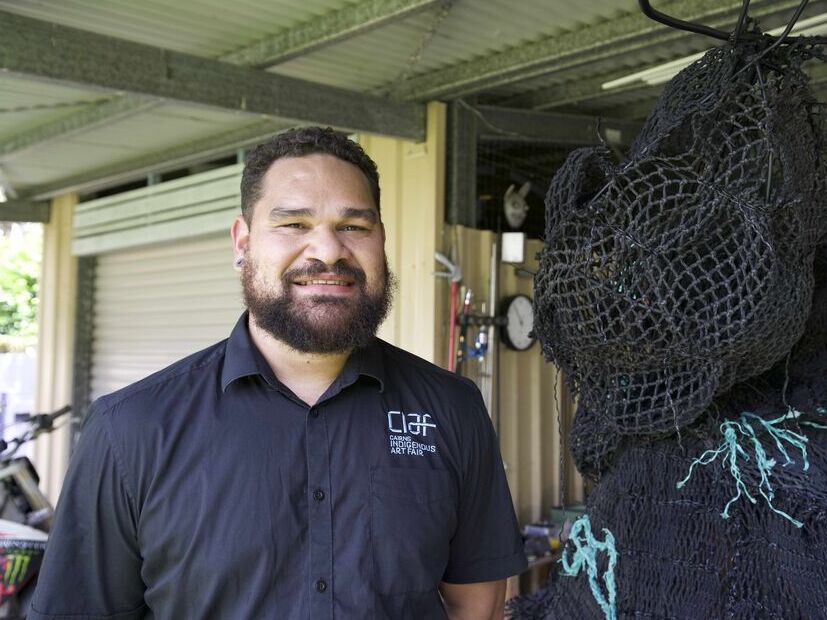 CIAF's Curatorial Associate and driver of the Big Sculpture Showcase, Teho Ropeyarn, said many artists have adapted their works to suit the upcoming exhibition.
"The 18 artists come from all over Queensland – three are from art centres, and the rest of are independent," he said.
"David Jones in Brisbane has transformed etching pieces into real-life sculptures, while Shirley Macnamara, who's renowned for her fibre works, is upscaling a basket.
"There's a group of artists in Cairns involved too, including Claire Freeman, who's working with stained glass windows.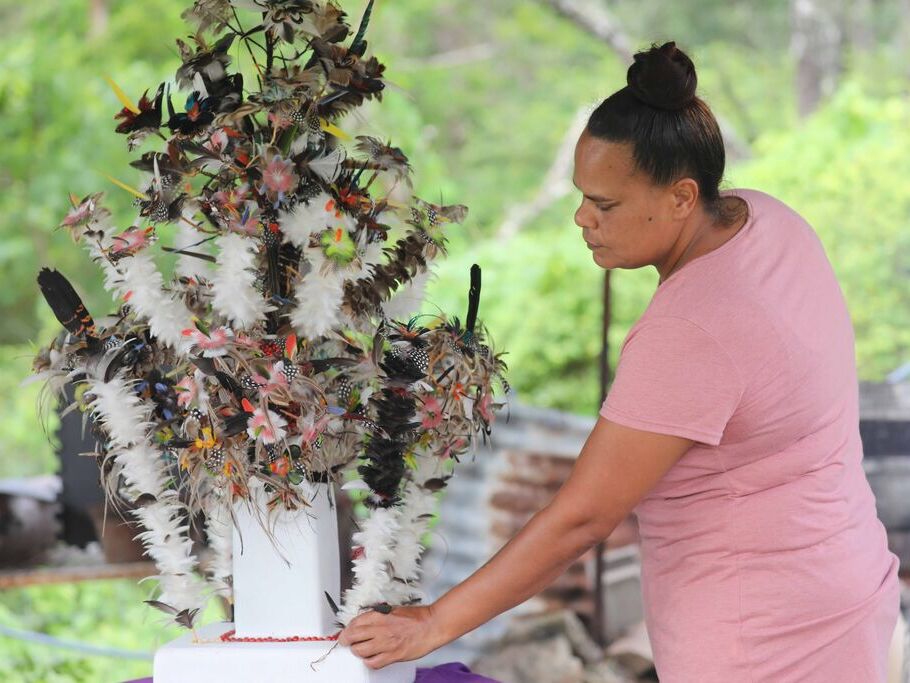 "Aurukun artist Rhonda Woolla is working on a large-scale bouquet of feathers, which have been collected by people from Country after we put a call out on social media.
"I am confident visitors will be 'blown away' by the sheer size and magnificence of the artworks."
Big Sculpture Showcase will be on display from 6 to 10 July as part of the 2022 Cairns Indigenous Art Fair.
The sculptures will also be available for purchase.
CIAF is set to release its 2022 program in the coming weeks.
Main points
Cairns Indigenous Art Fair is gearing up to launch the inaugural Big Sculpture Showcase
The collection will feature the works of 18 artists across Queensland, including several in Cairns
CIAF will return to a physical event this year, running from 6 to 10 July
With this piece there will be woven story put onto the outside of the dress too.
Country flows through our being and through our culture.