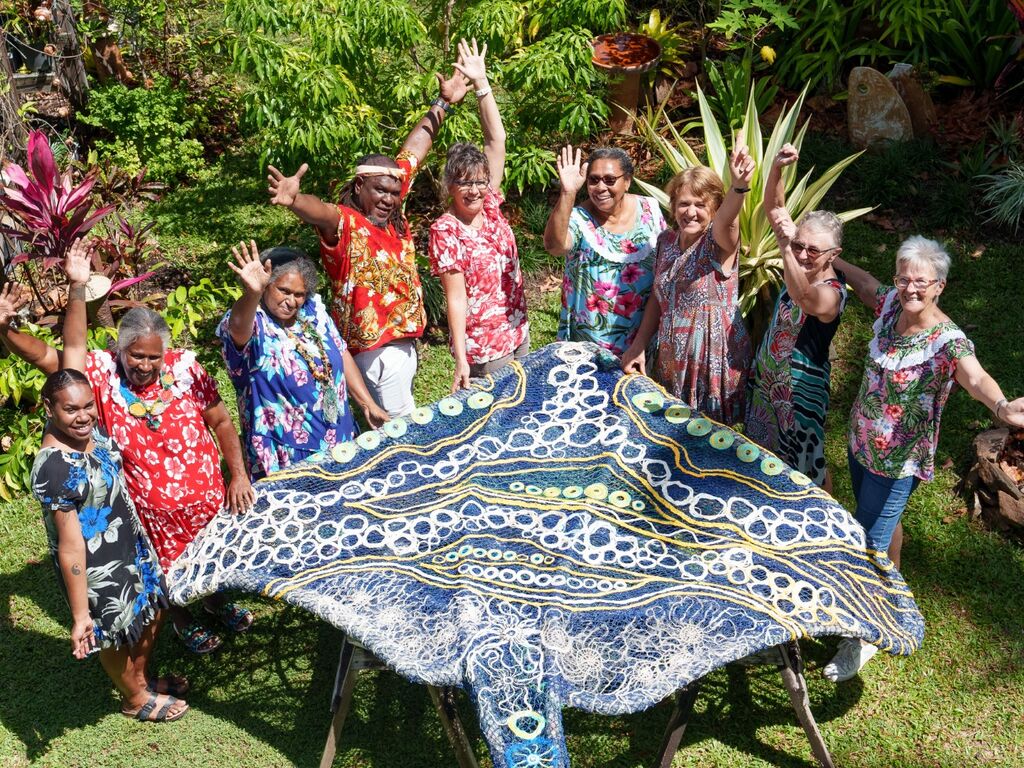 ##MP##
In a Far North Queensland garage, artists are applying the finishing touches to 11 works as graceful, impressive, and big as the sea creatures they depict.
These colourful eagle rays will soon be adding a tranquil Torres Strait vibe to one of Sydney's busiest places.
Artists from Cairns, Townsville, and Erub made the rays from abandoned industrial fishing gear called 'ghost nets', a major environmental problem in northern Australia.
##BA##
For Erub artist, Lavinia Ketchell, the rays carry an important message about taking care of the sea.
"I enjoy stitching the nets and making things out of something that's very bad for the ocean and turning it into something good.
"Erub is a nice place to live and to fish.
##PQ##
"It's important to take the nets and ropes out of the ocean to keep the reefs clean and safe."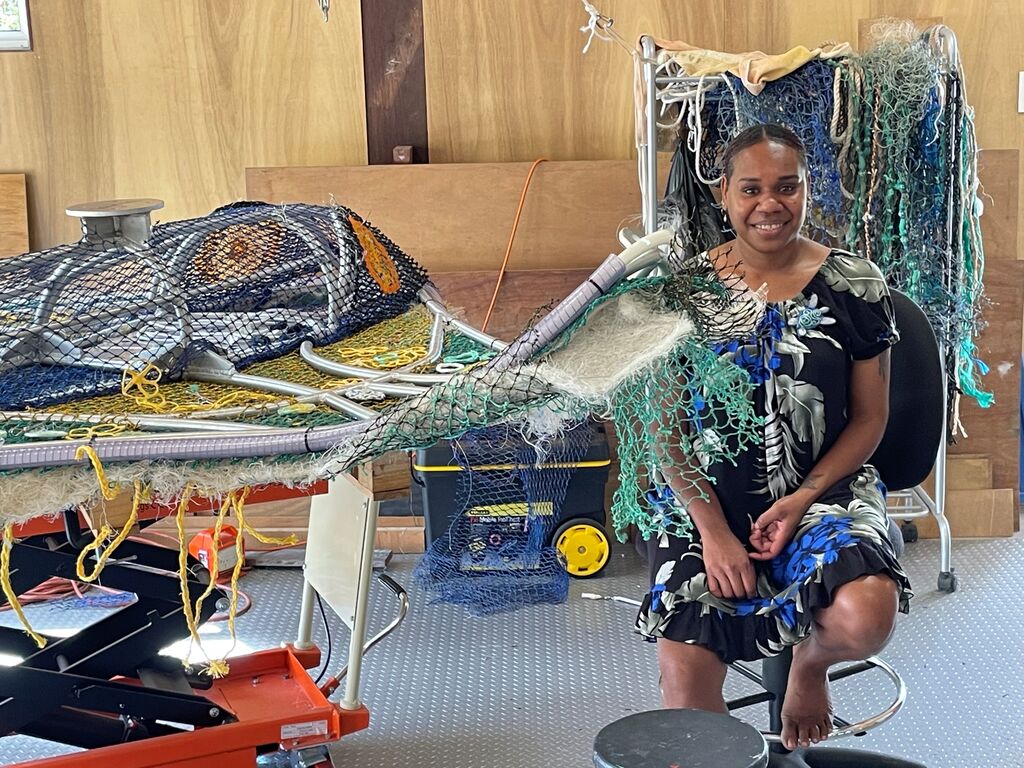 Lendlease commissioned Mermer Waiskeder - Stories of the Moving Tide for its Exchange Square at Barangaroo South, a bustling office, residential, and entertainment precinct in central Sydney.
It will be one of Australia's largest hand-crafted public artworks, with the 11 pieces floating above the crowds creating the impression of rays swimming in the shallows.
Indigenous communities have been making art out of ghost nets since 2009, linking up through the Ghost Net Collective, formed in 2020.
Collective director, Lynnette Griffiths, said the eagle ray was chosen to help bring people together.
"The eagle ray is common to most of the shores of Australia. It's a totem that's been engraved on rocks in Sydney Harbor.
"Most Australians that live around the coast have knowledge of rays and have stories of rays.
##PQ2##
Curator for Exchange Square Barangaroo, Nina Miall, said the eagle ray artworks will be a wonderful addition to the busy public space.
"It promises to bring the diverse communities of Exchange Square together in a singular experience of wonder, joy, reflection, and connection.
"I hope it's been an amazing opportunity for the Ghost Net Collective to take their practice in new directions and push themselves and develop this kind of rich collaboration."
Erub Island artist, Florence Gutchen, said this has been a very significant project for her.
"We're a seafaring people, we're brought up on the sea from childhood.
"We know the story of everything in the sea. It's a big project for me, I'm very happy to be part of it."
The artists will travel to Sydney to see the works installed in Sydney early next year. Lynnette Griffiths said it will be a wonderful occasion.
"It's been two and a half years of dreaming and working hard, all of us working really hard to make sure that we do it in a respectful manner.
"The celebration for that, we're hoping to bring down a dance team from Erub.
"We're hoping that will be a joyous time where we, as far north Queenslanders, all of us, can share with the rest of Australia and say here we are."
COMMUNITY
ENVIRONMENT
ART
Main points
Artworks made from ghost nets to go on permanent display in a busy Sydney hotspot
Artists from Erub, Cairns, and Townsville created the works
They were commissioned by Lendlease for its Exchange Square Barangaroo precinct
The sea is very important to us. We get a lot of our food from the sea.
It was about bringing people together who have that story. Community is really important.