##PQ##
Fenglehorn Sauces began with a stall at Rusty's Market six years ago. Now it's won the right to export into the world's biggest market, the USA.
The company uses Queensland produce to make a range of hot and mild sauces and spice rubs at its base in Earlville.
Fenglehorn director, Mikey Hayman, says he's delighted the facility has won US Food and Drug Administration (FDA) export approval, and first orders are being processed.
"We're now wrapping our heads around the logistics of making all that happen.
"We are so incredibly proud our little family owned and operated business that started at Rusty's is now employing Cairns locals and showcasing Queensland produce to the US consumer market."
The United States is the home of hot sauces and BBQ rub, so winning an export deal is a remarkable achievement that began in Mikey's family kitchen.
"Some of the sauces were originally made by me at home for leisure. Family and friends told me they were the greatest thing ever.
"I got tired of the corporate grind and decided to venture out. So we launched the products at Rusty's Markets.
"I think we took 28 bottles on the first day and got a great response."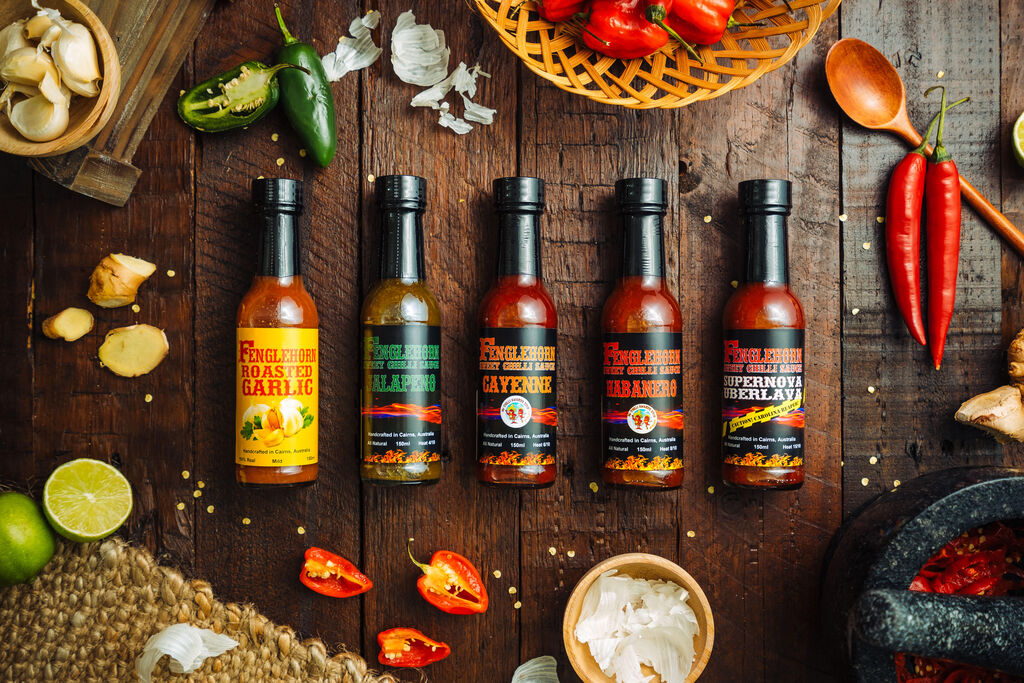 Fenglehorn Sauces has grown steadily since that small start in 2017, picking up new stockists in Cairns and around Australia.
International interest began to grow when the company got involved with Trade and Investment Queensland.
"We developed a good relationship with them and were invited to exhibit at an event called the Taste of Queensland down in Brisbane," Mikey said.
##PQ##
"We met buyers from all around Asia and we got interest from Vietnam, from Korea, Japan, Dubai, and surprisingly the US.
"We're in talks with people in Dubai and Vietnam and the US deal is locked in.
"It's something we've wanted to do for some time. But it is notoriously difficult, incredibly competitive.
"And the nature of the US compliance, dealing with the FDA is not a walk in the park.
"But to break into that space, the American style barbecue, low and slow, places like Texas are the home of that style of cooking.
"It's an incredibly exciting opportunity to be to be going in there."

"It opens up all of the outlets like Costco and Walmart, and it means we can go over there in person, go to the world famous New York Hot Sauce Expo and the barbecue events in Texas, selling the product direct to the market."
Mikey says he hopes Fenglehorn's success will pave the way for other local businesses.
"With our core capabilities as a food manufacturer, we're now able to assist other companies to get into the US. We know the pathways, we've forged that now.
"And now we're producing and looking at hiring more staff and working around the clock and all sorts of things.
"We have come so far in just six years. It's so fulfilling."
This export deal into the US is going to double the size of the business overnight
"We often reflect back on those first few days at Rusty's Market, hoping we could sell half a dozen bottles and how excited we were when we did.