Enter the fleshly site-specific, multi-sensory installation by Cairns-based, Canadian-born artist India Collins. E VULVA lution is comprised of 8 works in total, created over the last 5 years.
##PQ##
Made of pre-worn women's clothing and embodying the experience and stories of local women, it knits together existing works by Collins with new technologies, digital, and material responses.
This is a site-specific activation at NorthSite Contemporary Arts that showcases these works along with new textile, mural and digital media work leading into the creation of a large-scale piece over the next year.
India draws on contemporary symbolism and elements of pop culture, presenting playful and exaggerated sexualised imagery that lures audiences in to reveal more serious stories and insights into women's (home) truths.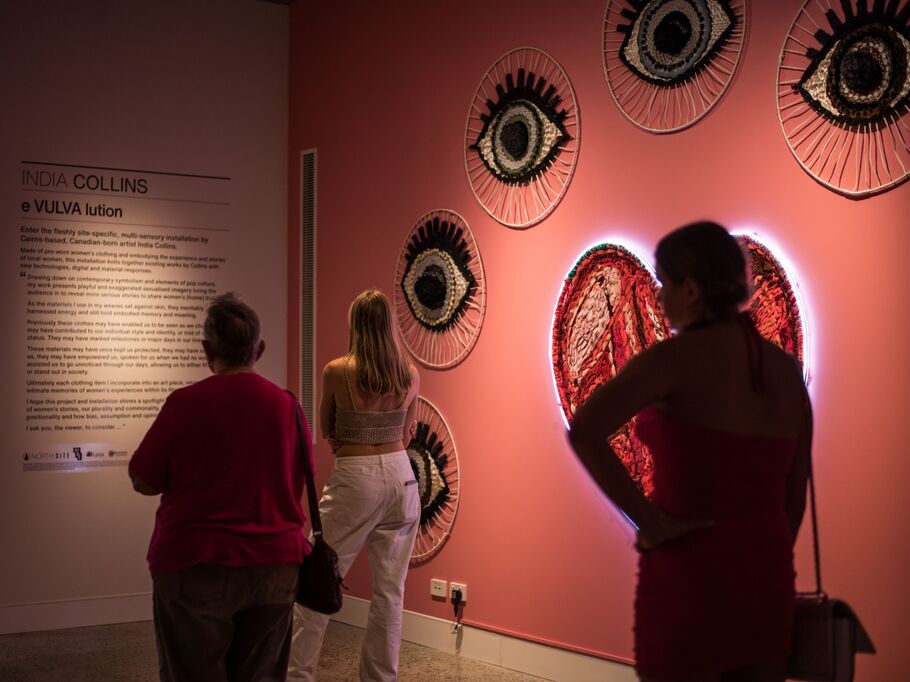 The earlier works were borne from the FLAME project, a mentoring program for young women artists under 18, an initiative of the Tanks Art Centre.
For 5 consecutive years, India lead the production of new work slated for exhibition on International Women's Day each year.
The program continues to grow and is aimed at teaching young artists the importance and value of maintaining an arts practice as ongoing personal development even if it falls outside their preferred area of study or is not their main career choice.
Creating her own work during these mentorships was a catalyst for India's creativity, allowing her to explore new mediums and themes which were authentically aligned with who she was becoming as a person.
These artworks focused on the message and the process, not on the outcome, and lead India to explore more evolutionary methods of 'making', eventually guiding her into new areas of experimental textile practice.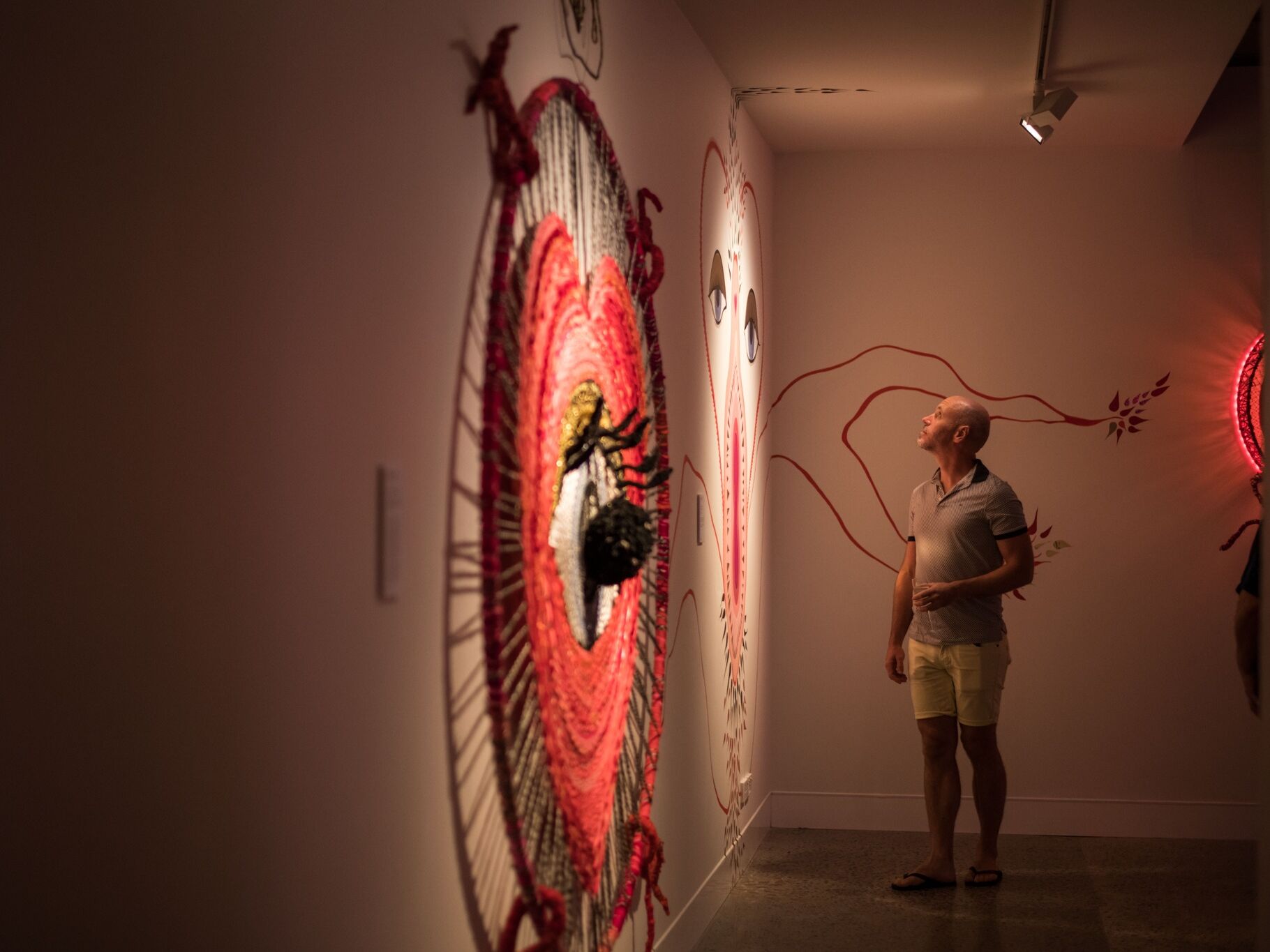 As part of the e VULVA lution exhibition, India invites female-identifying audiences to contribute an item of pre-loved clothing along with a story of personal significance.
Over the next year India will weave new works with these items, wrapping together the individual and collective narratives that are shared.
##PQ2##
Previously these clothes may have enabled us to be seen as we chose, they may have contributed to our individual style and identity, or told of our social status.
They may have marked milestones or major days in our lives.
These materials may have once kept us protected, they may have sexualised us, they may have empowered us, spoken for us when we had no words, or assisted us to go unnoticed through our days, allowing us to either fit in or stand out in society.
"As the materials I use in my weaves sat against skin, they inevitably harnessed energy and still hold embodied memory and meaning" says India.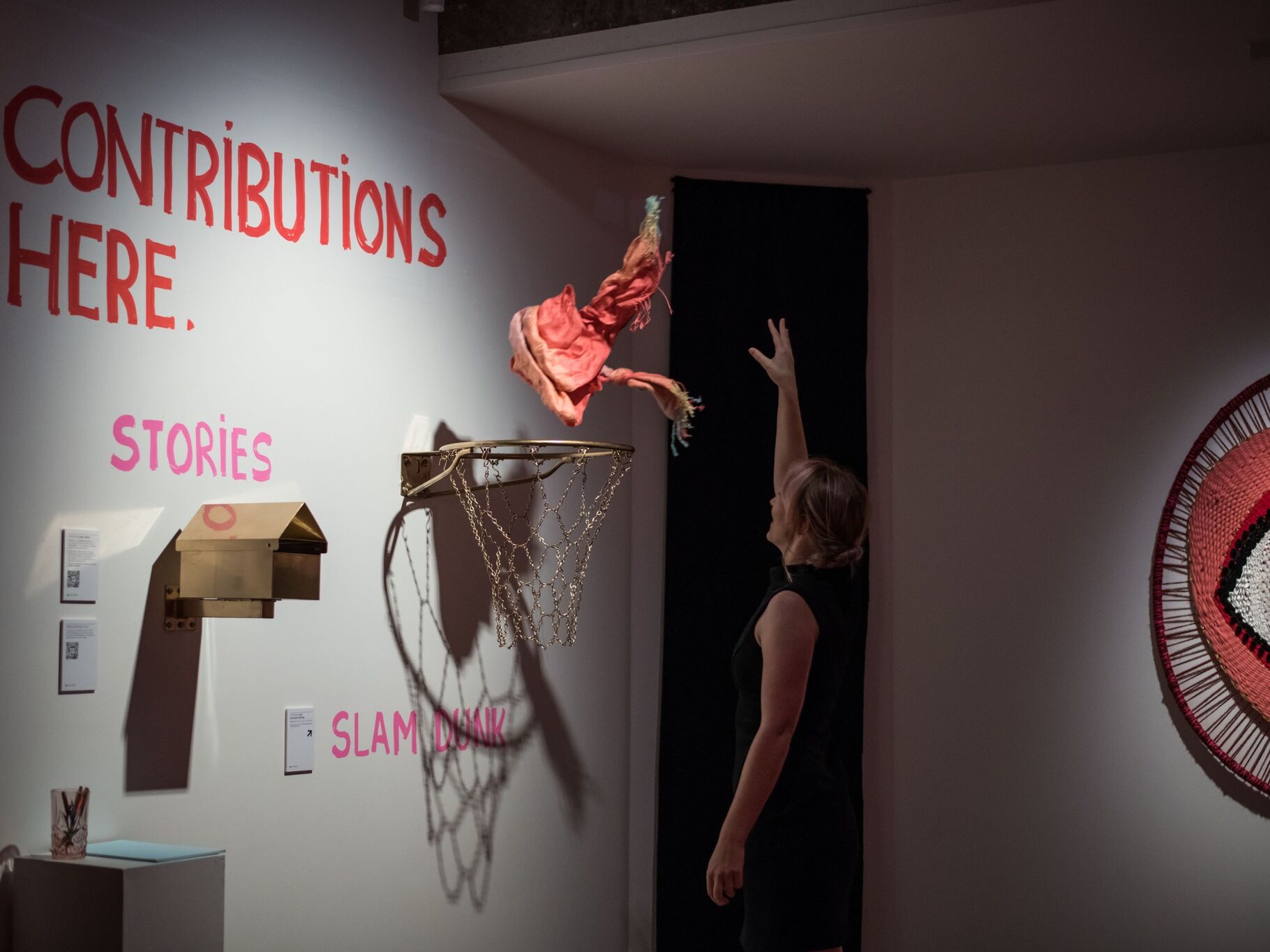 With confidentiality ensured, female-identifying audience members are invited to submit an item of pre-loved clothing along with an intimate story.
"I would like to offer the opportunity to submit an intimate account, share a secret, purge a memory that no longer serves you or perhaps extend on a story or experience that empowers you."
Over the next year India will weave new works with those items, wrapping together the individual and collective narratives shared, hearing stories that are intrinsically connected to the experiences had while wearing the clothes.
The new sculpture will honour the contributions and intimate storytelling; ultimately paying homage to local women's vulnerabilities and victories.
Contributions can be made in person and virtually. Clothing items can be slam dunked into the net and stories shared via the Golden Mailbox within the gallery space. Those outside of the local area can also be involved, sharing their story with an online submission form.
See the installation for yourself before 18 March at NorthSite Contemporary Arts.
I hope this project and installation shines a spotlight on the multiplicity of women's stories, our plurality and commonality, the cause and effect of positionality and how bias, assumption and opinion inevitably lead to stigma
Ultimately each clothing item I incorporate into an art piece, retains the intimate memories of women's experiences within its fibres