Crossing borders in a chaotic world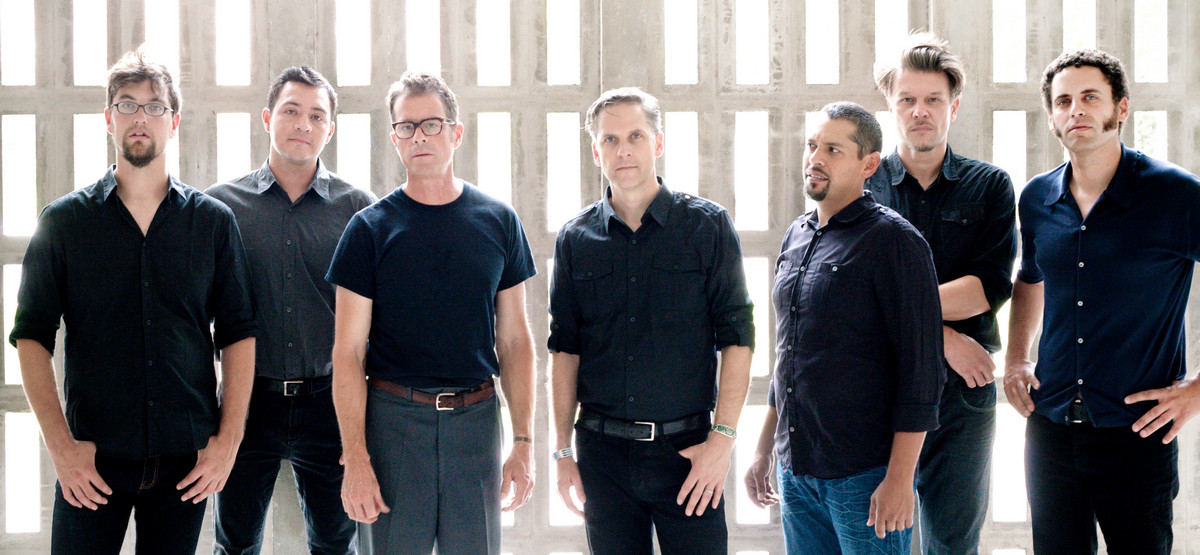 ---
Calexico's Joey Burns is sitting in a Perth hotel room, confused and curious.
Some kind of wild feathered creature is belting out a chorus of guttural squawking sounds right outside his window. The screeching started last night, and it's just ramped up again as our interview begins.
"It sounds like an injured cat," Joey tells me. Then he launches into his best impression of the bird's bizarre howl.
"Rrraaaark, rrraaark, ruwark... riiaow," Joey intones, "rrraaaark, rrraaark, riiaow!"
Forget any talk of the band's gig at the Tanks this Saturday or their new music projects or the chaos of American politics, for now at least. First, Joey just wants some help ID'ing the damn bird.
The man loves nature - he calls it his "church" - and he's fascinated by the sounds emanating from this strange avian life form.
BEWARE THE KILLER BEASTS
The frontman of one of the world's most enduring and brilliantly singular bands is so intrigued he vows to climb the nearest tree so he can eyeball the strange and exotic creature responsible for producing such a racket.
I tell him his impression of the squawk sounds a lot like a magpie, a vicious species to be avoided at all costs, let alone high up a tree where the dive-bombing beasts might be nesting. I remind Joey the band's tour of Australia hasn't even started yet.
Probably best to steer clear of our deadly wildlife for a few days, at least until after the Cairns show this Saturday so we can experience their live magic for the very first time.
Just wait 'til he hears the banshee cry of the curlew and encounters the killer army of irukandji, crocs and giant scrub pythons awaiting him in the "Deep North", as he calls our part of the world.
"I can see the headline now: 'CALEXICO TOUR CANCELLED DUE TO MAGPIE BATTLE'," Joey jokes. "Once we're done talking I'm going to the front desk to ask them to help me find out what bird it is. Fascinating."
SONIC ADVENTURERS
Based in Tucson, Arizona, Calexico are playing in Cairns for the first time in the band's 20-year history, pending a possible magpie attack on the lead singer.
The duo at the heart of the band, vocalist-guitarist Joey and drummer John Convertino, first started making music together in the early 1990s. Varied descriptions of their sound abound in the music press, from desert noir and Tex Mex to indie rock and Americana, with splashes of reggae and jazz thrown in for good measure.
Their most recent record, The Thread That Binds Us, is a smooth sonic ride along the United States-Mexico border, each song stopping for a drink in the types of multicultural towns the band is named after - a portmanteau of California and Mexico.
Respected music review site Pitchfork.com scored the album an impressive 7.1 out of 10, saying it was "full of impassioned stories about border politics and environmental disasters".

---
---
TRUMP'S WALL AND THE FIGHT FOR GOOD

The current political climate has placed the band - both physically and morally - into the dark heart of America's immigration debate.

These days, Joey is constantly fielding questions about President Trump and the border wall, so I spare him that specific topic. But there's no avoiding the new energy of activism and heightened awareness permeating the band.
Increasingly, Joey and his bandmates feel compelled to speak up and support charities providing aid to immigrants, while encouraging all of us to get involved in whatever cause or concern fits our individual circumstances and outlook. But should a musician or artist really play the role of political activist?
"Yes," Joey says without hesitation. "It's important to get involved. It's important. It's important to get involved in whatever way makes the most sense to you as an individual or as an artist or group.
"Any kind of outreach that we can do, and not just artists, but everybody, parents, families, kids, grandparents, it's just so important. Now is not the time to sit back and expect others to do vital and important work for our planet.
"Whatever the work is, it's become more and more clear that as governments and corporations continue to just push for profit in a short term and very greedy way for a small percentage of the population, it's so clear to me that we as the rest of the population need to help out other people.
"There's so much that we can do. Just a little bit of our time or a little donation can go a long way. Being a parent makes it even more clear to me. You really have to stop, unplug and go help out other people."

THINK LOCAL, ACT GLOBAL
Like the campaign to ban plastic straws by local student Molly Steer that started in Cairns and continues to spread far and wide, Joey has long been inspired by a phrase he first heard from a famous band he's long admired.
"I love the phrase that REM kind of introduced to me, which was 'think global, act local', " Joey says. "And if all of us continue to do that we're just going to support that empathy, and support that positivity and open-mindedness and open-heartedness. We can make this a better place. Those are the messages that ring true for me."
In a treat for Cairns fans, Joey says the band will "hang around" after the Tanks gig this Saturday to meet and greet fans and hear stories from locals about their life and local environment.
With a 7-piece band and beautifully crafted songs on stage and personal stories to share afterwards, it promises to be a long, illuminated night of the soul.

Grab your tickets for Calexico at the Tanks this Saturday by clicking here.


---