The big sell: Queensland Treasurer unapologetic as she begins her regional budget roadshow in Cairns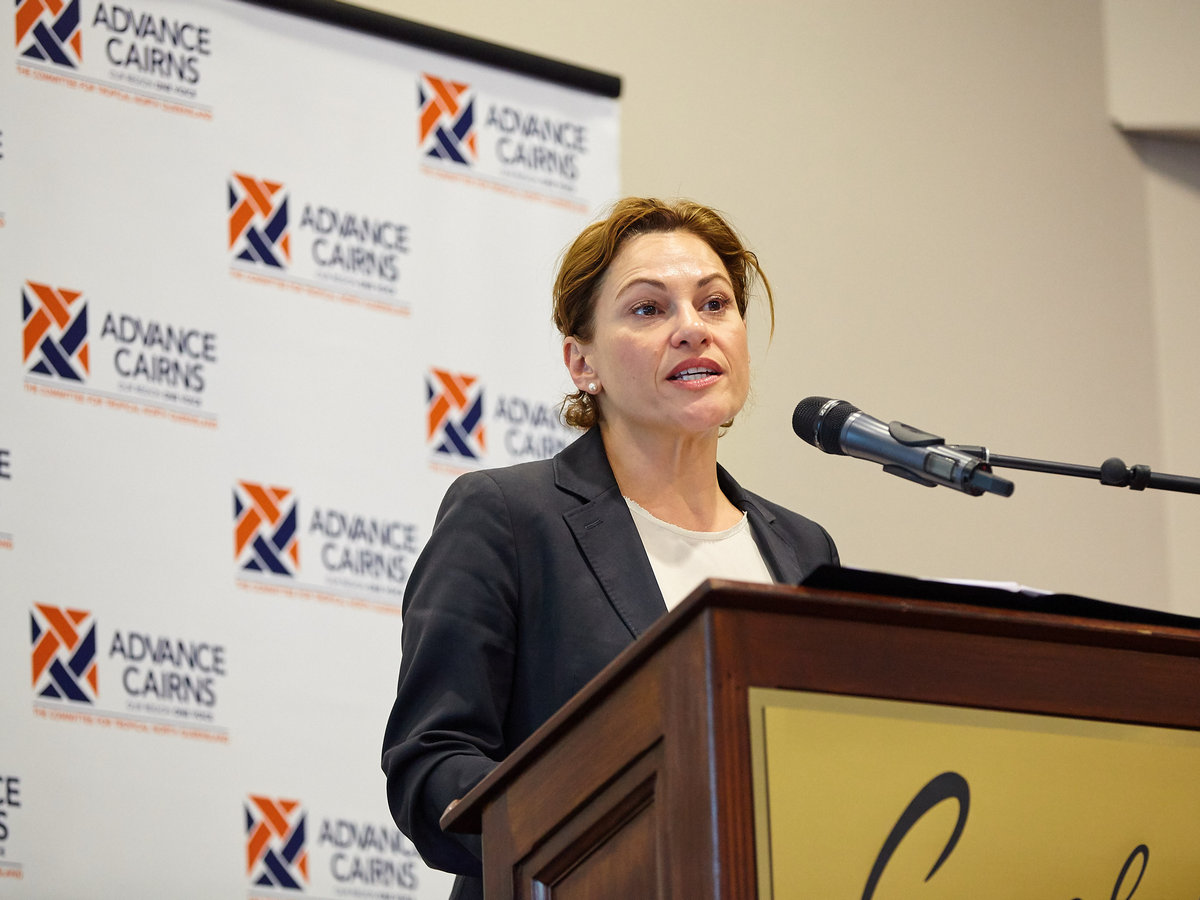 ---
Queensland's Deputy Premier and Treasurer Jackie Trad has kicked off a regional post-budget roadshow in Cairns, addressing business and community leaders who've criticised the document for overlooking the region.
A host of top infrastructure priorities in Tropical North Queensland were largely ignored, with no funding included for the Cairns University Hospital, Nullinga Dam, the Cairns Gallery Precinct or the Kuranda Range road.
---
---
When asked whether she had any regrets about leaving Cairns priorities out, Ms Trad was unapologetic.
"No, I think this budget has been a terrific budget but there have been some challenges," she said.
"We've had significantly less GST from the Federal Government which is something I have raised on a number of occasions, we've also seen rollout of the NDIS be completely botched in some areas so that is something the state has had to come in and sort out."
"But what we've decided to do is keep our investment in our regional economy."
The CEO of Advance Cairns, Nick Trompf, put the State Government on notice to deliver $90 million in funding for the teaching hospital in next year's budget.
"Cairns University Hospital is something this region is aiming for by 2022," he said.
"What we hope is that in the budget next year the $90 million is forthcoming and if it comes next year that's fine, we've still got enough time.
"If it doesn't come next year we might be a little disappointed.
"To get that teaching university status is the number one priority for us.
"This is followed very closely followed by the Western Arterial Road which is much-needed for an upgrade."
ALP Member for Cairns Michael Healy was eager to point out that the budget did deliver for regional business by lowering payroll tax by 1% and increasing the payroll tax free threshold from $1.1 million to $1.3 million.
"There's been significant spending in our part of the world," he said.
"The Back to work program picked up a additional $2.3 million particularly for this area."
"It's been about jobs and jobs are a strong priority."
The Deputy Premier also assured Cairns residents that funding for the $176 million Cairns Convention Centre upgrade is guaranteed and that the final business case will be finalised by the end of this month.
"The money is locked and loaded for the Cairns Convention Centre," she said.
"The length of time taken to finalise the business case has just been around changes, changes to the refurbishment, changes to the extensions.
"I am as eager as everyone in the community is to see this program underway."