How Cairns could take advantage of instability in the Pacific
---
Cairns could play a major role in Australia's Pacific policy pivot aimed at countering China's growing influence
in the region.
That's the view of local leaders and defence analysts keen to see our city benefit from the Federal Government's new strategic focus.
From increasing aid programs to strengthening defence capabilities, local industries such as maritime, education, construction, manufacturing and health could all benefit.
---
---
For the past few years, China has been been flexing its muscle in the Pacific through foreign aid.
Australia remains the region's biggest donor but China has been spending up big, particularly on infrastructure projects including a 360 metre wharf in Vanuatu and a roads project in Papua New Guinea.
But while Australia gives its aid through grants with no obligation for repayment, most of China's spending is in the form of loans which the tiny nations must pay back.
Experts call it 'debt-trap' diplomacy, accusing China of being a loan shark by getting countries to take on debts they can't pay back and then using its newfound powerful position for political leverage.
An example of this came to the fore this year with reports China is planning to build a military base in
Cambodia.
The largest aid donor, investor and creditor in Cambodia happens to be – you guessed it - China.
"You've got a very assertive China trying to claim its rights over the South China Sea and using
that to apply soft power, or influencing power in the region," Dr John Coyne from the Australian Strategic Policy Institute (ASPI) told Tropic Now.
"Our relationships with South-East Asian and Pacific countries have never been more important to Australia's national security and north Queensland is already our connecting point to the region."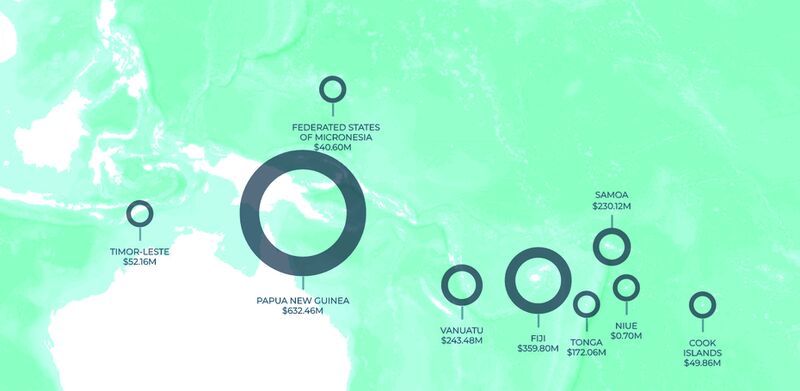 ---
JUST HOW SERIOUS IS THE SECURITY SITUATION?
If the warnings from academics are anything to go by, it's pretty serious.
In the past few months, a report from Sydney University's US Studies Centre called on Australia to divert its military resources from the Middle East to boost capabilities in the Indo-Pacific, warning that the US military is no longer the primary force in Asia and could struggle to defend its allies against China.
Around the same time, the ASPI argued for the need to reconceptualise Northern Australia as a defence and national security 'ecosystem' to deal with future conflict.
ASPI's John Coyne said the US-China trade war has added to the growing tension.
"The rules of the road have changed and there's greater chances of misunderstanding and that means greater chances of conflict," he said.
"It is likely that with the significantly reduced warning times of future conflict the north of Australia will increasingly become either Australia's forward operating base, or its lily pad to another forward location within the Pacific."
---
THE 'PIVOT' IN ACTION IN TNQ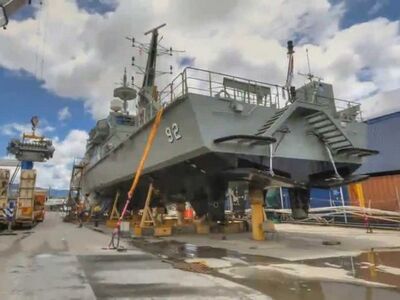 In a defence sense, Dr John Coyne is calling on the Federal Government to help increase industry capacity in northern Australia to support an increased defence presence.
"Defence needs industry and prosperous communities to succeed," he told Tropic Now.
"The industry base needs to be able to provide a permanent and scaleable replenishment and depot repair capacity."
Federal Member for Leichhardt, Warren Entsch, told Tropic Now that Canberra is already working on it.
"This is the concept of the Cairns Marine Precinct, it's exactly built for this purpose," he said.
"And we now have the Pacific's largest mobile boat hoist at BSE Slipways."
21 Guardian Class Patrol Boats currently being rolled out to Pacific Island nations will soon be serviced in Cairns, along with Australian and US defence vessels.
Mr Entsch said the Federal Government is also upgrading the Scherger RAAF base on Cape York so it can handle the new F-35 joint strike fighter jets.
Further afield, work will soon begin on the redevelopment of the dilapidated Lombrum joint naval base on Manus Island in PNG, the result of an Australian-US partnership.
---
Australia's also bumped up Pacific Islands aid to a record $1.3 billion and increased infrastructure investment to $3 billion.
Canberra's promised to bring electricity to 70% of Papua New Guinea's population within 11 years and has elbowed Chinese telco Huawei out of a deal to build an undersea cable to improve internet communications in PNG and the Solomon Islands.
It's a program Cairns leaders want in on.
Advocacy group Advance Cairns is seeking $1.5 million from the Federal Government to make our city the Pacific capital of Australia.
Under its recommendations, an Office of the Pacific in Cairns would drive the implementation of Australia's Pacific Engagement Strategy.
It also wants the Federal Government to reassign the contract for the Australian Pacific Training Coalition from TAFE's Brisbane office to Cairns.
Plus, it's calling on all three levels of Government and the Australian Olympic Committee to help secure Cairns as a host of the Pacific Games.
Leichhardt MP Warren Entsch has pledged his support.
"We are the largest global regional city in Australia and we are directly connected to the Pacific," he said.
"Already we are involved in so much work in the Pacific Islands and we have the largest resident population of resident Papua New Guineans in the country so it all fits perfectly.
It would allow us to further capitalise on our geographic position, to capitalise on our aviation hub and to capitalise on the broad array of ancillary industries we have outside of tourism."