Arty cafe owners prepare to move on
The much-loved Sheridan St cafe Flying Monkey appears set to change hands.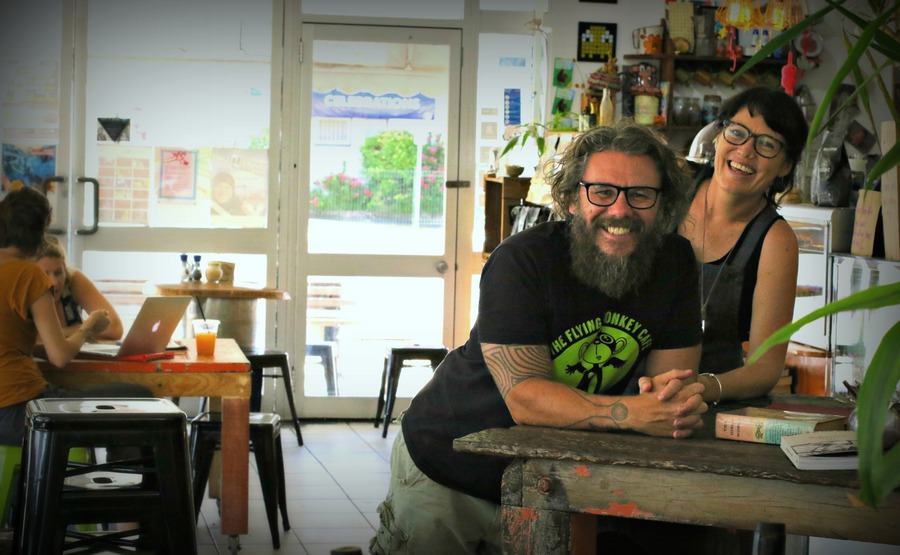 ---
A popular Cairns cafe that has helped cultivate a thriving arts scene in the city is looking for a new owner.
The Flying Monkey on Sheridan Street opened its doors almost four years ago, serving up hot coffee with a mix of live music and striking visual art exhibits.

---
Husband-and-wife owners, Rick and Kristy Beresford, say it is hard to part ways with the business after working through a torrid start.
"We had been trading for one month and building our name when there was a fire in an apartment upstairs," Rick says.

"We and a lot of the tenants got burned out. We lost about half of our shop."

"Originally we were told the building was going to be demolished. Then they decided to rebuild around us.

"Thankfully, we built up some really good relationships with businesses nearby and people who stuck by us."

A music station and exhibit area have drawn in talented Cairns and international artists, including the world famous 'queen of Hong Kong street art', Bao Ho who took up a pseudo residency at the shop.

"She was a young woman from Singapore whose English wasn't very good," Rick says.

"But she'd come in every day and sketch on her pad. She was an artist and I got to know her.

"She started busking, doing drawings of people so I ended up letting her do an exhibition here.

"I didn't know at the time but she's actually sponsored by companies like Google, Converse and Nike now and travels the world making amazing murals.

"She hung out here with us for two months."

From its humble beginnings, the Flying Monkey now employs seven staff members and a cast of 'regulars' who have become extended family to the Beresfords.

"We have a really strong customer base," Rick says.

"We set out to make a connection through the arts. We've probably exhibited and shown more than 200 artists' work in our time here. I'm really proud of that."

The couple plan to pursue other projects - provided they can find the right person to keep the Flying Monkey running.

"It's really rewarding but it is a lot of work," Rick says.

"Kristy drives this business and is the ideas person. She has some ideas for other things she'd like to have a crack at.

"Hopefully we can find the right kind of people to take over this space. We want to keep it as an art space and a community hub.

"We've worked really hard to build this up. It'd make us really happy to see someone take the place into its next phase of life."