Cairns dodges wild weather as residents to the south brace for worst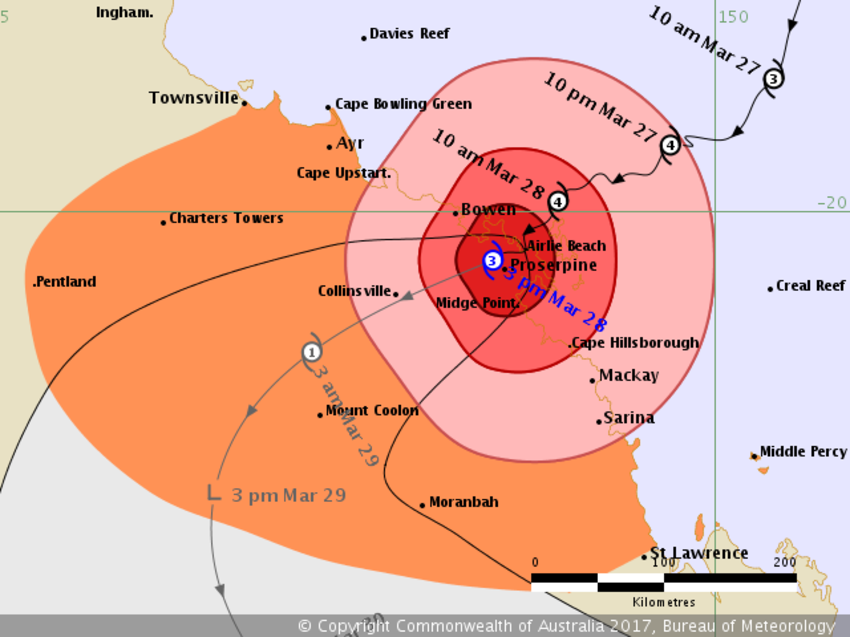 ---
UPDATE 4pm: Severe tropical cyclone Debbie is now moving slowly inland as a category 3 system after crossing the coast near Airlie Beach around midday.
An estimated 45,000 homes are without power but weather experts say the region is lucky to have escaped even worse damage, with earlier fears the coastal crossing would coincide with a storm surge.
Authorities are urging residents to stay indoors and await assistance from emergency services.
"Once this eye is passing over people will feel the opportunity to go out and have a look and they should not do that, they need to remain in place," Premier Annastacia Palaszczuk said.
---
EARLIER 9:50am: Severe tropical cyclone Debbie is forecast to make landfall on the mainland between about Ayr and Midge Point at around midday today.

Wind gusts of nearly 200km/h were recorded early this morning at Hamilton Island airport, with the Bureau of Meteorology warning wind gusts will potentially reach 260 km/h near the centre of the system as it approaches the coast.
---
LAST NIGHT 10.15pm: The Bureau of Meteorology has cancelled a severe weather warning for the Cairns area that was earlier forecast to hit parts of the city with wind gusts of up to 90 km/h.
"Based on the current movement and forecast development of Severe Tropical Cyclone Debbie damaging wind gusts in excess of 90km/hr are now no longer considered likely in areas east of the Atherton Tablelands," the Bureau noted tonight.
"Gusty conditions are still likely to develop, however the threat of damaging wind gusts has now eased.
The situation will continue to be monitored and further warnings will be issued if necessary."
Communities from Townsville to Mackay are not so lucky as they hunker down and brace for the full force of Cyclone Debbie, now classed as a category 4 system with gusts of up to 250 km/h.
Thousands of residents have been evacuated from the likely impact zone with Cyclone Debbie forecast to cross the coast between Ayr and Cape Hillsborough (north of Mackay) on Tuesday morning with wind gusts reaching up to 275 km/h near the centre of the system.
---
MARCH 27 2.15pm: Cairns Regional Council is advising residents of the northern beaches, Caravonica, Redlynch and possibly Gordonvale and Edmonton to take precautions ahead of incoming katabatic winds.
A severe weather warning released by council this afternoon urged residents in applicable areas to secure loose items and move their cars undercover and away from trees.
"Areas of Cairns may also expect interruptions to power and internet access over the next 48 hours as a result of Tropical Cyclone Debbie crossing the coast near Bowen," the warning stated.
"Council does expect interruptions to its services as a result of the cyclone."
Other areas expected to be affected by the winds include Port Douglas, Innisfail, Tully and Babinda.
---
MARCH 27 9am:
The far north may have escaped the wrath of Cyclone Debbie, but some parts of Cairns aren't quite out of the woods just yet.
The Bureau of Meteorology is predicting that katabatic winds gusting between 60-90 km/ph will sweep through Redlynch Valley and the Northern Beaches on Tuesday and Wednesday.
BoM meteorologist Greg Connor said katabatic winds – also called downslope winds – were a phenomena particular to low-lying areas.
"When strong winds occur at height, they can accelerate down mountains, adding extra speed to the winds," Mr Connor told TropicNow.
"That's also enhanced by funnelling through valleys.
"We're expecting these winds to come down the Macalister Range and through the Barron Valley on Tuesday and Wednesday."
Mr Connor said residents of the affected areas could experience tree damage, which had the potential to affect power supply.
"Given we've just come out of a cyclone watch, residents' preparations should already be completed in terms of tidying up their yards, and making sure objects have been moved or made secure."
A similar event occurred in February, when a strong monsoonal flow caused katabatic winds gusting between 90-100 km/ph to rip through parts of Cairns.
The winds, which some residents described as a "mini-cyclone", caused widespread power outages on the Northern Beaches and damage in the Redlynch Valley.
---
CYCLONE PROMPTS EVACUATIONS
Cyclone Debbie has been upgraded this morning to a Category Three, with the BoM forecasting landfall between Ayr and Cape Hillsborough, north of Mackay, on Tuesday morning.
It is predicted that the cyclone will further intensify as it moves west-southwest towards the coast today.
An Emergency Alert has been issued for a storm surge from the Whitsunday Disaster Management Group.
Evacuations are directed in the Whitsunday Regional Council area for the Red, Orange and Yellow Zones from Dingo Beach north to Cape Upstart including Bowen.
Evacuations are also recommended for the Yellow Zone south of Dingo Beach including Airlie Beach and surrounds.