Paying it forward: three local legends in the spotlight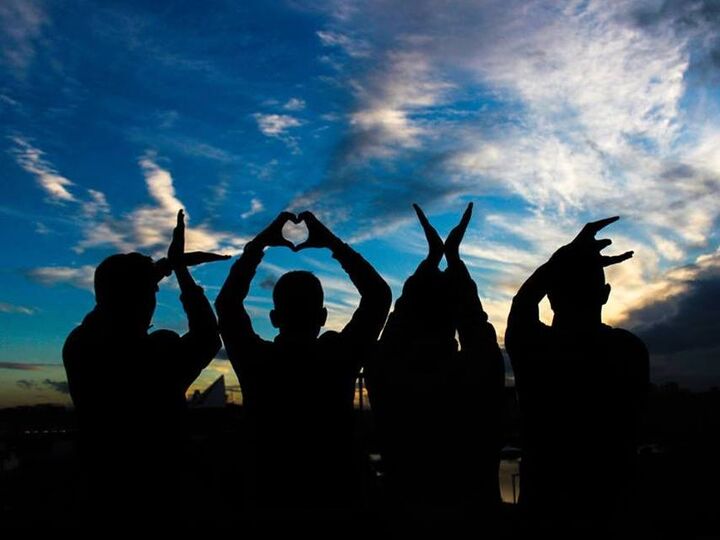 ---
Inspired by the tireless good works by the late, great community pillar and tourism pioneer Charles Woodward, TropicNow takes a look at three local initiatives that put people above profit to give back to the TNQ community.
---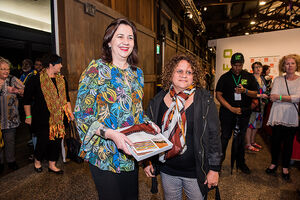 1. MAINIE: INDIGENOUS FEMALE ARTISTS
It started off as a dream: to create something that would make a difference to Indigenous women's lives.
And now, for the owner of Cairns Indigenous-owned fashion and gift brand, Mainie, that dream has become reality.
Charmaine Saunders, who owns and operates Mainie with her husband Denis, established the business in 2015 with the vision of creating an iconic Australian fashion label showcasing genuine Aboriginal designs.
Two years later, and that vision is paying off: in the first quarter of 2017, Mainie has almost tripled royalty payments and flow-on benefits for Australia's Aboriginal women artists under the brand's licensing agreements.
Ms Saunders, a descendant of the Gunggari people with family links to the Woorabinda and Cherbourg Aboriginal communities, said Mainie embraced Fair Trade ethics and was committed to investing in Indigenous-owned enterprises and supporting Aboriginal women artists to preserve their traditional cultural heritage.
Royalties from the sale of Mainie garments are paid to the Aboriginal artists, such as Yarrabah's Elverina Johnson (pictured).
"I know that every cent that we pay our Indigenous women artists is reinvested in their families, enterprises and communities," Ms Saunders said.
"I cannot express how rewarding it is to know we are making such a valuable investment in our artists and their communities, not only in financial terms but also in helping preserve our traditional Indigenous arts heritage."
Artworks featured on Mainie's products are acquired through licensing arrangements with Aboriginal owned and controlled arts centres located on the traditional homelands of the artists, and in accordance with the Indigenous Art Code.
---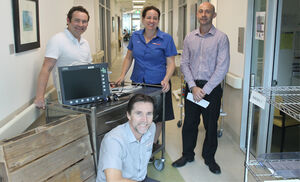 2. THE POWER OF PALLETS: FNQ HOSPITAL FOUNDATION
Kate Fern wasn't named this year's Cairns Region Woman of the Year for no reason.
The driving force behind The Power of Pallets – a program that upcycles unwanted wooden pallets into items that are sold to raise funds for the FNQ Hospital Foundation – Ms Fern has long been giving back to the community.
Earlier this month, money raised and donated by The Power of Pallets went into the purchase of a potentially life-saving cancer diagnostic device.
Valued at almost $18,000, the equipment – used in conjunction with nasoendoscopes – is used to assess patients who are being monitored for head and neck cancers.
Cairns Hospital cancer services specialist radiation oncologist Dr Luke McGhee said the new monitor would make early detection of recurrent cancer or a second head and neck cancer in high risk patients easier.
"The monitor also gives us a superior view of the area than the scopes alone, which enhances our ability to detect any changes that may indicate recurrent cancer.
"Having access to these pictures will enable other doctors to be able to directly assess whether there have been any changes since they were seen by us.
"The ability to record any changes we see over time is hugely important in being able to detect any subtle changes that may be the early signs of cancer."
Ms Fern said the number of people whose lives were impacted by cancer was staggering.
"It is great to see that the money raised this year will go to help fight this horrible disease," Ms Fern said.
---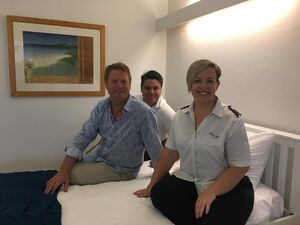 3. CRYSTALBROOK COLLECTION: SALVATION ARMY
Multimillion-dollar hotel developments and the Salvos don't usually go hand-in-hand, but the company behind the Crystralbrook Collection - the Ghassan Aboud Group - has always done things a little differently.
With three exciting CBD hotel projects on the go, the company recently donated tens of thousands of dollars worth of furniture to the Salvation Army's Cairns homeless shelter, Centennial Lodge.
The furniture – which includes everything from mattresses and dining tables to TVs and white goods – comes from the Tradewinds Hotel, which Crystalbrook Collection and local firm Prime Constructions is redeveloping.
Crystalbrook CEO Mark Davie said they had chosen to donate the furniture to the Salvos for "the great work they do in the community and throughout the world".
Centennial Lodge Manager Captain Cara Brackstone was thrilled with the mass donation, saying it couldn't have come at a better time.
"We were in a position where we would've had to pay for upgrading these items within our facility in this financial year.
"Now we no longer have to spend that money and are able to use it on other items to support our clients through recovery."
Capt Brackstone also gave thanks to the Prime Group – Crystalbrook's principal contractor – for clearing the hotel and packing "truckload upon truckload" of the furniture, and to FGF Developments' owner Murray Moule, who provided a rent-free vacant warehouse for the items until they could be redistributed various to Salvation Army services across the region.
---