Council scraps Port Douglas lagoon, launches public survey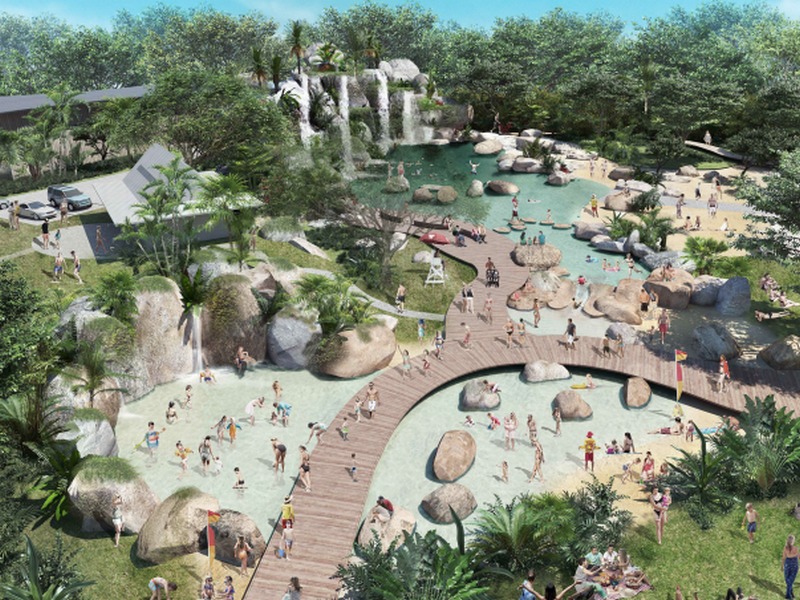 ---
Plans to build Australia's first natural swimming lagoon in Port Douglas have officially sunk.
Pitched by the previous Douglas Shire Council before the last local government election in 2019, Tropic Now reported Council had hired world-renowned landscape designer Phillip Johnson for the job.
The chemical-free lagoon, projected to cost over $30 million, was earmarked to be built near the Port Douglas Life Saving Club.
But in a media release today, Douglas Shire Mayor Michael Kerr confirmed the project would not progress.
---
---
The Council's response comes after another lagoon proposal was put forth by local architect Gary Hunt, this one next to Rex Smeal Park.
Cr Kerr said ratepayers deserve a realistic and achievable year-round swimming option to consider.
"While great at grabbing a headline, I believe a lagoon in Douglas Shire is an unrealistic and impractical concept to put in front of ratepayers," he said.
Instead Council will launch a survey next Monday to gauge community interest in a splash park and recreational pool in Port Douglas.
"What we did learn from the previous community consultation, was that year-round swimming is a very high priority and I want to deliver on this within two years, not be still talking about it in 10 years," said Cr Kerr.
"Firstly, ratepayers will get an opportunity to tell us exactly what they want before staff present some cost-effective options for the community to consider.
"We will put responsible options back on the table that are financially viable for this Council and sensitive to the delicate water security issues we face."
Cr Kerr said "it's time to get to work" on providing a safe swimming space for both local families and tourists.
"As beautiful as Douglas Shire is, we know challenges exist when it comes to swimming in our waterways and beaches," he said.
"Whether it's jellyfish during the stinger season or crocs going about their business, we must provide enjoyable and safe recreational places for residents and tourists to socialise."
The survey will be open from Monday 16 October to Tuesday 17 November, 2020, via the Douglas Shire Council's website.
---