Cairns Aquarium's amazing Oceanarium is now complete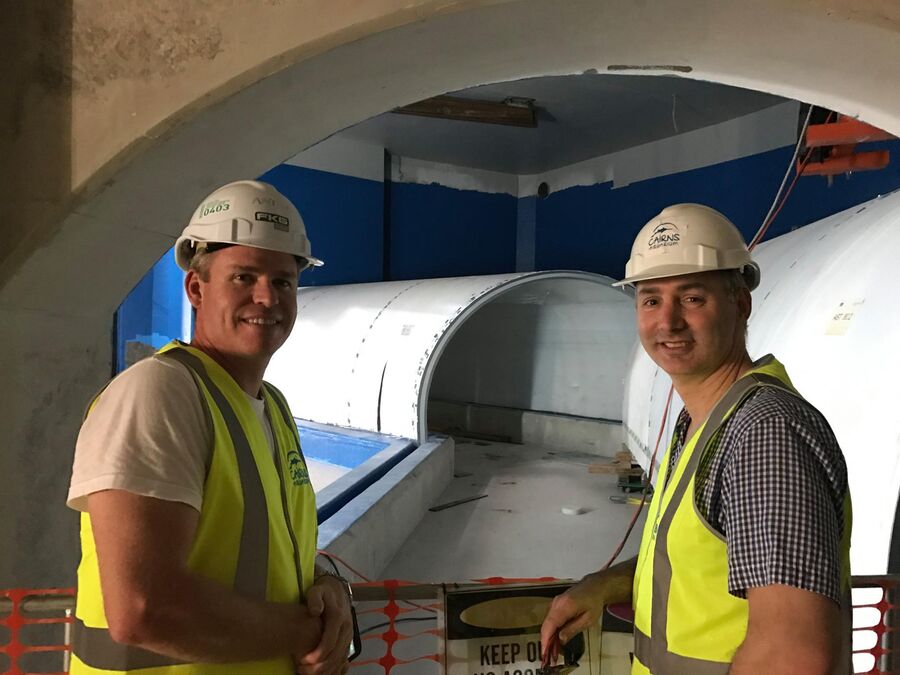 ---
The Cairns Aquarium is one step closer to completion, with the installation of a sea-riously stunning underwater viewing tunnel.
The Aquarium announced today that the acrylic underwater viewing tunnel and the acrylic panels that enclose the showpiece 1.7-million litre Oceanarium have been put into place.
The $54 million aquarium is expected to open in mid-June, with a range of attractions and a huge restaurant called Aqualuna.
Cairns Aquarium General Manager Julie Cullen said the Oceanarium, billed as the most modern design in Australia, was already dropping jaws.
"I have had the opportunity to escort people through the aquarium during the construction process and there is not one person who has not marvelled at the design and the size of the Oceanarium, and that was when it was only a concrete shell," Ms Cullen said.
"The installation of the acrylic panels completely changes your perspective and opens your mind to the fact that visitors will soon be standing here surrounded by schooling sharks, rays and the stunning fish of the Barrier Reef."
Cairns Aquarium Senior Curator Ramon Barbosa – who has worked in aquariums around the world – concurred.
"This Oceanarium will provide visitors with the opportunity to see these amazing sea creatures in extremely close proximity and from a perspective that could never be seen without diving on the reef.
"It is like the reef has been bought into the city centre."
For the past few weeks, specialist acrylic installation crews have been onsite installing 40 acrylic panels of differing sizes.
HEFTY PROJECT
Two curved acrylic panels, weighing almost 7 tonnes each, were manoeuvred into place to form the 20 metre viewing tunnel that will provide visitors with a 270-degree view of predators of the ocean.
This was followed by the installation of two of the largest curved acrylic panels – three metres high and 8.5m and 9.5m long respectively.
The panels were lifted by crane and delicately lowered though the third level roof void before being installed onto the concrete support rebate.
The panels will provide a 360-degree underwater view of the onsite recreated Coral Sea environment, nicknamed the "Donut Room" by construction workers.