The CIAF countdown is on!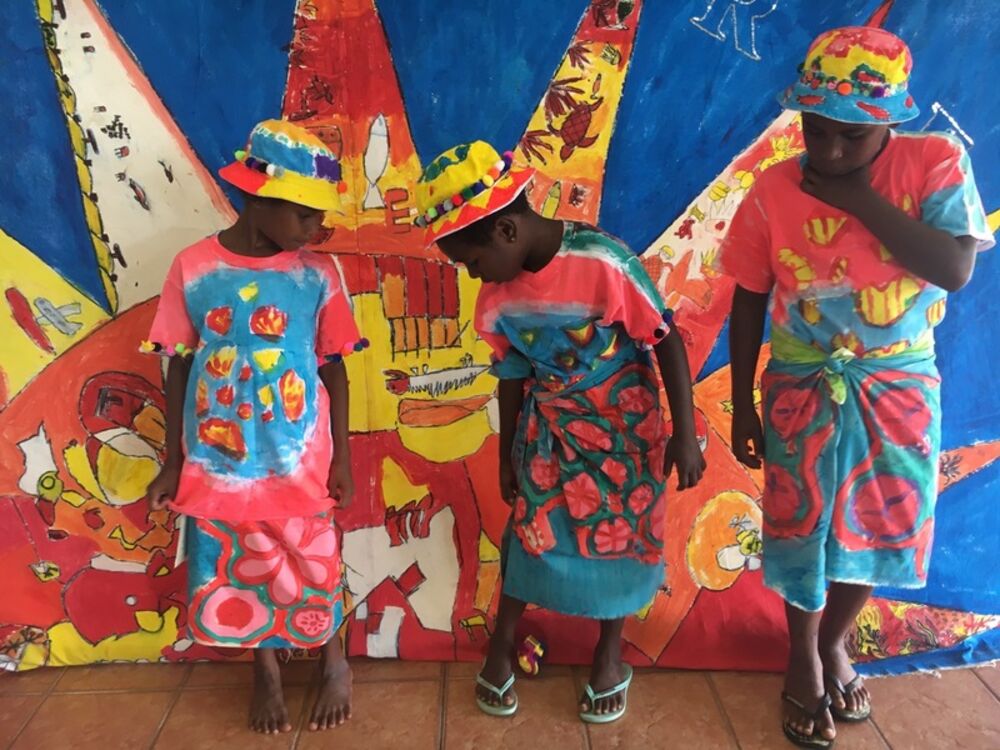 ---
With just one month to go before the Cairns Indigenous Art Fair – and its whirlwind of associated events and activities – kicks off in the city, CIAF fever is in the air.
Australia's premier Indigenous art fair, CIAF will be marking its eighth year with an expanded three-day program, glittering opening night party, inaugural CIAF Art Awards, and of course, the immense signature art market.
One of CIAF's most anticipated events is its fashion performance, an eye-popping celebration of the best of traditional and modern Indigenous textile and fashion design.
To be held for the first time at Tanks Arts Centre, this year's event is entitled Wandan ('Future' in Yidinji language).
Wandan curator Grace Lillian Lee said the performance considered the future of Indigenous fashion in context with a changing environment, current threats confronting the World-Heritage listed Great Barrier Reef and human beings' response.
"Wandan will be a creative and dramatic interpretation encompassing two worlds – the mainland and its infrastructure and climate change and rising water temperatures causing coral bleaching on the Great Barrier Reef," Ms Lee said.
Lee, choreographer Fiona Wirrer-George, and musician and producer Patrick Mau of Mau Power, will present a two-part performance – the first half a showcase of the textiles and designs of ten Queensland-based Indigenous fashion designers before leading into a contemporary finale underpinned by the age-old tradition and Indigenous cultural practise of story-telling.
CAPTIVATING, COLOURFUL CATWALK ON THE CARDS
This year's presenting fashion designers include newcomers Hopevale Arts Centre, Indij Design, Uki Burchill from Mossman Gorge, and Chantal Henley from Stradbroke Island as well as Yarrabah Arts Centre, MI Art, Leecee Carmichael, Lynelle Flinders and Simone Arnol.
Wandan will feature 20 models from communities across Queensland, including 45-year-old Stradbroke Island artist Sonja Carmichael who – along with Mornington Island's Netta and Amy Loogatha and the four Gabori girls, Elsie, Amanda, Dorothy and Helena – will be taking part in CIAF's fashion performance for the first time.
"I am thrilled to have Sonja and the Mornington Island artists taking part in our show as I have always looked up to them and want to show that this performance is not just about aesthetic beauty but something far deeper and more spiritual transcending age," Ms Lee said.
Another new and anticipated highlight of this year's performance will be the opening drumming and fashion showcase by 11 students from Kubin Ngurpay Lag school on Moa in the Torres Strait.
Ms Lee said she has just spent a residency on the island, working with the children at their school to paint and create garments inspired by their land and the hot colours of a Great Barrier Reef impacted by rising water temperatures.
To accommodate popular demand, there will be two ticketed performances of Wandan on July 14. Grab tickets here.
All the latest info on CIAF (July 14-16) can be found on the official site at www.ciaf.com.au
Gallery: Wandan fashion performance at CIAF