Reef fishermen rescued by starfish control boat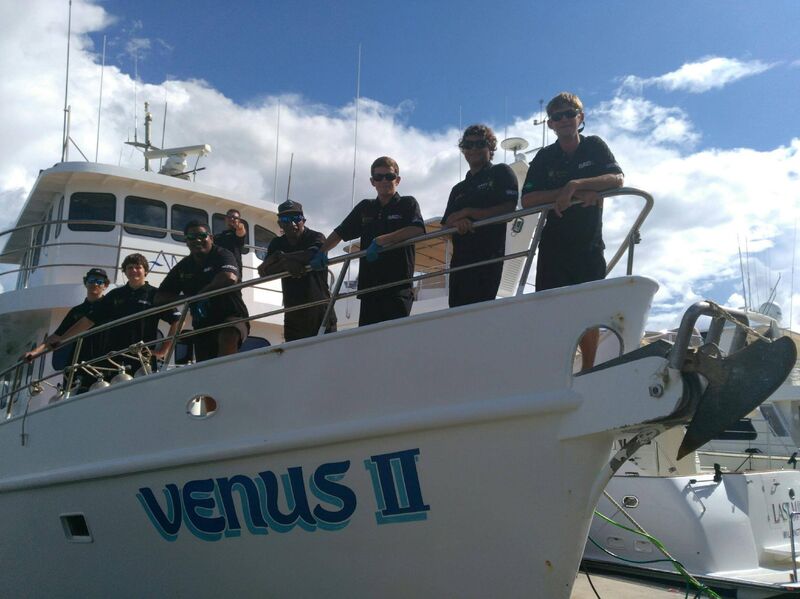 Two fishermen have been rescued by a crown-of-thorns control vessel after their boat upturned near Mission Beach early this morning.
The MV Venus II, operated as a CoTS-eradicating dive boat by the Association of Marine Park Tourism Operators (AMPTO), found the men sitting on their capsized boat at about 1.15am.
The 6.2m recreational fishing boat had set out from Mission Beach last night before running into trouble at Otter Reef.
Venus II Skipper Brendon Robinson said it appeared that fishing line had gotten caught in their propeller.
"The line then possibly snagged on the bottom, waves got on to the boat, it became unstable and the boat just turned turtle on them," he said.
AMPTO executive director Col McKenzie said the two men – one from Cairns, the other from Mission Beach – were "very lucky" the CoTS control boat had been in the area.
"They'd been sitting on their upturned boat for about two, three hours, and the boat was slowly sinking beneath them," he told TropicNow.
He said the men were unreachable by phone or radio, and though rescue teams knew the Venus II was in the area, they too were in a radio dead spot.
"Townsville radio had been trying to contact our vessel, but luckily, our other CoTS control boat Hero heard the radio call and got through to Venus II by phone.
"They alerted them to the situation and off they went."
A Townsville rescue helicopter located the drifting fishermen and dropped a flare to guide the Venus II to their location.
The men were pulled on to the 20m rescue vessel, where they were monitored for shock, warmed, dried and fed.
Mr Robinson said the men were in "surprisingly good spirits" considering their ordeal.
"They were cold, wet and obviously a bit shaken up, but they're both happy as.
"They've got no cuts, no bruises. They got off scot-free."
The Venus II had been prowling the waters between Townsville and Cairns as part of a regular ten-day mission aimed at eradicating the pestilent crown-of-thorns starfish.