Work on unique Cairns playground gets underway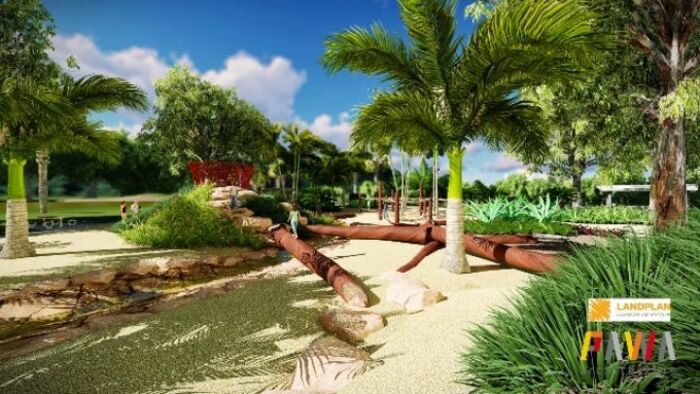 ---
We love the Great Outdoors here in TNQ, and our al fresco lifestyle is about to get even greater, as work kicks off on a string of recreational projects around the city.
Six projects – including Cairns' first Nature Play space and the creation of the Yellow Arrow Walking track – have been fast-tracked for competition by the end of November this year as part of a $15.5 million grant allocation through the state government's Works for Queensland program.
Mayor Bob Manning and Deputy Premier Jackie Trad this morning turned the sod on Centenary Lakes' Nature Play space, billed by council as "a playground with a difference".
The new playground will include balancing logs, rocks for climbing, jumping and hopping, a "dinosaur" skeleton hiding in a sand pit, fairy garden, rope climb, tunnels, digging patch and a sensory garden filed with bright, multi-coloured plants.
The Nature Play concept supports unstructured outdoor play, which has been shown to have a positive impact on children's cognitive and physical development.
"The playground will be a drawcard for families across the region, with plenty of opportunities for kids to get their hands dirty and unleash their imaginations," Cr Manning said.
A council spokesperson addressed locals' concerns about mosquitoes and midges at Centenary Lakes, saying the area was a target of a rolling fogging program, which used a product that was safe for people and wildlife.
BUT THAT'S NOT ALL…
While work begins on the Centenary Lakes site, there are several other major projects in the final stages of planning, all of which must be completed by the Works for Queensland deadline of November 30.
The long-awaited, 2.4km Yellow Arrow walk on Mount Whitfield will extend from the Blue Arrow toward a new trail head at Aeroglen, where car parking and toilet facilities will be available.
The existing Red Arrow will also be given a facelift under the program, as will Bayview Heights' equally popular rainforest walk, the Ivan Evans track.
Other community projects to be completed within the next six months include Yorkeys Knob foreshore improvements and upgrades to the Babinda Boulders recreation area.
"All of these projects will contribute to our active, outdoor lifestyle," Cr Manning said.
In addition to the recreational works, $10 million worth of footpath, road and drain improvements are currently under way.
"So far, we've completed more than 2.7km of new footpaths and 3.5km of kerb and channel improvements, as well as a handful of road reseals and pavement rehabilitation project," Cr Manning said.