"Extremely unwise": Swimmer tempts fate with a dangerous dip near baited croc trap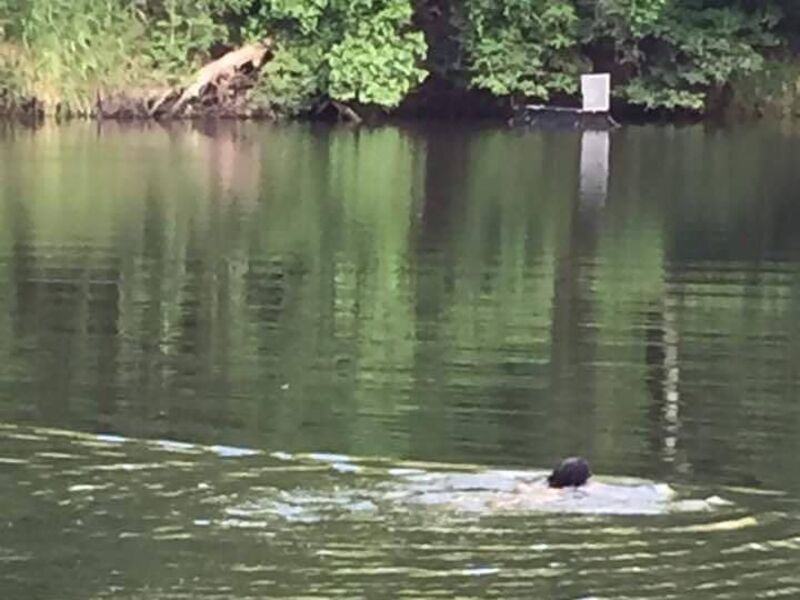 ---
Would-be waders have been warned against taking the plunge at Lake Placid, after a woman was photographed swimming near a baited crocodile trap there this week.
The lake, which is signposted with crocodile warnings, is reportedly home to a two-metre estuarine crocodile that has been targeted for removal using a floating trap.
A spokesperson from the Department of Environment and Heritage Protection said the department had most recently received reports about the crocodile in April this year and November 2016.
The spokesperson told TropicNow that swimming in the lake was "extremely unwise".
"Not only does it involve entering known crocodile habitat where a crocodile has been sighted recently, but by their very nature, baited crocodile traps are designed to attract crocodiles, which may be lurking in the vicinity.
"Crocodiles are wary by nature, and it can often take time for an animal to get used to having a trap in its territory and to be willing to enter the trap.
"It is therefore vital for human activity near the trap to be kept to a minimum."
Once a popular spot for a dip, Lake Placid has been considered off-limits for swimmers for the last few years due to frequent crocodile sightings.
BUT SOME ARE STILL TAKING THE RISK
Debbie Lyons, who works at reception at Lake Placid Tourist Park, said there were "regulars" who swam in the lake every weekend.
"They've been doing it for 20, 30 years," Ms Lyons told TropicNow.
"When we talk about crocodiles in the lake, they've just said, 'Well, if that's the way I'm going to go, that's the way I go'.
"I wouldn't do it!
"People make their own judgement. Visitors ask us if it's safe to swim, we say no, it's not. If you're going to do it, do it at your own risk. But some do go anyway."
"HURT, MAULED OR WORSE"

Cairns Division Eight councillor Jessie Richardson told TropicNow she'd also seen people swimming in Lake Placid despite the official warning signs in place.
"I strongly recommend people do not swim here," Cr Richardson said.
"The last thing anyone wants is for anyone to be hurt, mauled or worse."
Cr Richardson said that while she didn't support a crocodile cull, "things were getting out of hand".
"We need crocs like this, and the one out at Machans Beach, to be removed and our waters made safe for people.
"And we need to be asking the question: why is there this huge amount of huge crocs that simply weren't there before?"
NO-SWIM POLICY
Operations manager at Raging Thunder Chris Fulton said the rafting company has had a firm no-swim policy for Lake Placid in place for the last five years.
"We never worried about it before, but once these critters went on the move, we implemented the policy that nobody swims in there," Mr Fulton said.
"We do swim down the Barron, we have multiple swimming spots. It just happens that Lake Placid is not one of them.
"I think the risk is low, but I'd hate to be the first one to go in a crocodile attack."
Mr Fulton said he hadn't seen a crocodile in the last two months, but had reported multiple sightings over the last four to five years, noting that he received crocodile reports from other members of staff "from time to time".