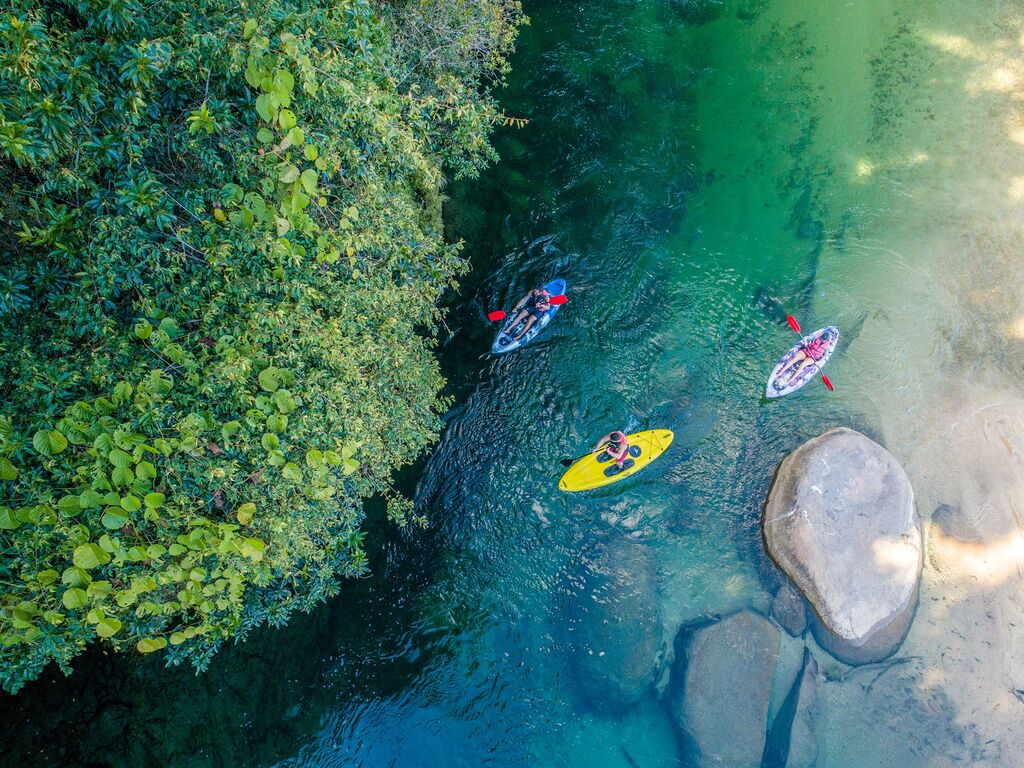 ##MP##
Fancy a road trip? The region south of Cairns is perfect at this time of year and Tropic brings you some travelling tips just in time for Easter with our Let's Drive South feature.
We'll head to Mission Beach and Innisfail over the coming days but first stop is Babinda.
Situated at the foothills of Queensland's two highest mountains, Babinda competes with Tully for the title of Australia's wettest place.
Also famous for its Boulders and bakery, this former sugar milling town is the epitome of village charm.
Eat
Babinda Bakery
Tropic readers rated Babinda Bakery #1 for the region's best pies. Their sausage rolls are also delicious, along with their cream buns. Be warned: they're not open Sundays.
MORE: @babindabakery
Drink
Country pub the Babinda State Hotel
Built in 1917, this heritage-listed grand old dame hasn't aged a bit.
MORE: @babindastatehotel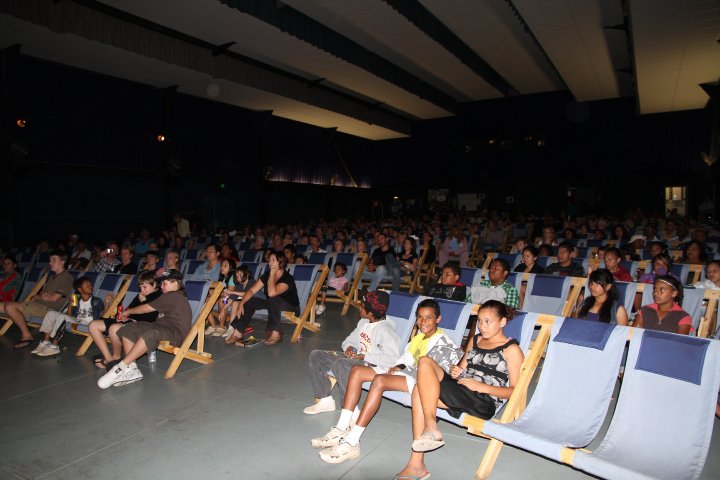 Stay
The Quarters
The historic nurses' home has been beautifully restored, as per its art deco heritage.
Tropic tip: Musicians are encouraged to bring their instruments.
MORE: babindaquarters.com
Do
Babinda Munro Picture Theatre
Built in 1956, the theatre was flattened by Cyclone Larry in 2006, which led to a full restoration complete with canvas sling-back seats, which remain in place.
MORE: babindacentre.com.au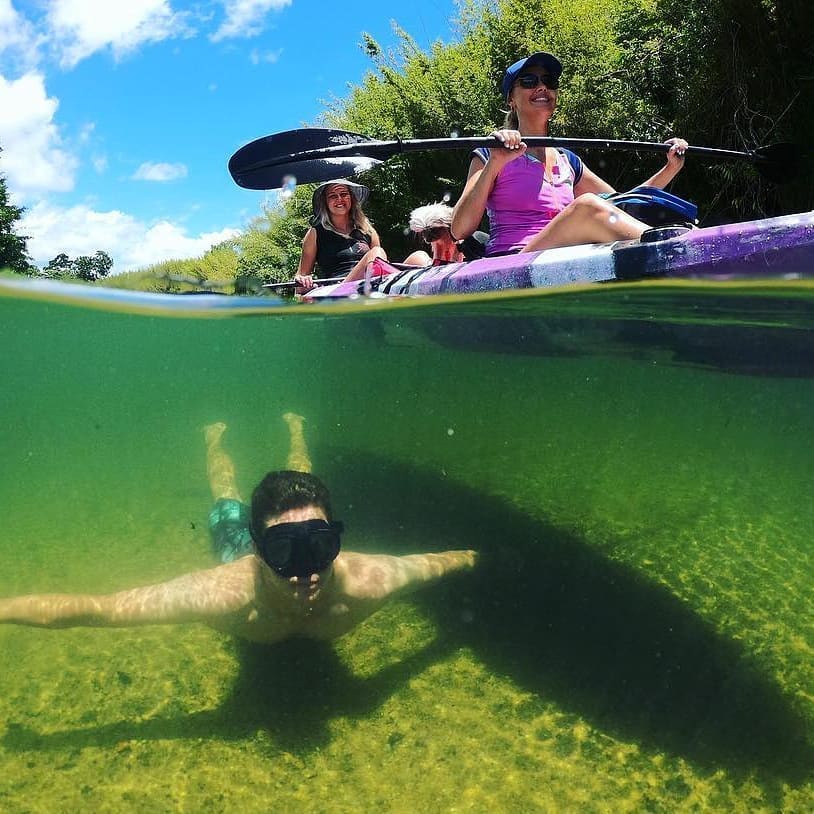 Tropic recommends
Babinda Kayaking
Suitable for every man (or woman!) and their dog, locations for a paddle don't come much better than this.
The permanently flowing Babinda Creek is fed by mountain streams from the monstrous Bartle Frere and Bellenden Ker ranges (Choorechillum and Wooroonooran).
The upshot is not only crystal clear, cold water, but breathtaking scenery.
Babinda Kayaking is not just about the seated version of paddling, with stand-up boards also available.
The creek is mostly gently flowing, with a few mini rapids thrown in depending on the time of year, making it suitable for all age groups.
You can opt for a half-day trip or a full day, but either way you'll experience all nine kilometres of the route and its ever-changing shoreline plus the fish, turtles and even platypus the creek contains.
For owner Paul O'Brien, it's tough work – but someone's gotta do it, right?
"You are in your own little piece of paradise," he told Tropic.
"On the way we stop off and have a picnic or a swim or a snorkel."
##PQ##
In fact, it's between four and six hours of relaxation, depending on whether you opt for a half or full day experience.
A single kayak can hold an adult and a small child, while the double kayak has enough room for two adults.
The bows of both the kayaks and SUPs can also easily accommodate a dog.
The SUPs are strictly one person unless you like swimming.
The fact that Babinda Kayaking has heaps of return business and 70 to 80 per cent of customers are local speaks volumes about what the experience offers.
Certainly not a bad way to spend a day.
MORE: babindakayaking.com.au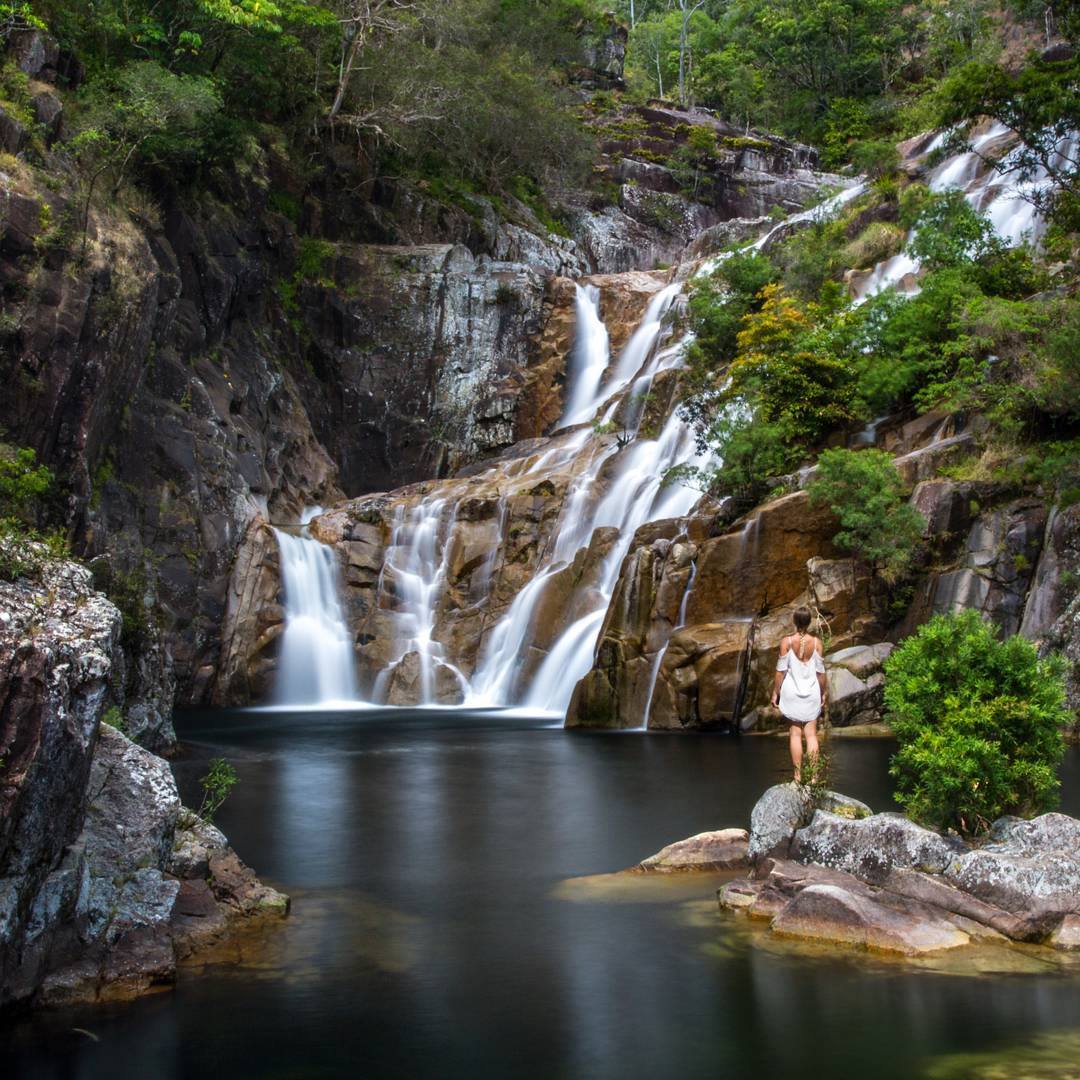 Other nearby spots to swim
Behana Gorge | Tringilburra
Crystal clear, icy cold water with Clamshell Falls as your backdrop.
It's a 45-minute walk from the road. Tropic tip: Take bikes if you have young children.
GO THERE: Turn right after Walsh's Pyramid (Djarragun) at Aloomba
---
Babinda Boulders | Bunna Binda
The Boulders get a lot of bad press because sadly, many people have died in its restricted areas. Stick to the clearly signed safe swimming area, which is stunning.
GO THERE: At the end of the main street of Babinda
---
Josephine Falls, a tributary of the Upper Russell River | Noongyanbudda
The natural waterslide is the drawcard.
GO THERE: Turn right from the Bruce Highway about halfway between Babinda and Innisfail.
TRAVEL
LOCAL TOURISM
ROAD TRIPS
Main points
What to see, eat, do, buy and where to stay in Babinda and surrounds.
Check out Tropic's other Let's Drive South guides:
It's just hours of relaxation.